Exploring Woman-Owned Commercial AV Firms
In an industry with very few women, several female integration business leaders discuss finding their forever home in AV.
Leave a Comment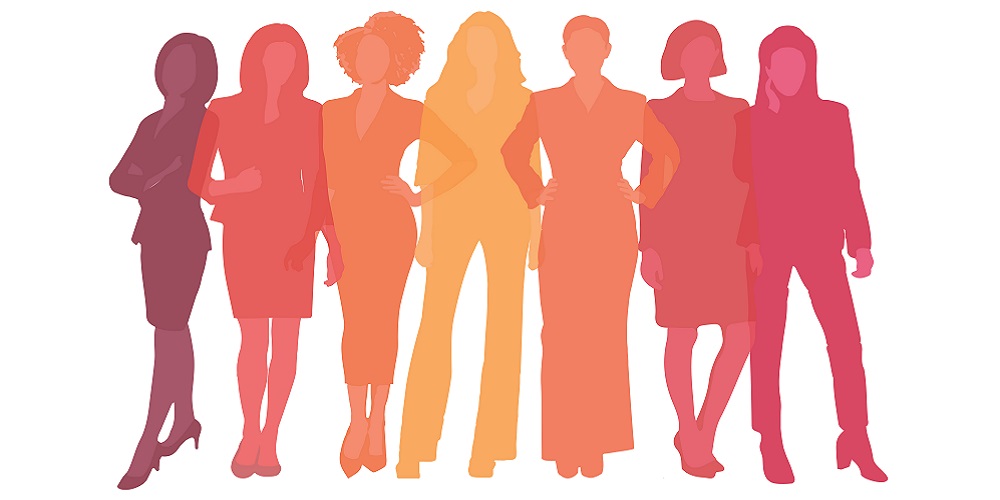 Many who have joined commercial AV have found the industry to be an incredibly welcoming place. However, the numbers strongly suggest that certain groups have a different experience. Women make up less than 15% of the AV industry, according to data from Fairfax, Va.-based AVIXA, a prominent trade association. As such, women are profoundly underrepresented in commercial AV, a fact that leads to negative comparisons with other industries.
We see this data across a number of measures. For example, AVIXA reports that, although the percentage of women attending InfoComm has grown over the years, women accounted for only 13% of InfoComm attendees in 2022. Moreover, in AVIXA's global salary survey, women represented just 9% of the respondent pool (6% outside the U.S. and 11% in the U.S.).
In an AVIXA Insights blog, AVIXA's economist, Peter Hansen, writes, "Part of the skew is a broader tech phenomenon, as roughly 15% of all U.S. engineers are women. But pro AV is shy even of that low bar." The percentage of women in technical roles is also shy of broader averages, with percentages ranging from 5% to 8% for engineers (6% to 10% just in the U.S.), according to data from AVIXA. The overall percentage of women in the industry is bolstered by the least-technical categories, such as sales/marketing and business support.
All of this invites the question of whether we, collectively, have created a home for women in commercial AV. That question becomes even thornier when we consider how few women in our industry hold executive leadership roles.
Commercial AV Glass Ceiling
"When it comes to advancement in pro AV, the glass ceiling appears to be alive and well," Hansen writes. "No category has a lower percentage of women than senior leadership (though it is close to the technician category). If a leadership team is all men, how well can it recruit, welcome and include women? If you are a woman planning your career — especially with ambitions of success and leadership — would an industry so empty of women in leadership appeal [to you]? Bringing women into senior positions is in businesses' interests, as well, as academic research has found gender-diverse management teams produce better returns."
This month, in honor of Women's History Month, Commercial Integrator is spotlighting a handful of female commercial AV industry leaders who have bucked the odds and successfully found their forever home in our industry. We hope that, as you read their backstories, anecdotes and reflections, you find inspiration in their example and the paths they've taken.
Debbie Williamson, Tempest Technologies
We start with Debbie Williamson, president, general manager and co-owner of Issaquah, Wash.-based integration firm Tempest Technologies. If you ask her whether a glass ceiling exists in the industry, she'll respond, "Only if you let it!" Drawing optimism from her own success, Williamson says, "I think we've seen a lot more equality in terms of the position that you can hold and the salary that you can make. Employees are judged and compensated more on what you bring to the table now — not your gender."
As was the case for many of us, Williamson stumbled across the industry by chance. A couple she knew needed help starting their integration business. Williamson helped them out, getting the infrastructure and daily operations off the ground. After spending a few months with the company, she pondered whether a career in the industry was viable for her. She initially decided to leave, but, after much nudging from coworkers, Williamson decided to try her hand at sales. What started as part-time work morphed into an unexpected opportunity.
"I couldn't sell anything," Williamson recalls, "but they convinced me to give it a try for six months. Once I got into it, I quickly understood that what I was going to be doing was relationship-based." That was the part of it she found exciting. "I liked to go in and discover what an organization or an individual was looking for, and then try and turn that into a reality in the technology world," Williamson continues. "Suddenly, sales didn't seem that scary to me."
At the time of Williamson's introduction to commercial AV, it was an even more male-dominated industry than it is today. "The women in it were few and far between," she recalls, but adds, "I learned from a lot of great individuals who were willing to step in, teach me the technology, teach me about selling to the point where it would be enough to be dangerous, and to really get out there and apply."
Williamson describes her career as a woman in the commercial AV industry as "a completely unexpected turn of events," but hastens to note that it "…took me in a direction that I've clearly stuck with and embraced."
Although we reported from the outset that women are, in fact, still deeply underrepresented in the commercial AV industry community, Williamson underscores that things have improved. "I find that I'm bumping into bright women and especially business owners," she declares. "It's nice to be able to go into a meeting or go to an event and see a lot of other women business owners. It's not as rare as it used to be."
The Changing Workforce
Nevertheless, there clearly are still areas that require immediate attention as the composition of the commercial AV industry workforce changes to include more women. Those areas include not only persistent pay gaps and barriers to inclusion but also obstacles to promotion and career advancement.
Industry analyses indicate that promotion pathways are less open to women than they are to men. One factor at play centers on maternity leave. Some companies might hesitate to trust (or elevate) workers whom they perceive as having greater potential to take parental time off. It's worth adding that, although maternity leave is available to most women, it's not uniformly available to all — and the duration of the leave is often insufficient.
Employees are judged and compensated more on what you bring to the table now — not your gender. Debbie Williamson, president and owner, Tempest Technologies
With the workplace having been transformed by the pandemic, many companies are beginning to understand the importance of flexibility, and that understanding might reap benefits for women and other underrepresented groups. Speaking of Tempest Technologies' policies with respect to caregivers, Williamson says, "We'll work with [primary caregivers] flexibly, as much as we can, whether it's shortened workweeks or shortened days." Ultimately, she says, when an integrator finds talent, that company wants to retain that talent — and doing so often requires creativity and adaptability. "We all learned over the course of the last few years that flexibility is a real thing," Williamson adds.
Karen Bogosian, Visual Sound
Karen Bogosian, president and CEO of Broomall, Pa.-based Visual Sound, began in the industry when her father opened his first camera store in a shopping center in Broomall, Pa., back in 1957. The business was a major success and eventually became the third-largest specialty-camera dealer in the U.S. Bogosian spent many years working at her father's camera chain behind the counter and later managing the Marketing Department for 15 years. Due to the shift from film to digital, in 1999, John Bogosian thought it was the right time to sell the camera chain and focus solely on the Audio Visual division
The family camera business' AV-centric operations emerged from superintendents, principals and other education professionals coming into the store and seeking slide filmstrip, movie and overhead projectors, screens and other equipment for their school's AV closet which supported instruction in the classroom. Gradually, in 1967, the family incorporated Visual Sound as a sister entity to the camera store.
When Bogosian's father became ill, he asked her to step in to help run the business. Having worked only on the retail side of business operations, she had to learn the integration and live events side of the business quickly. She started that process by interviewing everyone at Visual Sound. She also attended engineering, project management, sales and marketing meetings, as well as industry conferences. Bogosian was clearly a quick study and, in 2005, became president.
Bogosian jokingly compares the commercial AV industry to the old "Roach Motel" tagline: "Roaches check in, but they don't check out." She adds, "It's in everyone. It's a love for what [we're] doing and a passion for the industry."
Suzanne Schoeneberger, Bluewater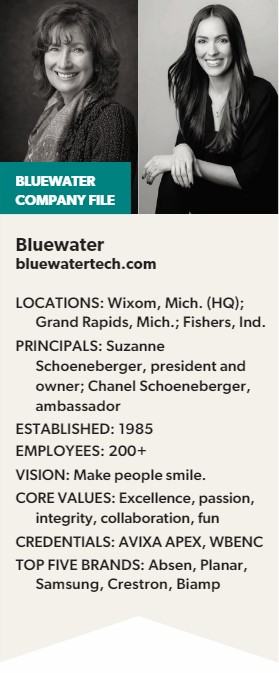 Suzanne Schoeneberger, president and owner of Wixom, Mich.-based audiovisual integration firm Bluewater, got her start in commercial AV under serendipitous circumstances. She had spent much of her career in human resources, and then her husband, Tom Schoeneberger, and his brother, Paul, started the company in 1985. Tom Schoeneberger had a deep love for technology, and Bluewater emerged from that. After a medical event, however, he asked his wife to help run the business.
"Since we're a family business and our employees have been with us for most of [our] journey, I didn't come into a leadership role and [then have] to gain the trust of the company," she describes. "I was already there." Some of her initial activities — for example, planning company parties, celebrating employees' service milestones and helping resolve accounting-related issues — just reinforced team members' appreciation of Schoeneberger's efforts. "I've been really fortunate, I think, not to feel the burden that a lot of women feel trying to lead in a mostly male industry," she adds.
Leadership and Pivoting
With the sudden halt of live events during the COVID-19 pandemic, a strong leader like Schoeneberger recognized the need to pivot. The Bluewater team came up with an idea to use the lighting and immersive entertainment equipment on the warehouse shelves, waiting to be used, for an outdoor AV installation. Glenlore Trails — an immersive, wooded experience at Multi Lakes in Commerce, Mich. — was born. This unique entertainment experience invited visitors to help uncover the forest's strange happenings.
Soon after launching with Glenlore Trails, Bluewater found out that the risk it took had paid off. It was a big hit! The dollars brought in helped keep Bluewater's technical staff employed throughout the pandemic; however, it was also a success for local families and individuals who were craving something safe to do in the middle of the pandemic.
Buoyed by her success, Schoeneberger and her leadership team decided to take a risk and invest in the company's own live-event software, called Parallel. The software was built because of the absence of an adequate live-event platform to cater to a remote audience. These stories underline that even in challenging times — perhaps especially in challenging times — true leaders innovate rather than just retrenching.
Words of Advice
The female integration-company executives to whom we spoke are happy to offer their advice for those who wish to emulate their paths and advance in their careers. Bogosian recommends being well rounded and learning as much as possible. Ask questions of those more experienced and learn from the AV gurus. "We are a generous industry, willing to share and mentor others, she says. "I came in on the business side and learned a little bit about everything that we do to be knowledgeable enough to understand it…to be able to manage each of the groups that we have and to talk about and promote our company."
If you ask Chanel Schoeneberger, who is Schoeneberger's daughter-in-law and who serves as ambassador to Bluewater, for her thoughts on how to advance one's career in commercial AV, gender imposes no bounds. "It doesn't matter if you are male or female," she declares. "If it's something that you're passionate about, and [if] you show that you're excited about it [and] willing to learn, the opportunity is there. Follow your passion and take risks."
If you show you're excited about it and willing to learn, the opportunity is there. Follow your passions and take risks. Chanel Schoeneberger, ambassador, Bluewater
Williamson recommends finding and aligning yourself with individuals who are willing to share their experiences — perhaps even be mentors to you. "Be fearless," she exhorts. "Don't let a couple of nos slow you down."
Reinforcing the idea that men and women aren't necessarily at cross purposes, Williamson continues, "I have found that some of my greatest supporters and mentors are men. They want to see you succeed. They want to help you." Ultimately, she believes there's a great opportunity for women to increase their presence in our industry. Williamson, reflecting on the early days of her career, says, "I was given [an opportunity] that I didn't even know at the time was changing the course of my life." The greatest gift that our generation can give is to extend those same opportunities to others — especially those who have been deprived of them in the past.
If you enjoyed this article and want to receive more valuable industry content like this, click here to sign up for our digital newsletters!