Three Traits of High-Touch Leadership Any Pro AV Company Should Embrace
By using 'high-touch leadership,' AV firms can create the same level of unique experiences for their employees as they do for their customers.
Leave a Comment
Tim Sanders knows from his days working in the high-tech space at Yahoo and alongside Dallas Mavericks owner Mark Cuban before he became a billionaire that it's critical to make sure the people who work for you understand the value they bring to the company.
High-touch leadership is the best way to achieve that understanding, says Sanders, and it's as easy as 1, 2, 3.
That doesn't mean you have to give everyone a ribbon every time they show up for a meeting on time—or at all.
What it does mean, though, is leaders need to be more connected with the people who work for them, in the same ways they connect with the customers who pay their bills.
"Talent wants to be in a place that gives what they do meaning," Sanders told attendees at the 2019 NSCA Business & Leadership Conference in Tampa, Fla., last week in his keynote address High-Touch Corporate Leadership for a High-Tech World.
"The talent shortage isn't just an issue for you. If we don't have enough talent on the line, eventually you realize that as a worker.
"Talent recruiting issues become talent life issues. If the talent in the field begins to get ground down, they're going to find somewhere else that they'd rather be," he says.
While the typical company spends about 92 percent of its budget on its IT needs, that part of the company produces only about 25 percent of the company's success.
Conversely, people get about 2 percent of a company's revenue and achieve 20 percent of the company's success. Companies put about 1 percent of their money into culture but see that result in 20 percent of its success, and leadership gets 1 percent of the money and triggers 10 percent of its success.
That means, says Sanders, companies invest 4 percent of their money in people, culture and leadership and see that translate into 50 percent of the firm's overall success, if you ensure you follow the high-touch leadership three-step plan of being more human, more thoughtful and more connected at work.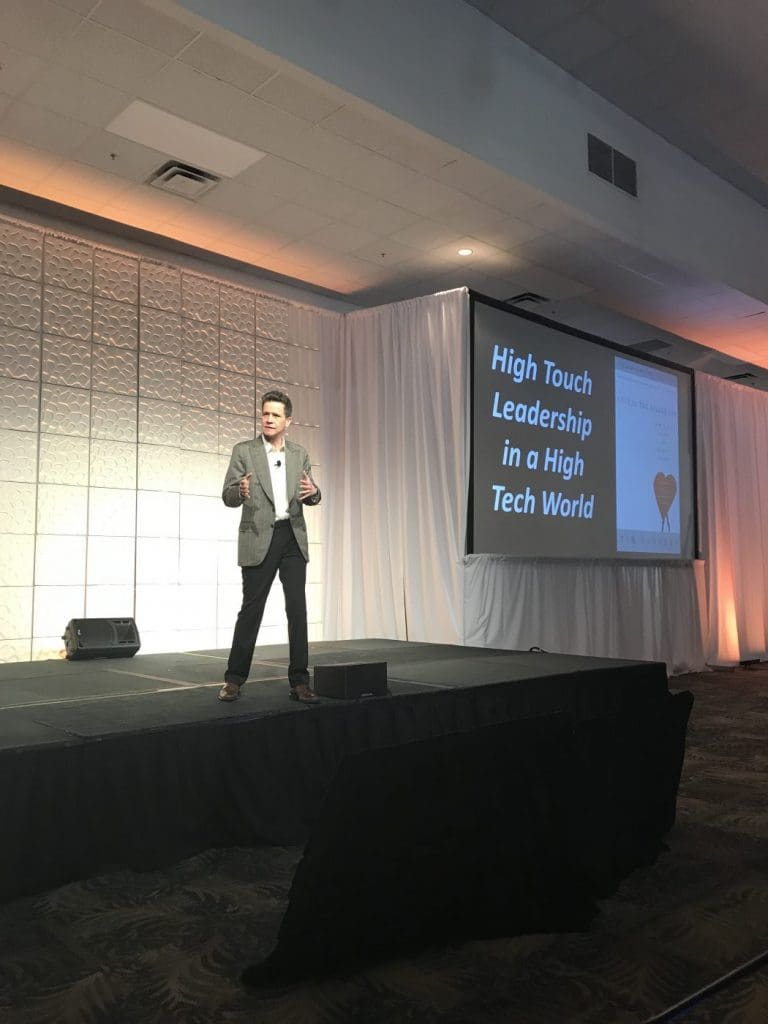 "High-touch leadership will solve your talent issue and make you more valuable to your customers," says Sanders.
Here's a closer look at each of the steps behind high-touch leadership:
Human
Don't just treat your employees like cogs in a machine if you're looking to achieve high-touch leadership. Treat them like people.
"You need to be personable," says Sanders.
"You need to have those human qualities like transparency, talking to people on the level. You look people in the eyes and have meetings rather than sending them emails from seven feet away. You're willing to be a little bit vulnerable as you mentor people, admitting the same mistakes when you were their age. You learn to share empathy with people. You don't push back on their emotions."
Thoughtful
Put people at the center of the business.
"You back off and take a 5,000-foot view of your company and you think like a designer," says Sanders.
"You look at all the details around the employee experience. All of the things you do to create a great customer experience. You can take all of that energy and all of that acumen and do the same thing for your employees."
Connected
Going from a text-based culture to a conference call culture isn't enough. High-touch leaders need to have face-to-face contact with their employees as often as possible.
"They know how you feel," says Sanders.
"They feel like you understand them. When you communicate with them, you communicate at a higher level than anybody else they work for. Talent is a competitive issue. You've got to go out and prove that you're a better catch. One of the ways you're going to do that is by being a higher-level communicator. The secret to becoming more connected as a leader is to steadily climb the ladder of abstraction."
That ladder, says Sanders, means going from a screen-to-screen relationship via email or text to an ear-to-ear relationship through conference calls to the ultimate form of high-touch communication through videoconferencing, which allows face-to-face interaction.
"The average conference call is a goat rodeo," say Sanders. "We've got to get off that conference call crack." Video calls, he says, have a 20 percent higher close rate than conference calls.
"It changes everything about your business. It's the highest-touch connection possible. When you make that emotional connection with people, it causes them to remember what you said and connect with it."