How AVI Systems Continues to Grow in Stature
AVI Systems cites its partner mindset, tech mastery and problem-solving as key pillars of its pandemic-era growth and ongoing success.
Leave a Comment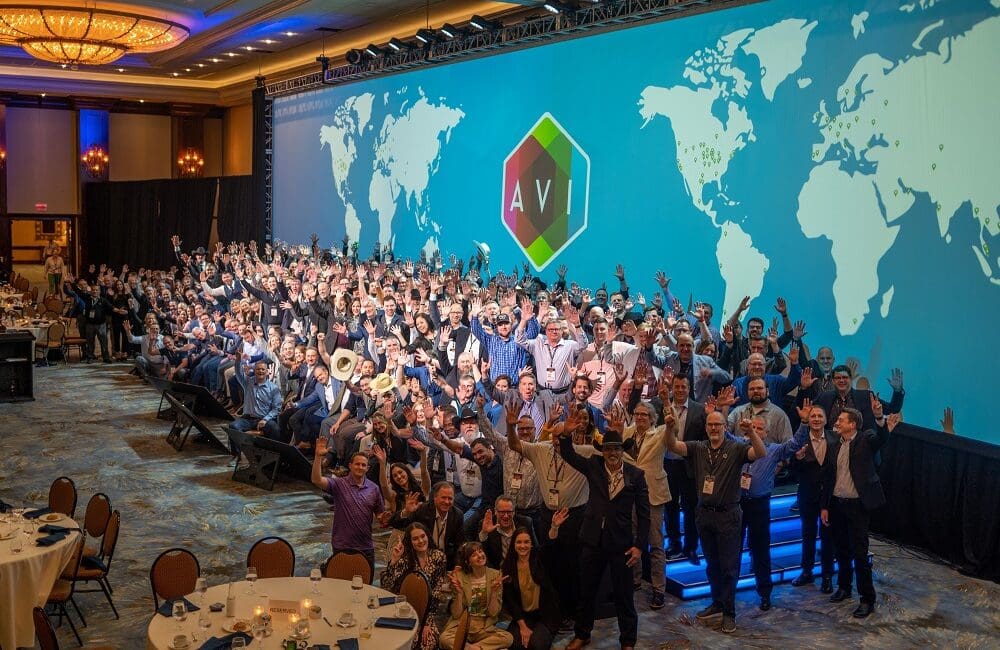 By David Hotchkiss' own admission, he questioned why the Medical College of Wisconsin was spending so much money on AV systems early in his tenure as chief information officer. 
In his role overseeing the entirety of the college's IT estate, Hotchkiss simply didn't see the difficulty in connecting some wires and having content show up on screens. 
"How hard can it be?" the CIO asked an audience of AVI Systems salespeople at a presentation during the global integration firm's National Sales Meeting in Dallas. "You just connect some wires, stuff shows up on screens, people smile and bow at my feet." 
However, the 11-year technology chief of the largest medical-research center in the Milwaukee metropolitan area also admits that his valuation of AV systems was "all wrong." It actually took the COVID-19 pandemic for him to fully realize the role of technology in any enterprise or higher-education setting. 
Rather than technology existing to connect people to systems, technology exists to connect people to people, Hotchkiss came to realize. 
And that, essentially, is the main goal of AVI Systems, an integrator that reports having earned $1.4 billion in 2022 global revenues. Its rise to a leadership position is thanks to an effective growth strategy that includes becoming the largest shareholder in GPA, as well as acquiring and expanding regionally into the northeastern U.S., Dallas and the Midwest. 
AVI Systems' Growth Strategy
AVI Systems' growth can be credited, in part, to joining GPA as the regional business unit for the U.S. This was made possible after a 2020 merger of AVI-SPL and Whitlock. The partnership also gave AVI Systems a global presence, with local delivery in more than 50 countries, and a global employee base of 4,000 tech experts. 
According to Jeff Stoebner, GPA gives the company a better ability to serve large, complex accounts with multiple locations, whether in the U.S. or globally. "We've been building structures to serve that community, which probably requires the highest level of competency to serve that kind of client, where it's not really a project-based relationship," he says. 
AVI Systems' global expansion actually came before the company began strengthening its national footprint via expansion and acquisition, establishing more office locations closer to more customers. That strategy is somewhat contradictory to others in the AV-integration industry, some of which have taken a page out of corporate customers' playbooks by reducing office space. 
"We don't think that's the right solution," Stoebner says. "We think it's getting closer and closer to the customer with more office locations." 
However, Stoebner actually assigns much more importance to broadening AVI Systems' programs and offerings than simply to expanding geographically. The company counts several Fortune 500 companies, leading higher-education and healthcare institutions, and big-market sports franchises among its customer base. Such clients, of course, require an exceptional level of technical expertise and a large portfolio of solutions to support their many locations. Indeed, the company's impressive customer list includes Amazon, Google, Emerson, Mayo Clinic, TD Ameritrade, Abbott and many others. 
Delivering that technology across a customer's enterprise and deploying it snugly within the customer's IT environment has been the bread and butter of AVI Systems, Brad Sousa, the company's chief technology officer, says. 
That expertise comes at a pivotal time in the enterprise-technology world, as organizations are still grappling with distributed work. They're investigating and deploying technologies that can help support those workplace models while helping customers maximize their existing real-estate investments. 
According to Stoebner and Sousa, who sat down for an exclusive interview with Commercial Integrator during the National Sales Meeting, AVI Systems' customers are still just scratching the surface of their hybrid-work-enabled digital transformations. 
The AV industry, which represented a solution to the corporate world's business-continuity problem during the pandemic, is now helping customers transition to a new workplace approach that prioritizes flexibility, intelligence, automation and, above all else, ease of use. 
During the National Sales Meeting, the company's practice leaders led sessions on new offerings, which leverage cutting-edge, emerging technologies from Microsoft, Zoom, Cisco, Logitech and many others. They make starting, running and managing a conference call as simple as possible. 
These room deployments also feature intelligent tools that are capable of tracking active speakers and framing individual participants or groups in a way that makes hybrid meetings equitable for all. 
"How do you make that less complex? And how do you deliver that across the enterprise?" Sousa asks rhetorically. "That has really been our focus." 

A Modern IT Partner
Over the course of just a few weeks in March 2020, videoconferencing services like Zoom, Microsoft Teams, Google Meet, Webex and others became vital pieces of enterprise technology. Organizations quickly learned that built-in laptop cameras and microphones weren't going to cut it. 
That realization forced organizations to invest in supporting hardware, such as webcams, microphones, speakers, whiteboarding solutions, displays, transmitters, receivers, switchers and more. That demand, coupled with IT professionals' relative unfamiliarity with AV technologies, gave integrators like AVI Systems an incredible opportunity.  
However, doing so required AV technology providers to speak the same language as the IT professionals who represent their customers in the buying process. "We've doubled down with changing our language so [that] it lines up with the IT leaders," Sousa says. 
Secondly, AVI Systems is taking a page out of the IT and software industry by offering true subscription models for its offering — specifically, Microsoft Teams and Zoom Room offerings branded as Velocity. 
The company's Velocity solutions are preconfigured meeting-space solutions designed to be quickly ordered, installed and turned on. Velocity is available to purchase through traditional methods; alternatively, users can access the technology solution via a monthly subscription. 
At AV trade shows, managed services and AV-as-a-service are routinely a subject of conversation; typically, they're also a featured conference session. Here's the gist of it: Most modern technology offerings are available on a monthly subscription basis. Think of Netflix, Hulu, Amazon or any other streaming services, AV experts often say. 
Related: LCDs, Projector Screens, microLEDs, The Displays that Didn't Disappoint at InfoComm 2023
However, AV professionals only need to look across the enterprise technology aisle to their IT counterparts to understand that their customers are already consuming their other solutions via that same subscription-based model. "That aligns with the IT mindset because they want to buy it like they do a laptop or phones," Sousa says. 
AVI Systems has built out what Sousa calls a "true ITSM-based managed-services offering," one built on the notion that many IT professionals need data from other disciplines to help solve issues. For example, network administrators might need information from desktop IT professionals or security professionals to solve IT issues. 
"We've applied that to the AV space," Sousa says, "so that we're co-delivering these managed services with our customers. And that's a monumental shift." Sousa continues, "The result is that the AV person gets KPIs that look and sound like everybody else's KPIs in the CIO's stack." 
For example, the company's new MTR Pro Advanced Service allows organizations using Microsoft Teams to incorporate support for Teams Rooms that closely aligns with other forms of IT support. 
Those service offerings came as a result of AVI Systems shifting its mindset from offering a project — or a series of projects — to becoming more of an enterprise partner. The natural progression into being a partner, rather than a technology vendor selling a product, means that AVI Systems must take on and solve these enterprise problems. 
Long-Term Relationships vs. One-Time Sale
The strategy of helping the world's largest companies build out their AV technologies across their international locations requires a different mindset from many other tech companies, which sometimes have aggressive salespeople offering products rather than relationships. 
Hotchkiss spoke about the mindset that makes a vendor a true partner versus just another technology vendor sending sales pitches via email in a mad dash to close the sale and pad top-line revenue. True partners, he said, display an understanding of the customer's business and value that long-term relationship. According to Hotchkiss, that kind of vendor propels the customer forward and doesn't just take orders. 
"I want people that 'get us,'" Hotchkiss says. "They get the long-term relationship. They understand us; they value us; and they don't just want that one-time sale." If the vendor doesn't follow those best practices, then end users and IT professionals will have to deal with that less-optimal solution for years to come. 
AVI Systems lives out that relationship-driven mentality. In fact, it defines a core principle of the business: to help organizations build out their conferencing-and-collaboration spaces and to help them think about new ways to engage with their own customers. 
One way that AVI Systems does that is by building experience centers for customers. Essentially, these are interactive, sleek-looking AV installations designed for one purpose: to tell the brand's story with a variety of digital and visual tools. 
However, AVI Systems' partnership mentality is best exemplified by how the company responded to the pandemic when the news of lockdowns first broke in March 2020.  
According to Sousa, other company representatives and he were attending a customer show in San Diego when they were notified that California would be locking down to prevent the spread of the virus. 
Once it set in that the entire country, as well as other parts of the world, would be holed up at home for the foreseeable future, it became clear that AVI Systems and other AV integrators had an immense opportunity to help the world solve this unique problem. 
Sousa and the executive team pulled together their technology practice leaders to deliver a clear message: Come up with solutions and hyper-prototype them in 48 hours.  
"I'm giving you 24 hours to imagine what your customers are going to ask for seven days from now," Sousa says, recalling his mandate. 
Those requirements were an enterprise cloud collaboration platform and a way to communicate to an entire workforce, regardless of team members' location. The team then brought five specific offers to the table, and sales had those solutions out to customers in 10 days. 
As the pandemic worsened and lockdowns continued in the weeks leading up to the NFL Draft, AVI Systems' NFL customers needed a solution that allowed team executives to watch film on college athletes and talk among themselves. 
"We delivered a solution for them where they video call over Zoom and watch broadcast-quality video and shuttle the video back and forth on a separate video stream," Sousa says. "And that's how they put together their strategies." 
Since then, the company has iterated on that solution to launch new "executive broadcast" offerings, which enable townhall-style meetings that can be controlled remotely. 
Similarly, AVI Systems' new Velocity Signature offering, built around the Microsoft Teams Rooms platform, is a next-generation version of one of those early pandemic solutions that, now, is designed to support hybrid work. 
How Culture Contributes to AVI Systems' Growth
In an industry plagued by workforce-development issues, AVI Systems seems to have plenty of staff. That, Stoebner says, is due, in part, to the fact that AVI Systems is 100% employee owned. 
"Every person within the business becomes an equity stakeholder," Stoebner says. "That doesn't exist in tech that often, and it definitely doesn't exist in AV. I think we have a stronger brand. Because of that, we're a [stickier] employer." 
The company's employee base is illustrative of the AV industry broadly, with employees coming to AVI Systems and the industry from several different avenues. In fact, employees at the National Sales Meeting were overheard talking about how they got into the industry: One was a music engineer; another came from IT; another was an electrician. 
Diversity — something that has been a topic of conversation in the industry for a long time — is an important part of AVI Systems' culture. Stoebner, Sousa and the rest of the company acknowledge that the AV industry doesn't always look like its customers do. Recognizing that, the company has been elevating more women to professional positions. Because of this, AVI Systems' gender diversity well outpaces the industry as a whole. "We're trying to get that alignment right," Stoebner says. 
By coupling those cultural elements with its desire to solve the world's communication problems by building solutions that support Microsoft Teams, Zoom and other platforms, AVI Systems is positioning itself for long-term success. The company has the tools to keep AV relevant well beyond the hybrid-work experiment.  
Summing things up, Stoebner declares that the AVI Systems brand is strong. "We think we've built a foundation that will grow beyond industry growth rates…and we solve a lot of the problems that the pandemic and isolation presented," he concludes. 
If you enjoyed this article and want to receive more valuable industry content like this, click here to sign up for our digital newsletters!