Legrand AV Builds Long-Term Relationship with Habitat for Humanity
Legrand AV's connection to Habitat for Humanity dates back more than a decade, ties into overall capabilities, including lighting, AV, power and wiring.
Leave a Comment
Liz Hager didn't intend to become more handy around the house through her work on Habitat for Humanity projects in and around Minneapolis, but that's just one of the benefits she's taken away from that relationship she's built as senior art director for Legrand AV.
Hager's involvement with Habitat for Humanity started when she was at Milestone in 2013 through the Community Connections Committee, which launched in 2008.
That committee included at least one day working with the Twin Cities arm of the charity every year.
Legrand AV, which acquired Milestone in 2017, also has a long-term relationship with Habitat for Humanity, especially as part of its philosophy of creating better homes, better schools and better recovery.
The company has lighting, power and wiring products along with its AV division.
"We're trying to link it back to what we do every day," says Hager.

In 2019, the Legrand AV division participated in six Habitat for Humanity events and contributed about $2,500 to the cause for each activity, two in Minneapolis featuring Legrand employees from three offices in the area, two projects in Warsaw, Ind., including Da-Lite employees and two days in the New Jersey area for Middle Atlantic employees.
All Legrand AV employees have 16 hours of paid volunteer time per year and Habitat for Humanity projects typically require about a dozen volunteer per event. Hager says it's not difficult to get those slots filled no matter which office or where they're working.
"I feel like I learn something new each time I go out there," she says. "I was kind of intimidated [the first time I participated in a Habitat for Humanity event]. I can paint, I can tape a wall, but I had never done much handywork around the house. I feel like I take away new knowledge every time."
On one build a few years ago, Hager put up soffits and fascia. Earlier this year, she was involved in a project that included lead pain removal from an existing home that needed to be refurbished. Last year, one of the teams raised a couple of walls on a new home, she says.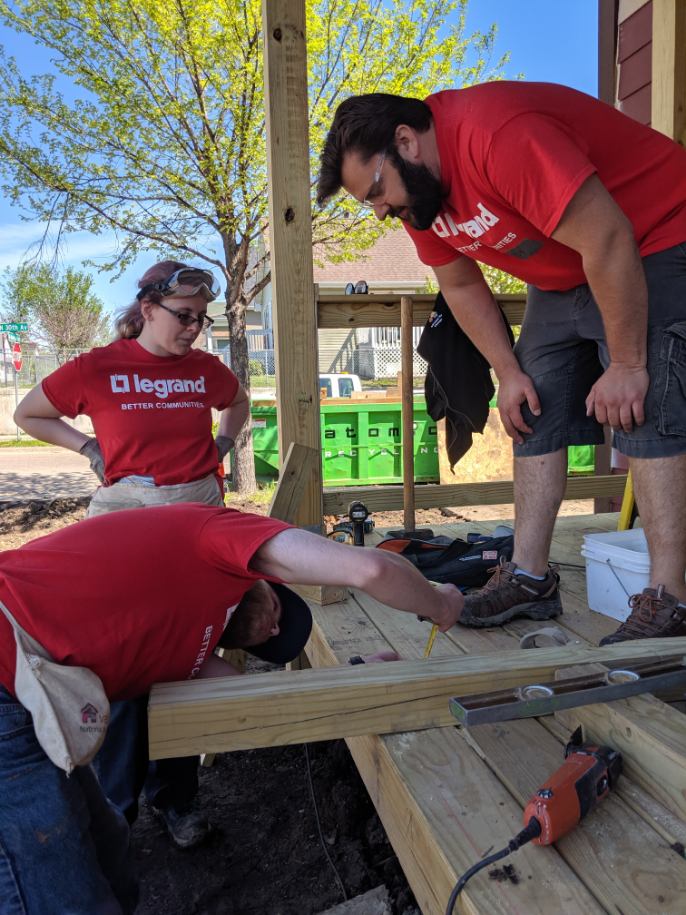 "It's kind of all over the board as far as what we're doing," says Hager. "I think it's important to give back to the community that we're working and living in. I'm fortunate enough to work for a company that feels the same way.
"These are just regular people who are living in these houses. To see the difference that we're making is really rewarding," she says.
Why Legrand Supports Habitat for Humanity
Last year during one Habitat for Humanity event, Hager and her Legrand co-workers were doing some landscaping for a homeowner who was helping a neighbor in poor health, when that neighbor came out to work with the team as a way of showing her appreciation.
"It was really cool to be working side by side with her," says Hager. "It felt like a real team effort, a community thing."
Another benefit of the Habitat for Humanity relationship, she says, is meeting some of her Legrand co-workers from other offices in the area that she might have only known by their email addresses in the past.
"It's nice to be able to put a face to a name," says Hager. "I was able to make some connections for them and they did the same for me. You break down the barriers. We're all one team."
Legrand AV sends an employee to the Habitat for Humanity ceremonies when a project is completed.
"I've driven past a couple of the houses I've worked on and you see families out in the yard," says Hager. "It feels good to know they have this awesome space."
Hager says she's more confident now when it's time for a repair in her own home than she was before her Habitat for Humanity involvement.
"I definitely will help my husband out a lot more," she says. "I have a different perspective. I can pick up a hammer and use a skill saw. I've learned a lot of new tricks. This is a really rewarding part of my job."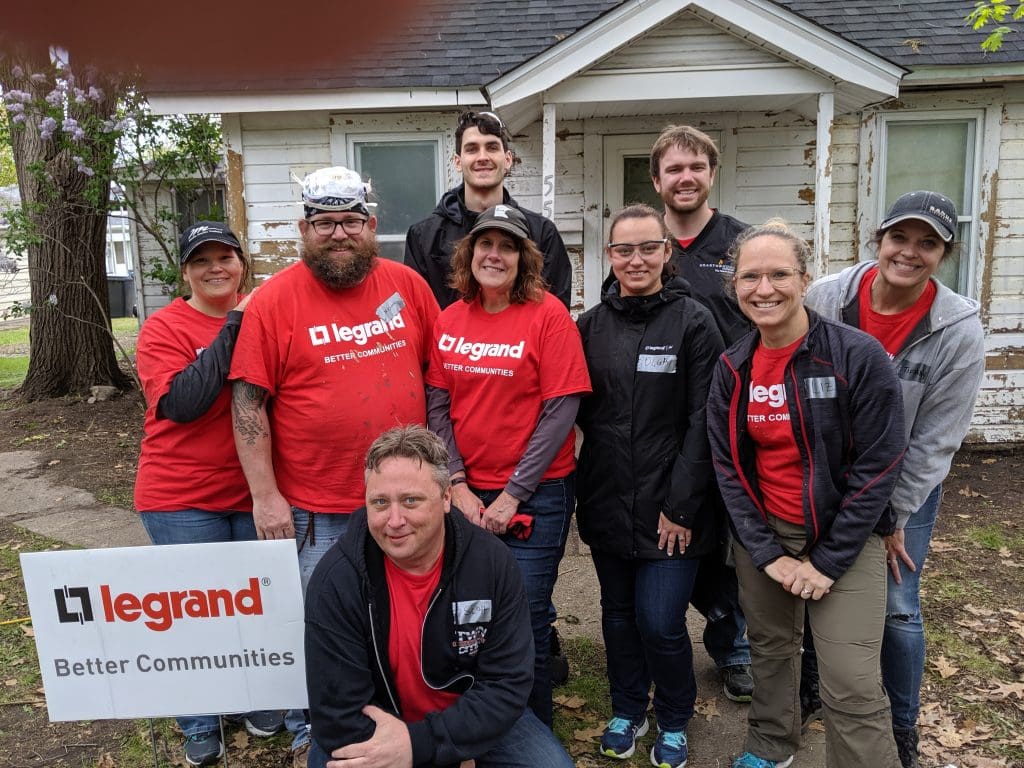 Coming next Monday: The next installment in our Connected to the Community series. If you know about an AV or IT company doing something good, email executive editor Craig MacCormack at craig.maccormack@emeraldexpo.com.