Level 3 Audiovisual Bounces Back: From Dip to Doubling Their Revenue
If any firm knows that growth isn't always consistent, it's Level 3 Audiovisual. The Arizona firm explains how its on track to double in 2018.
Leave a Comment
Growth isn't always consistent. Level 3 Audiovisual lived that when its annual revenue dipped in 2017 before bouncing back and being on pace to nearly double its revenue for 2018.
We asked Level 3's Brad Peterson to talk about the Arizona tech integration firm's explosion of growth:
From a business, operations, and in-house expertise perspective, to what do you attribute your recent growth?
Application of AV-9000 Quality management process and the pursuit and administration of Enterprise accounts.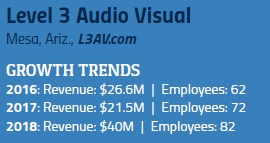 From a customer demand perspective, to what do you attribute to recent growth at Level 3 Audiovisual?
Our reputation for quality work has spread amongst new clients and the industry in general.
In what ways have you adjusted in order to accommodate this growth?
We continue to seek out and acquire leading talent in the AV industry. We strive to constantly adjust to market and client demands.
See our 2018 list of Fast-Growing Integration Firms here
We've all seen how integration market growth can be dramatically impacted by the addition —or loss — of big projects from one year to the next. Do you see your company's recent growth as sustainable?
Yes, we see growth at Level 3 Audiovisual as sustainable as there is a great need for an ability to manage, administrate and integrate large tech projects.
How Level 3 beat the Arizona sun with their video walls at bright ASU campus:
Arizona tech integration firm Level 3 Audiovisual had a pair of powerful forces working against it as it looked to be Arizona State University's (ASU) integration firm on a $2.4 million, 220,000-square-foot project.
One obstacle was the power of money. It was a public bid project, and when the final decision came down to three integration firms, it was clear that Level 3's pricing was by far the highest.
The other powerful force was the sun. The project called for eye-popping video walls, but the Arizona summer sun created challenges when creating a display bright enough to be visible from outside.
Read the full story here