Loupe Raises $3M to Transform Art Distribution
Along with raising $3M, the organization has also announced Loupe for Business to support artists, hospitality and commercial spaces.
Leave a Comment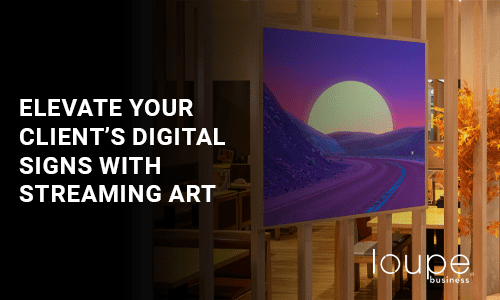 Loupe announced the closing of a $3M Series Seed+ funding round led by ALIAVIA Ventures. Following ALIAVIA was Sound Media Ventures, CityRock Venture Partners, Goal Ventures, Phoenix Capital Ventures, Yolo.io and Atlanta Technology Angels.
Per a statement, the announcement signifies Loupe as a prominent figure in streaming art. Here, the platform has helped transform offices, commercial real estate, billboards and home entertainment. Moreover, it supports hundreds of living artists to earn a living.
Per a statement, ALIAVIA Ventures invests in early-stage, female founders across the U.S. and Australia. In so doing, it aims to build world-changing enterprise and consumer tech companies. As part of the round, ALIAVIA co-founder Kate Vale joins Loupe's board.
Rise of Loupe
Vale remarks, "Loupe's business model is unique in that the platform helps to promote undiscovered artists who sell both physical and digital art; while also extending that experience into the home and any screen OOH (out of home) particularly in high traffic areas such as hospitality. Not since my days at Spotify; have I seen such a disruptive streaming platform which has the ability to transform the industry."
She continues, "This, combined with traction the team has achieved with Tier 1 brand partnerships, demonstrates a real demand in market for Loupe. We are excited to be involved as Loupe scales the business globally."
"Loupe's screens are proliferating in buildings and businesses across the world to contribute an inspired workplace experience with cultural relevance that drives repeat business," states Oliver Libby, co-founding managing partner of CityRock Venture Partners, "Loupe's ability to quickly create curated channels,and to build branded, private or segment-specific experiences is on point for the future of screens; and the way people want to consume content. We are delighted to be on team Loupe."
Looking to the Future
"Loupe's ability to bring new revenues and new avenues for consumer connections into the content-streaming industry is groundbreaking," adds Loupe board member Cameron Clayton, CEO of EasyPark and former CEO of The Weather Channel. "The last two years, they have gained significant momentum. [They also] hit technology and partnership milestones."
Also Read: TK Elevator & Loupe Elevate the Lobby Experience with Art and Technology
Loupe Founder and CEO Dot Bustelo, also speaks on the announcement. "There was a cultural inflection point worldwide on the value of digital-art experiences. We are [happy] to make this both affordable and customizable by industry verticals spanning in-home, hospitality and the workplace; while giving emerging and established artists access to a global customer base to sell their work," Bustelo explains. "The Loupe team completed a foundational year of expanding our technology to support a global community of artists and international-streaming distribution for digital art. This year is about scale and growth."
If you enjoyed this article and want to receive more valuable industry content like this, click here to sign up for our digital newsletters!