Mood Media Launches CleanShield Solutions Germicidal Protection and Cleaning Offerings
CleanShield Solutions 'help businesses ensure a cleaner, safer environment and instill elevated trust and peace of mind with consumers.'
Leave a Comment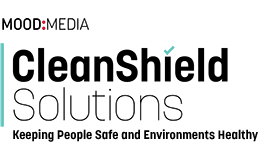 Mood Media today announced the introduction of a new suite of "sophisticated germicidal protection and advanced cleaning offerings" called CleanShield Solutions.
The company has partnered with sanitization manufacturers PURO UV Disinfection Lighting, ACT.Global, Healthe, Vital Vio and Crimson AV to offer "cleaner and safer environments to businesses spanning retail, hospitality, restaurants/QSR, healthcare, entertainment and more."
"From long-lasting antimicrobial coating solutions including titanium dioxide (TiO2) applications, to electrochemically activated cleaning solutions, to ultraviolet (UV) lighting solutions including fully automated, full-spectrum UV light disinfection as well as Far-UVC light that inactivates dangerous microorganisms while remaining safe for human exposure, to antimicrobial LED lighting that continuously cleans the environment, to health monitoring systems including hand sanitization stations and real-time germ-tracking software, Mood's CleanShield Solutions offer businesses a variety of innovative, highly effective ways to create cleaner spaces and assure more positive customer and employee experiences," the Mood Media announcement says.
"As businesses begin to reopen in a post-COVID-19 world, safety and assurance have become critical factors when thinking about the Customer Experience holistically," said Mood Media CEO David Hoodis in the company announcement.
"Mood is in a unique position to help businesses across industries because of our history in elevating customer experiences in numerous client categories and our large size and scale," he said.
"When customers, guests, patients and employees know that businesses are leveraging this technology to maximize their safety, it establishes a higher level of trust and comfort that reflects positively on those brands and ultimately contributes to the overall quality of the customer experience," said Hoodis in the Mood Media announcement.
Mood Media CleanShield Solutions
Mood Media's suite of CleanShield offerings include the following solution sets:
Disinfectant/Antimicrobial Coating Solutions: Triggered by normal light waves and activated by LED and UV light, these coating solutions – including TiO2 applications – contain a novel compound that adheres to a wide variety of surfaces and provides a protective shield against germs, viruses and bacteria that remains effective for up to 12 months.
Electrochemically Activated Spraying Solutions: Electrochemical activation creates charged disinfectant micro-particles that disinfect surfaces to create a baseline to implement all solutions and provide daily cleaning.
UV Light Disinfection & Germ Mitigation Solutions: UV light inactivates dangerous microbes by destroying their ability to reproduce. These solutions help prevent the spread of bacteria, mold, viruses, fungi and more, and they include controlled and continuous options. Product options include the use of UV light with germicidal UV-C, UV-B and anti-bacterial UV-A to optimize their germ-killing efficiency. Mood's UV Light offerings also include a Far-UVC light solution.
Antimicrobial LED Continuous Protection Solutions: Antimicrobial LED lighting continuously creates an inhospitable environment for bacteria, fungi, yeast and mold to grow and spread on surfaces. These LED lights meet international standards for continuous and unrestricted use around people and animals.
Health Monitoring Systems: These systems help ensure the safety of employees and customers with point-of-entry screening. Applications include contactless temperature scanning, hand sanitization stations, branded content messaging, real-time tracking software, preventative maintenance programs, mobile app options, light-embedding design for custom applications and more.
"It's never been more important for consumer-facing businesses to place top priority on their cleanliness and safety standards, and our new CleanShield Solutions hit at the very heart of that," said Mood Media senior VP Chris Chuilli in the company announcement.
"Particularly in this 'new' normal, these standards are integral in developing a positive customer experience foundation – with consumers around the world now viewing these as top considerations when deciding where to shop, where to eat, where to be entertained, where to seek healthcare services, where to gather safely and how to travel," he said.