1Path: A One-Stop Workplace Technology Shop
With expertise in both AV and IT, Onepath has become a master workplace technology integrator and a reliable business partner.
Leave a Comment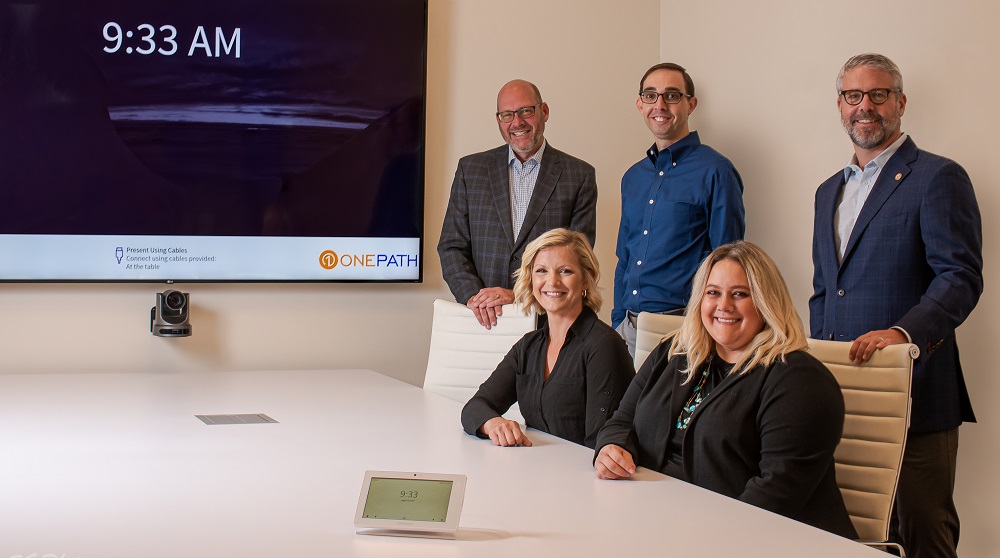 The worlds of AV and IT are merging—whether you like it or not. That's due in part to the rise of cloud computing, IoT and AV-over-IP.
Given this growing trend, it would make sense that AV integrators evolve into both a provider of audiovisual solutions and a managed service provider that can handle all their customers' workplace technology demands. 
If you're wondering if that business model could work, look no further than 1Path IT services. 
The Atlanta-based company has evolved from a low voltage company that specialized in structured cabling and fire alarms to a one-stop shop of workplace technology solutions that includes AV systems, managed IT services, security, access control and more.  
Through acquisitions and organic growth, the company grew from 80 employees in 2006 to now 550 employees with 2019 revenues of more than $150 million. The company operates in four locations along the East Coast and is a technology provider powerhouse in the southeastern U.S.  
Where IT 
M
eets A
V
With advancements in networking solutions making it easy to deploy audiovisual solutions over the IP network, AV-over-IP has become an attractive solution for both integrators and end users.  
As the pro AV industry migrates to the same infrastructure as the IT world, the two disciplines are becoming intertwined, leading to companies like 1Path that now boasts a laundry list of workplace technology offerings. 
While AV was the foundational piece of the business, 1Path in the late 2000s was becoming much more than just a structured cabling company. It began to offer a larger suite of workplace technologies, like conferencing, access control, security systems and more.  
"As that transition was happening, we realized the challenge was designing and deploying in that manner – meaning designing and deploying a unified network," says 1Path senior VP of sales Tommy Mullins. "And then the developer/end user/owner has to manage that network." 
That transition from digital to IP in the pro AV world helped foster that company growth and an eventual acquisition of an IT provider, Mullins says.  
"That's where we saw that opportunity," Mullins says. "We added to our suite a managed service portfolio."  
Now, 1Path has subject matter experts that are fluent in both AV and IT, which makes it easier to communicate with end users and maxed-out IT departments.  
"A lot of those guys and gals have been tasked with managing and supporting a technology they either don't know or don't care to know," Mullins says. "We've been able to bridge that gap because we have relationships in the IT department." 
This allows the company to lean on the expertise of both AV and IT experts to solve broad problems at their clients' locations, says Luca Jacobellis, president and chief operating officer, who leads the managed services side of the company.  
"I think one of the things that gives 1Path a leg up against the average is that my business unit and Tommy's business unit can work together to solve broader problems," Jacobellis says.  
As an example, Jacobellis cited web meetings and the AV solutions integrators would provide for them.  
"To some extent, integrators might stop there," says Jacobellis, "But with 1Path – because we have the deep IT expertise – not only have we done those same kind of things for our clients, we're also able to get into their business, their technology stack and their workflow to see how they're making their applications and data available to users now that they're remote all of the time. 
"We're doing lots of work around Microsoft and Amazon clouds and just a whole number of ways to make our clientele more effective and efficient in this new reality," he says. 
Nearly every element of workplace technology is on the network these days, which means the already–overburdened IT department better be on their toes to solve issues when they arise.  
"Anytime that they can find a partner that that they can lean on and push a piece of that workload somewhere and do it in a way that's effective and efficient, I think it's a win-win for everybody," Jacobellis says.  
O
ne-
S
top 
S
hop
1Path provides their full suite of technology solutions to many areas, including healthcare,  professional services, manufacturing, distribution and government. 
For all these markets, 1Path could very well be the only technology provider they work with for every piece of workplace technology.  
Farhad Islam, the IT director for the Atlanta suburb of East Point, said he first began working with 1Path several years ago when he worked in IT for Georgia state government.  
Now at East Point, Islam has been impressed with both 1Path's range of services and the company's ability to meet deadlines on demanding projects. The first project for 1Path at East Point during Islam's tenure was a nearly $700,000 job to replace essentially all the city's network infrastructure.  
After that, 1Path won the bid for a new city hall project, which really allowed the company to show its range of expertise.  
Islam provided a long list of solutions and services provided by 1Path, including structured cabling, Wi-Fi, data center migration, access control, CCTV and other AV components.  
"They have everything from the guys who can run fiber for you, people who can do structured cabling, people who can actually do your network setup and configuration and a team that can actually come in and help you with upgrading your applications," Islam says.  
One of the city's challenges was dealing with their complicated Cisco setup that Islam says requires a deep level of understanding of Cisco networking infrastructure and devices.  
However, 1Path has Cisco certifications and a solid line of communication with Cisco that allows the company to tap into Cisco's engineers for help on a project. The same thing goes for Microsoft.  
"When you're moving in a time crunch, things can go wrong at any time," Islam says. "It can be difficult to get a project done, but [1Path] has a backup for backups. If one person cannot do something, another could." 
1Path's deep knowledge of both AV and IT systems helps the company tackle the most demanding projects and quick turnarounds, much like the Piedmont Hospital project.  
Although a much smaller scale, 1Path met that same challenge when finishing East Point's city hall project. According to Islam, the mayor wanted to give a State of the City address from City Hall, but AV solutions weren't yet set up.  
To meet that request, 1Path worked overnight for three straight nights to finish what should have taken at least three weeks.  
"They're very flexible with you to get things done," Islam says. 
For the nearly six years Islam has held his position at East Point, he's worked with the same sales staff from 1Path. Despite 1Path's growth and size, the company has always been responsive to any issues, large or small.  
In one instance, the city's network went down on a Sunday and 1Path was able to have it up and running on the same day.  
"Once you build a relationship with them, they go above and beyond call of duty to help you out," Islam says. "They had no reason to help me out on that Sunday." 
H
ealthcare 
T
echnology 
Master
1Path counts healthcare among its biggest markets, Mullins.  
"That applies from workplace technology all the way into the managed services side," he says.  
The company recently wrapped up a project in its hometown at the Piedmont Hospital's new Marcus Tower, one of the largest buildings in Atlanta's healthcare market at 16 floors and more than 400 beds.  
According to Mullins, 1Path was the "master technology integrator" for the entire building. The firm provided the fiber and copper all the way to desktops and displays.  
"We believe more and more builds are going to go that way, leaning on the expertise that we have," Mullins says. "So far, the market is kind of coming toward us and our capabilities. We stand alone and we're differentiated in our ability to provide all of those suites." 
LISTEN: How to Build Your IT Relationships by Helping Keep Their Mobile Workforces Secure: Episode 122 of AV+
With the COVID-19 pandemic wreaking havoc on healthcare systems across the U.S., this project was important for the Atlanta area. That led to Piedmont Healthcare opening parts of the $603 million building four months early in April to open its intensive care unit to COVID-19 patients. 
The remainder of the building opened in July, again ahead of schedule.  
The hospital on April 7 announced that parts of the tower would open on April 13 for COVID-19 patients. 
"If you've ever been involved in a huge build like that, that's a Herculean effort to bring it in early," Mullins says, acknowledging the hard work of 1Path's staff to help accommodate the hospital while they operate in the same uncertainty. "We really worked around the clock to make that happen." 
M
eeting the COVID-19 
C
hallenge
With healthcare driving revenues and supplying 1Path with more than enough work, the company recently launched a new thermal temperature kiosk solution that integrates into their customers' existing workplace technology suite and the building's access control system.  
If an employee's temperature indicates a fever – which is a main indicator of a COVID-19 infection – that employees' badge won't unlock the door.  
"It's a way of taking what we have knowledge in and our expertise and integrating those together to provide something that's going to help that healthcare community," Mullins says. "Now, we're seeing it applied to all businesses that need to know that type of information and make sure employees and visitors are safe." 
With healthcare making up the bulk of their clientele, 1Path has also been very busy in setting up telehealth and videoconferencing technologies to help keep both patients and providers healthy.  
Telehealth and telemedicine – essentially applying videoconferencing and collaboration technology to the patient-doctor relationship – is in high demand from both healthcare provider and patient since hospitals can be a dangerous place these days for people vulnerable to viruses like the coronavirus.  
Setting up those systems with videoconferencing and collaboration capabilities has taken up a good chunk of the company's time recently, says Jacobellis.  
One healthcare client previously saw a few dozen patients via remote conferencing, but that has now increased to about half of their patients.  
"We've been doing that kind of work with a number of our clients over the last few months," Jacobellis said.  
With other remote communication technologies taking center stage over the last few months as employees work from their homes, cybersecurity has become a priority for 1Path and its customers.  
Even before the COVID-19 pandemic gave cybercriminals a much broader landscape and opened our home networks up for attack, 1Path leaned heavily into end-user training for both its customers and 1Path's own employees.  
Several noteworthy breaches have been the fault of a service provider that wasn't secure itself. Those companies are attractive targets because they essentially hold the keys to a jackpot of their clients' information and data.
"The reality is that the vast majority of breaches are human error," Jacobellis says.  
1Path has also built cybersecurity solutions into its managed services portfolio that can help customers' end users stay secure regardless of where they are.  
"The challenges are vast," Jacobellis says. "Hopefully the tools we use to secure them are in place." 
Moving
 Forward
Like many other companies, 1Path was negatively impacted by the economic downturn caused by the coronavirus pandemic. The company counts on new builds like the Piedmont Hospital and East Point's city hall to help drive revenues. 
Construction projects have remained relatively steady in 1Path's markets, but new leases have slowed down significantly, Mullins says.  
As coronavirus cases begin to level off in certain areas of the U.S., there are encouraging signs that customers are beginning to plan new offices once again. 
However, those sites will look much different than they've ever looked due to social distancing guidelines that are expected to remain part of our lives for the near future.  
"The footprints are looking different," Mullins says. "The square footage per person is looking a little different." 
Leaders at 1Path – like thousands of other companies – have learned valuable lessons throughout the pandemic about their business. 
Remote work will be a mandatory part of our lives for the remainder of 2020, but many employers may opt to keep their employees at home to save on facility costs and attract new, younger employees.  
Both AV and IT talent can be difficult to come by, especially in areas away from large cities or hubs of higher education. Although 1Path is headquartered in a major city and has eight other offices, the company is beginning to look for talent across the entire U.S.  
"The one thing this has taught us is we don't really have to think about our hiring pool being just in the relative geography around any of our locations," Jacobellis says. "We're really leaning into this saying, 'The whole U.S. is our hiring pool.' 
"It gives us the opportunity to not just look for the best and brightest in our local markets, but really the best and brightest anywhere," he says. 
Now, the company is beginning to think about its real estate, future investments and new locations.  
Office layouts at 1Path are changing from "cube farms" to more of a collaborative environment where teams rotate in through offices.  
As of late summer, about two-thirds of 1Path's staff is remote, Jacobellis says. One company location typically has about 120 employees. These days, there are fewer than 10 people working there on site.  
"We were already ready to do this," Jacobellis says.  
This article was originally posted on Oct 6, 2020