Survey Finds Nearly 90% Of Employers Will Require Or Encourage Vaccinations
Arizona State University survey finds that 88% of employers in US, UK plan to at least encourage employees to get the vaccine.
Leave a Comment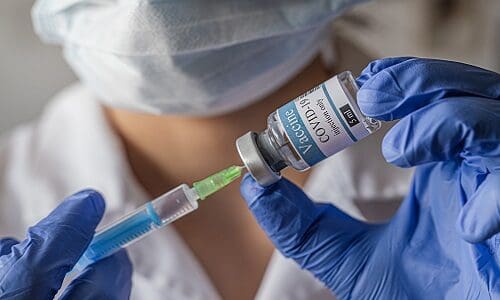 According to a new survey, the overwhelming majority of businesses in the U.S. and UK will require – or at least encourage – employees to get the COVID-19 vaccine.
The survey, conducted by Arizona State University's College of Health Solutions with support from The Rockefeller Foundation, found that 88% of employers in those countries plan to at least encourage employees to get the vaccine before returning to the office, and nearly seven out of 10 employers are currently testing their employees for the virus.
The survey comes as vaccination programs kick it into high gear around the world, particularly in those countries. However, how businesses will navigate those dynamics remain a mystery with complex legal issues surrounding a person's health.
More than 1,300 employers were surveyed, ranging from mid-size to large businesses who completed the survey in March.
Going further, 60% of employers said they plan to require proof of vaccination from their employees, and 59% will incentivize vaccinations.
Breaking that down further, 40% said they will require all employees to be vaccinated, 32% will encourage but not require vaccinations, 16% will require some employees to be vaccinated, and 12% said they either don't have a plan or don't plan to require vaccinations.
What this means for pro AV
How this plays out in the pro AV world will be interesting, given that job sites change often depending on where the project is. If these survey results are accurate and reflect the rest of the corporate world's thinking, then a large amount of your customers will want technicians to be vaccinated if they're going to be working on location.
According to CNBC, this is already happening in higher education, with "hundreds" of colleges mandating vaccines for the fall semester. The news organization's report came Tuesday as New York Gov. Andrew Cuomo said all of the state's public colleges and universities will require vaccinations.
Other schools requiring vaccinations, according to CNBC, include Ithaca College, Cornell University, California State University, University of California, Yale University, Georgetown, Northeastern University, Rutgers University, Duke University and many others.
It's up to your integration firm's leaders and internal HR department to from their own policy around vaccinations and it's worth checking your state and local regulations, but there seems to be a growing consensus around mandating vaccinations in certain settings.
If you enjoyed this article and want to receive more valuable industry content like this, click here to sign up for our digital newsletters!