How to Keep Every Aspect of Your Business Healthy with Remote Support Technology
Teleportivity's importance grows with power to share documents, videos, forms and other communication tools whenever and wherever you need it.
Content from our Sponsor
Leave a Comment
Business continuity is a major focus across the U.S. and around the world today —and Teleportivity is making it easier than ever with a scalable solution that brings documents, videos, forms and other communication tools, to your fingertips whenever and wherever you need it.
It All Started With Tech Support
To support customers over greater distances, integrators initially turned to Teleportivity as a tool to help troubleshoot and remotely support end user issues. Given that 30-70% of tickets are user error, many troubleshooting issues can be easily fixed if the user has more information or the tech can actually see the error.
Sending a physical person costs both time and money, not to mention customer satisfaction can whittle away while they wait for assistance.  That physical presence can stretch resources thin, push customer satisfaction down, and limit the integrators future growth opportunities to take on additional customers, especially over greater distances.
Teleportivity brought the answer to this common issue with instant information and video deployment.
Using Teleportivity, integrators can stretch their resources and maintain exemplary customer support with minimal to no response time, by providing customizable information enclosed in a QR Code, that can be fully accessed with the scan of a personal device.
Spanning the 'Distance' with Video Deployment
"We are accustomed to using video to collaborate," says Teleportivity founder and CEO Adam Gottlieb. "Now, we need to think of it as a way to deploy."
Teleportivity "is designed to stretch resources over a greater distances –such as light staffing, remote staffing, or support in times of social distancing through use of video deployment and on-the-spot information," he says.
Gottlieb sees the ever-expanding technology platform as not only a complement to, but an extension of the traditional corporate huddle space.
"The huddle space has become very much a part of the AV world," says Gottlieb. "We're creating a number of new spaces to complement the huddle spaces but also to extend well beyond the huddle space."
That includes the support space, which allows Teleportivity users to connect unique QR codes or NFC labels to a room or desk to give you access to self-support, including documents, videos, forms and other communication tools on-demand by voice or text.
Teleportivity can also be deployed through fixed screens or tablets, says Gottlieb, to create an instantly scalable on-site web app and document repository with a fully integrated video, voice and text help desk.
Right Info, Right Place, Right Time
When he was creating the technology behind the Teleportivity platform, Gottlieb sought to answer this question: How do you have the right information at the right place at the right time for whoever needs that information and how do you connect that person to the right people through the right communication method?
Teleportivity isn't just for the corporate huddle room, says Gottlieb. It's found a home in college lecture halls, control rooms, in hotels and health care facilities as a digital concierge and serves a valuable role in building and facilities management too, he says.
The system is about "bring[ing] that location alive to make sure people have the best informational experience and can connect with the right people without needing to think about it," says Gottlieb.
Easy Use for Any User
There's no app and no install necessary to access the power of Teleportivity—just instant support, specifically catered to the environment – accessed by simply scanning the Teleportivity QR Code with the camera on any phone or tablet.  Help can come in the form of information – troubleshooting tips, room diagrams, or videos – or even live tech support via phone call or video.
The solution can be rolled out no matter the size of the integrator or skillset, because Liberty AV, the exclusive distributor of Teleportivity in the U.S., can offer third-party tech support when the integrator doesn't have the resources to deploy the solution in-house.
Keeping Your Info Safe
And, while there's plenty of information that will be exchanged through the Teleportivity portal, users need not worry about their information only being seen by the intended recipients, says Gottlieb. They've built in measures such as personal identification number locks, IP restrictions, two-factor authentication, video encryption and document security tools to maintain the highest level of privacy they can achieve, he says.
"We've taken security into account from Day One," says Gottlieb.
About two years after Teleportivity was introduced, there are thousands of endpoints around the world. The company boasts partners in the U.S., Singapore, Australia, U.K., Germany, Asia-Pacific, South America and Mexico and continues looking for new places and ways to deplot it, says Gottlieb.
Virtual Applications As Risk Mitigation
"We built this technology to be able to concierge people across sites, but we pivoted it to different use cases," he says with a nod to the COVID-19 pandemic. "People want to keep their staff safe and make sure people are socially distant. We're being inundated right now with people who are interested in business continuity.
"Many organizations are embracing it right now because it's an immediate problem," says Gottlieb, noting the interest level has advanced Teleportivity's growth curve by 18 to 24 months.
"We're really excited every day by the different use cases our customers are coming up with for it. We built our technology to bring humans back into places that didn't have enough. Our technology's become more relevant for today's circumstances, accelerated the way our partners and customers are using it," he says.
Teleportivity's flexible and customizable video deployment can be implemented to support job fulfillment remotely.
Teleportivity's platform is already designed and equipped to handle these needs, including:
Person-to-person concierge support, perfect for a front desk or greeting point.
Remote customer assistance and system troubleshooting.
Unmanned, self-guided support wherever information or help is needed.
Remote Deployment for Customer-Facing Roles
"Right now, employees can work from home or maintain distance from incoming guests, yet they can't fully fulfill their jobs this way," says Gottlieb.
The office front desk is the perfect example. How do you maintain your business when you don't have the onsite staff to greet and direct guests? Teleportivity's WelcomeSpace™ can deploy a physical person at the desk, wither manned by someone in another location within the building or remotely from their own home. Guests are greeted by the virtual concierge via a tablet stationed at the front desk.
As with Teleportivity's other information functions, the concierge can deploy a QR code for the guest to scan to provide any type of necessary information needed for the guest… including the ability to bring the virtual concierge with them on their way to their destination.
The WelcomeSpace™ virtual concierge can place the QR Code on the screen for a guest to scan. Guests follow prompts to scan their driver's license and sign their name to a digital sign-in log, all from their personal device. Once confirmed, the Welcome Point concierge can even show them on their way, once again using the guest's personal device.
This same technology can be deployed to any location that guests or employees need support or additional information.
Teleportivity is the perfect solution for:
Medical
Corporate
Education
Government

Ever-Evolving, Endless Possibilities
"The world has changed. Our technology is becoming more relevant for that. We're all embracing technology more rapidly," says Gottlieb.
Teleportivity isn't a stagnant product either, with updates every two months or so including features that are requested by the customers who are using it every day and understanding its capabilities.
Today, customers want the platform as touchless as possible, says Gottlieb, so developers are building in facial recognition capabilities that will go to all subscribers when it rolls out, like all prior Teleportivity updates.
'Ahead of the Curve'
Scott Kroeze, executive VP for enterprise at Spinitar, says he was instantly intrigued about the power of Teleportivity for his customers—and his company—when he first heard about it at InfoComm 2019 through Spinitar's partnership with Liberty AV.
Spinitar white-labeled Teleportivity under HelpPoint+, incorporating it into every system that goes out the door through what the company calls "success plans" for its customers, says Kroeze.
"There are some really unique benefits here," he says, including the ability for Spinitar to garner recurring monthly revenue by monitoring how customers use the Teleportivity platforms in the various deployments it's installed for them.
"More customers are being stretched thinner and thinner and being asked to do more with less," says Kroeze. "That's where this service comes into play. It expands across almost every vertical and helps to improve the experience of using AV. The more conversations we have, the more use cases come out of it."
A large California utility that's a Spinitar customer used Teleportivity's virtual receptionist feature to allow its executive team to monitor traffic and visits to the facility through iPads, says Kroeze, allowing them to stay on top of what's going on with the touch of a button as most companies and agencies are asked to work from home.
Airports could use Teleportivity in virtual kiosks when people return to their frenetic pace of travel, says Kroeze, and other such uses could be implemented in a variety of other vertical markets once the pace of business picks up.
Teleportivity brings efficiency to Spinitar too, says Kroeze, because it means rolling fewer trucks to fix problems and being able to diagnose and address them more quickly.
"It's a big differentiator for us," says Kroeze. "We've won some opportunities by leveraging this technology. I feel like we're really ahead of the curve on this."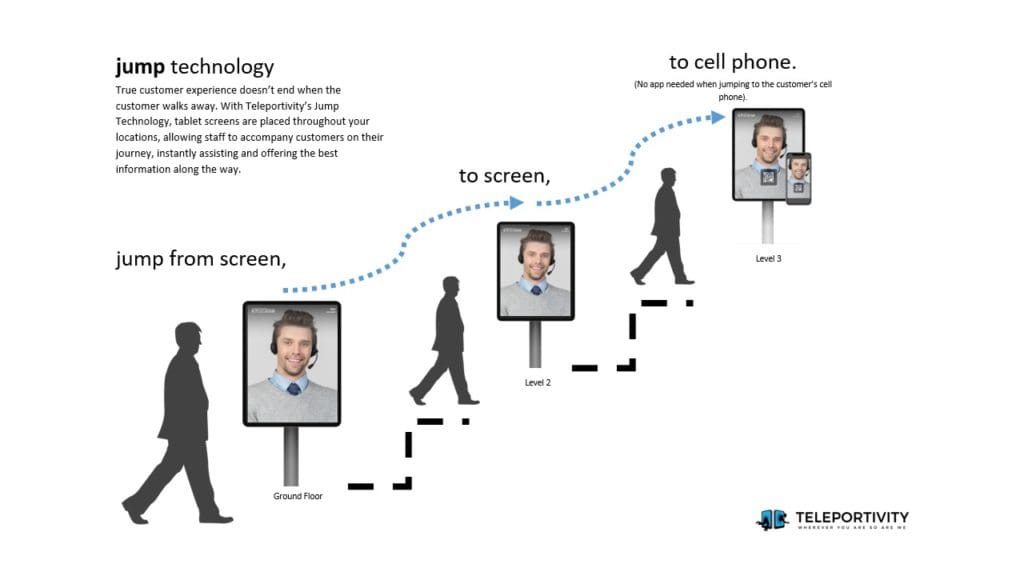 Bring your unique business challenges and Liberty AV will fully customize a solution to meet your needs. Learn more at www.libav.com/teleportivity or by contacting the Liberty AV Solutions customer solutions team at 800-530-8998.