AVIXA Announces 2020 India Award Winners at Virtual Event
Honorees in six 2020 AVIXA India Awards categories celebrated for achievements in the AV industry this year and in their careers.
Leave a Comment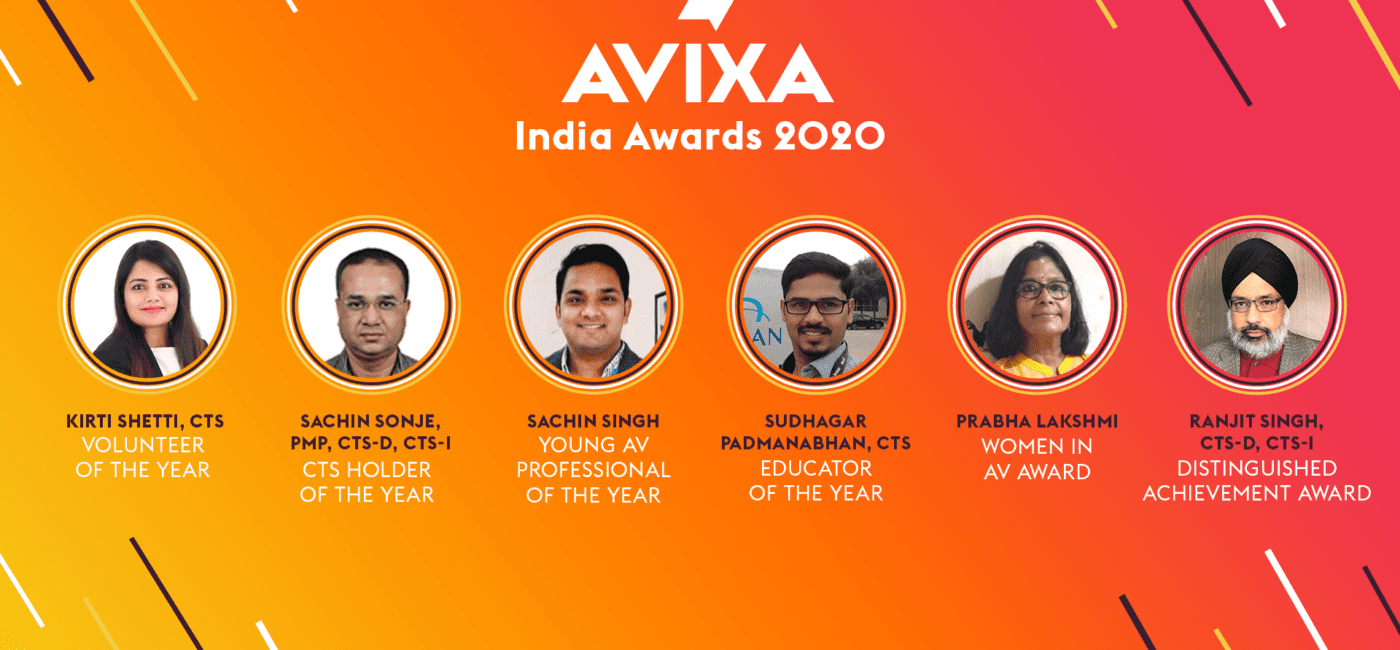 AVIXA has announced the winners of its annual India Awards, which recognize "outstanding AV professionals for their achievements and commitments to the AV industry in India," according to the association announcement.
The winners in the six categories were named and celebrated at an awards ceremony during InfoComm India 2020 GoVIRTUAL on Nov. 20.
A dedicated awards committee selected the winners for the following categories after reviewing nominations from across the AV industry:
India CTS Holder of the Year

India Young AV Professional of the Year

India Educator of the Year

India Women in AV

India Distinguished Achievement

The winner of the InfoComm India Volunteer of the Year Award was selected by AVIXA staff.
Related: AVIXA Reveals Top Pioneers, CTS Holders, Educators, Women, Volunteers, Emerging Talents
"We are incredibly proud of our 2020 award winners who have made positive impacts on the AV industry," said Jonathan Seller, senior director of development, Asia-Pacific for AVIXA, in the association announcement.
"They lead by example, inspiring their peers through teaching, volunteering, and breaking boundaries. These individuals leave lasting impressions on the AV world," he said.
AVIXA honors achievements and outstanding contributions at many of its shows around the world every year.
2020 AVIXA India Award Winners
Here's a rundown of the 2020 AVIXA India Award winners:
India AVIXA Volunteer of the Year Award
Kirti Shetti, CTS, Director Operations, Kramer Electronics India
India AVIXA CTS Holder of the Year Award
Sachin Sonje, PMP, CTS-D, CTS-I, Associate Chief Manager, AV Project and Services, Godrej & Boyce Manufacturing
India AVIXA Young AV Professional of the Year Award
Sachin Singh, Sales Manager, Enterprise, Christie Digital India
India AVIXA Educator of the Year Award
Sudhagar Padmanabhan, CTS, Manager, Application Engineering, Harman International (India)
India AVIXA Women in AV Award
Prabha Lakshmi, Chief Sales Officer, Office 2000
India AVIXA Distinguished Achievement Award
Ranjit Singh, CTS-D, CTS-I (posthumous)