AES Show Student Week Sets Sights on Education and Career Advancement
Virtual AES Show format allows for a broader range of students and educators to connect during Student Week events Oct. 19-23.
Leave a Comment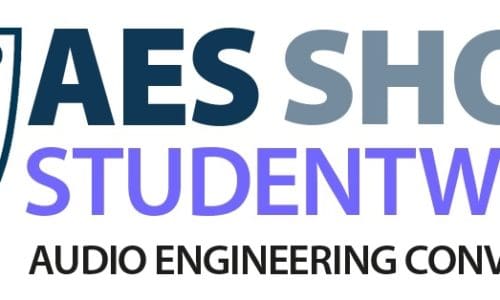 The Audio Engineering Society invites students and educators to attend the AES Show Student Week Oct. 19–23 as part of its Audio Engineering Month events.
The AES Show will once again "place a high priority on the education and enlightenment of tomorrow's audio professionals, offering a slate of activities designed to connect audio students and educators in meaningful and lasting ways," according to the AES announcement.
Events will include exclusive Technical Program content, meetings and events hosted by the AES Student Delegate Assembly (SDA), a virtual Education and Career Fair, student competitions, student project critiques and more.
Related: Audio Engineering Society Seeks Financial Support from Members and Industry
AES Show Fall 2020 Convention All Access registration is $99 for AES student members for the full access to AES Show and Audio Engineering Month events.
AES Show Student Week Partners include Audio-Technica, Genelec, IK Multimedia and the Recording Academy Producers and Engineers Wing.
Several highlights of AES Show Student Week include the Student Recording Competitions in six categories (traditional acoustic recording, traditional studio recording, modern studio recording & electronic music, sound for visual media, remix and immersive audio) and the Saul Walker Student Design Competition sponsored by API (gear and software).
More About AES Show Student Week
AES Show Student Week will also feature the MathWorks-sponsored MATLAB Plugin Competition, where students use MathWorks MATLAB software to create a VST plugin effect that meets an audio production need by offering content creators new technical and/or aesthetic possibilities or addresses existing technical and/or aesthetic limitations.
Student competition projects are critiqued and judged by industry professionals. Livestreamed Student Mix Critique sessions will provide non-competitive professional input and advice for students at all stages of training.
In addition, the AES Student Delegate Assembly (SDA) will host several organizational and planning sessions. Open to all, the Education and Career Fair will feature educational offerings and job opportunities from leading institutions and companies from around the world.
All Access registration also lets students attend all AES Show technical program sessions, keynote addresses, papers, engineering briefs, tech tours and other content, along with live- and on-demand presentations from AES Show partners.
Education Committee co-chair John Krivit notes that as a benefit of the convention going online, with no travel required, students from all over the world are taking part in the various competitions and critique sessions.
"When we first took these sessions virtual for AES Virtual Vienna, we had more students than ever enter the competitions and take part in the Critiques," he said.
"Now, with Student Week as part of Audio Engineering Month, all AES Show Fall 2020 Convention All Access registrants can check out these compelling events without missing any of the convention's technical program," said Krivit.