AV News to Know Dec. 18, 2020: New Products, Cool Projects and People in New Places
In this week's edition: Field Nation launches pricing tool, CrewCom brings C.S. Lewis' work to life and Lencore names David Smith as COO.
Leave a Comment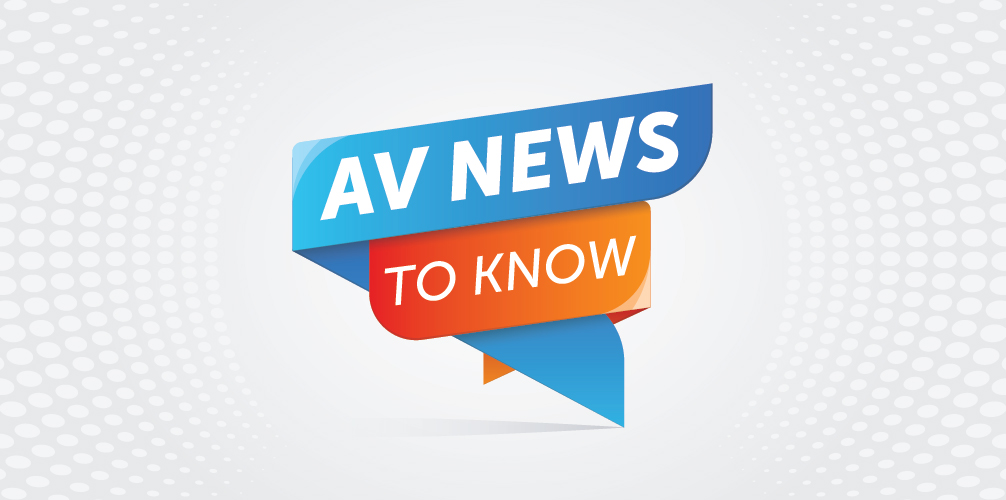 Here's a closer look at some of the AV news, products and projects you might have missed this week. We call it AV News to Know:
New AV Products
Clockaudio Adds Q-SYS Ecosystem Control Plug-In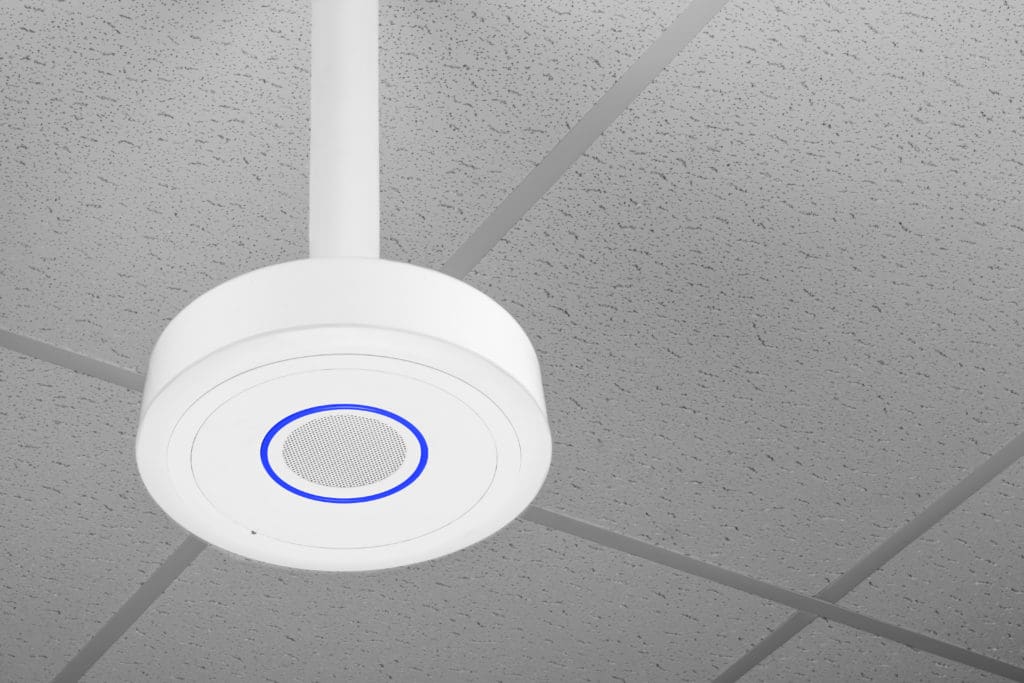 Clockaudio this week announced the availability of a new QSC Q-SYS Ecosystem Control plugin for the company's Trackable Intelligent Microphone (TIM-1000).
The Q-SYS plugin enables the features of TIM-1000 to be controlled through the Q-SYS software-based audio, video and control ecosystem. This plugin will be available through the Asset Manager portal within the Q-SYS Designer Software.
Facilitation of the control programming and interface for the new plugin was done by control programming and software development experts, Control Concepts.
Raydiant and XITE Bring Music Videos to Businesses, Retailers, Offices
Raydiant, a digital signage and experience platform company, this week announced its alliance with XITE, a music video platform. The partnership brings music video service to brick and mortar businesses, retailers, and office locations throughout the U.S.
By adding XITE to their Raydiant Application Marketplace, businesses will be able to play their customers' favorite music videos in-venue at the push of a button. XITE features a full catalog of music videos from top and independent artists and nearly 100 channels.
Z-Wave Long Range Specification Enables Several Miles Range

The Z-Wave Alliance this week announced the Z-Wave Long Range (Z-Wave LR) specification is available for product development. Z-Wave LR connectivity enables new IoT applications beyond the home, without any need for repeaters.
With a network size of up to 4000 nodes, Z-Wave LR provides the scalability needed in MDU & hospitality deployments. Z-Wave LR also reduces ongoing maintenance costs with up to 10 years of life on a coin cell battery.
The Z-Wave LR specification supports distances of up to several miles with a maximum output power of 30dBm, while supporting up to 4000 nodes on a single network. This represents a 20x increase over Z-Wave mesh node support while co-existing on the same network as Z-Wave mesh.
Johnson Controls announces Kantech EntraPass Integration with StoneLock GO
Johnson Controls this week announced the integration with Tyco Kantech EntraPass and StoneLock GO for opt-in "faceless" recognition, designed to protect users by safeguarding their privacy without the use of photographs, while eliminating the need to physically touch the reader.
Combining StoneLock GO with Kantech EntraPass security management software offers a completely contactless, universally compatible technology – regardless of gender, race or age – that is easily deployed and significantly reduces operational efforts.
Field Nation Unveils MarketSmart Insights Pricing, Coverage Intelligence Tool
Managed service providers (MSPs) will now have access to real-time, marketplace-wide pricing and coverage data through a new web-based tool from Field Nation called MarketSmart Insights.
The new tool provides MSPs with data from millions of field service jobs posted on Field Nation to help them bid more competitively, win more work, protect margins and identify growth opportunities.
MarketSmart Insights provides business intelligence from across Field Nation's marketplace that can be filtered by zip code, type of work, keyword, project, client, and more.
Audio Visual Projects
Pliant Technologies CrewCom Brings C.S. Lewis' Work to Life
When Theatrical Sound Designer Lew Mead from Autograph A2D was tasked with integrating a high-end wireless intercom system for the Fellowship for Performing Arts (FPA), the company turned to Pliant Technologies' CrewCom to deliver a road-ready solution.
Since FPA's acquisition of the Pliant system, the production company deployed CrewCom for a range of productions based on the renowned works of C.S. Lewis, including "Paradise Lost," "The Great Divorce" and "The Screwtape Letters."
"Autograph A2D's 15-year history has been dedicated to bringing audio and communication solutions to the theatre and equipping some of the world's best-known musicals with top-of-the-line innovations," said Lew Mead, managing director at Autograph A2D.
In addition to the system's flexibility, Mead found CrewCom to be a great solution for large, Broadway-style venues.
For "Paradise Lost," "The Great Divorce" and "The Screwtape Letters," Autograph A2D deployed eight Radio Packs (RPs) for the crew as well as two Radio Transceivers (RTs), which were connected to the Control Unit (CU) backstage.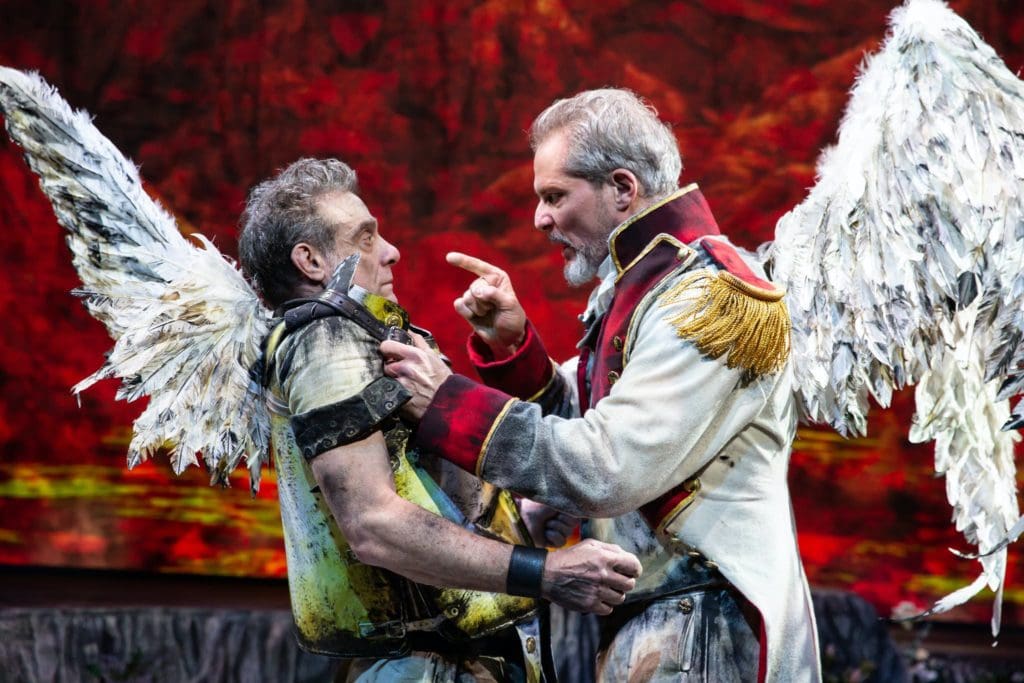 "We set up the system with all of our wireless microphones," said Mead. "This way, all of our RF areas would be in one place so the A2s on the shows were able to seamlessly monitor everything that was going on backstage.
"The RPs are lightweight and compact, and users can use them with their own headsets, which will be especially important once productions resume as people don't want to wear a headset that someone else has had on their head," he said.
Mead's experience with the Pliant system has been outstanding, and he looks forward to deploying CrewCom when FPA's productions resume.
"When the world opens back up, we'll be deploying CrewCom on another show called 'The Most Reluctant Convert,' which is the story of C.S. Lewis himself—his biography" he said. "We also have plans to extend into the college area further down the line, which we are really thrilled about."
Tom Patterson Theatre Relies on d&b A-Series for Upgrade
The late Tom Patterson is an Asheville, N.C., hero: a man who, by daring to dream, changed the face of his country and the economy of his hometown.  In 1952, with a $125 grant from the City Council, he set out to establish a six-week Shakespeare Festival in Stratford, Ontario.
Now, 66 years later, the Stratford Festival operates year-round and has welcomed 28 million theatregoers, generating billions of dollars' worth of economic activity for the city. In 2020, to mark the 100thanniversary of his birth, the Stratford Festival dedicated a new theatre to Tom Patterson.
"The old version of the Tom Patterson Theatre which this replaces was built into what used to be, at various times, a casino, concert venue, curling club, and badminton club; and so because of the odd shape of the building, it  evolved into a long runway-style thrust stage," said Peter McBoyle, longtime festival sound designer and audio design consultant for the project.
"The shape of that stage, although not conventional for theatre, was loved by actors, directors, and audiences, and the goal of the new 600-seat Tom Patterson Theatre was to keep the shape and feel of the old stage as much as possible but put it in a modern context," he said.
McBoyle said the shape of the stage presented a huge challenge from a sound point of view because of the long- thrust stage with audience members on three sides (four when the theatre is used in "the round") and the audience is not that many rows deep.
"We needed to cover a great length of audience and keep the energy off the stage," he said. "The acoustics were a challenge too because the audience sections are not that deep, so you quickly generate reflections off the back wall; and in the downstage end, the shape of the room is semi-circular and tends to direct the sound right back to the middle of the downstage area.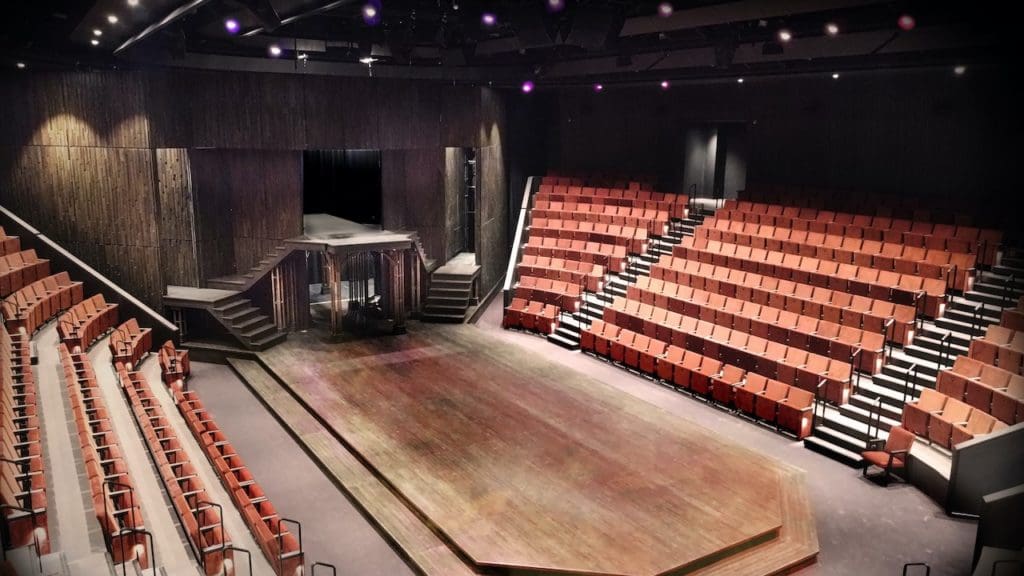 "The key to it all is having as much control as you can of the coverage of the main sound system to keep the sound where you want it and avoid sending it where you don't. The upstage wall is removable, creating the a full 'in the round' configuration. This wouldn't be done show to show but rather season to season," said McBoyle.
Enter the d&b A-Series augmented array.
"We were able to get the coverage where needed and have it drop off dramatically where not required," said McBoyle.
The system was installed by Horizon of London, Ontario in conjunction with the Stratford Festival IATSE crew. McBoyle was the system designer and also verified and tuned the system. Michael Duncan is the head of sound for the Tom Patterson Theatre and he worked with McBoyle on the design and oversaw the installation and commissioning throughout the project.
David Campbell is an associate technical director who manages the sound department for the entire Festival, and he was very much involved in the process from the beginning as was Greg Dougherty, who is the technical director for the Tom Patterson Theatre.
"The installation itself was pretty slick," said Duncan. "We were very lucky to have the building configuration work out with the plans we had made months before. Amplifiers were configured on the bench and worked the way they were supposed to as we installed them.
"The challenges of an installation in a new building were greatly mitigated by the ease of deployment and the ease with which the cabinets hung together amidst the dust and chaos of a construction site," he said.
Duncan said that due to the architectural aesthetics, it was necessary to create as small a footprint as visually possible with the AL90 loudspeakers.
The main system consists of 5 flown arrays of A-Series each with two AL90s in a vertical array. Three of the arrays sit downstage center to cover the downstage end of the curved audience seating. The other 2 arrays hang further upstage to pick up the coverage from the downstage arrays to provide even coverage of the entire audience seating area.
In addition, there are two 21S subwoofers flown above the center of the stage to provide even LF to the entire venue. 26 x 8S loudspeakers were installed as FX speakers (16 as surround speakers focused over the audience and 10 in a new overhead position.
All d&b cabinets are powered by 30D and 10D amplifiers. Control and configuration were made simple with the d&b R1Remote control software.
Due to COVID, the theatre has actually never been used since the entire 2020 season was cancelled.
People and Places
David Smith Promoted to Lencore Acoustics Chief Operating Officer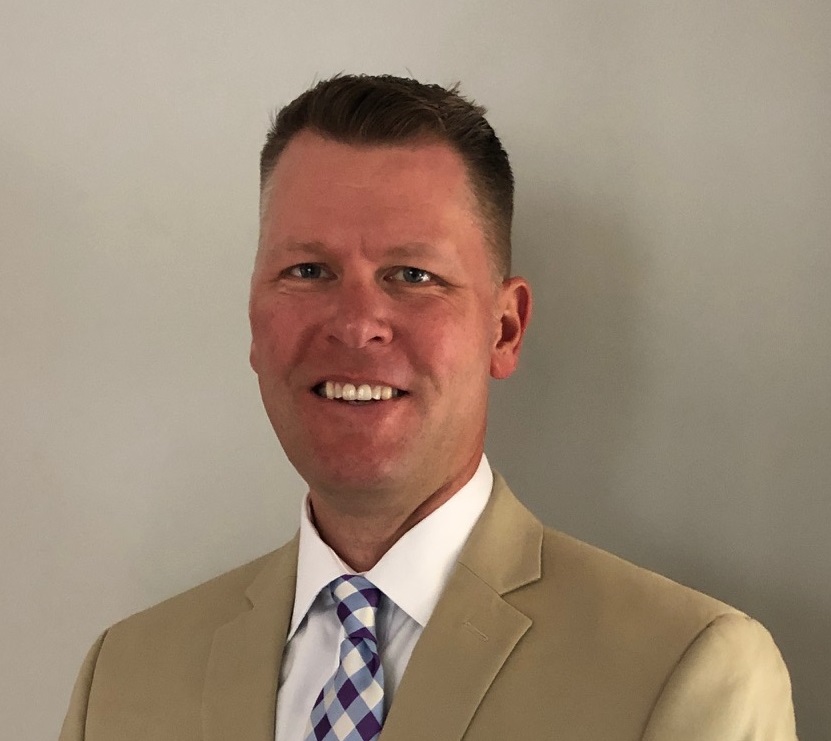 Lencore Acoustics this week announced the appointment of David Smith as COO.
Smith has spent the past nine years leading Lencore's marketing and business strategy functions. His experience in architectural products and building materials includes prior marketing and strategy roles at Schneider Electric, USG, and Nudo Products.
In addition to continuing responsibility for marketing, Smith will now lead the company's product engineering, manufacturing, and customer fulfillment functions.
ASG Names Tim Cuthbertson Director of Cloud Production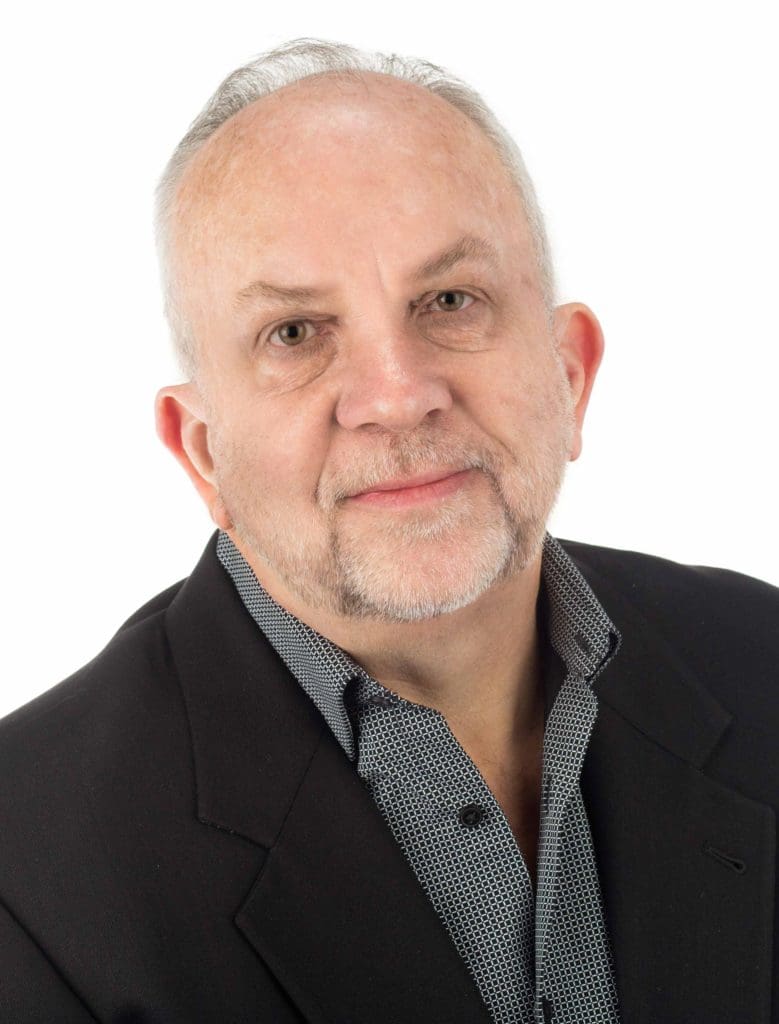 Advanced Systems Group (ASG) this week announced Tim Cuthbertson joined the company in September as director of cloud production.
Cuthbertson has worked in the industry for more than 30 years. Most recently, he served as managing director at Pixit Media USA and principal partner for STC Gear. Previously, he managed post-production business development for Blackmagic Design and spent more than nine years, including two as CEO, at Fairlight.
He was also director of engineering for TimeLine and general manager for Stirling Audio Systems in London.
Starin Grows Leadership Team
Starin recently welcomed Tyler Brebberman as director of business development.  Originally from the Midwest, Brebberman has spent the last 14 years working the U.S. and Europe in the pro AV and ed tech industries.
Starin this week also announced the appointment of Bill Reimer as the director of sales. Reimer has been with Starin for two years, where he has served as business development manager for the East Coast.
In his new role, he will oversee the growth and development of Starin's inside and outside sales teams.
With 25 years of industry experience, Reimer has previously held several leadership roles, specializing in audio, video, security and IT sales and support for large commercial projects.
His experience includes being the owner of a specialty integration company, developing new markets and sales programs for his teams and more.
SDVoE Alliance Confirms Board of Directors for 2021
The SDVoE Alliance this week announced its 2021 board of directors made up of pro AV experts from the six steering member companies — Black Box, Christie, IDK Corporation, NETGEAR, Semtech and ZeeVee — plus Grandbeing who won this year's election to represent the contributing member companies.
Justin Kennington retains his role as president of the SDVoE Alliance. Heading into its fourth year, the alliance has grown to 51 members shipping more than 500 products, and more than 1,300 certified SDVoE Design Partners.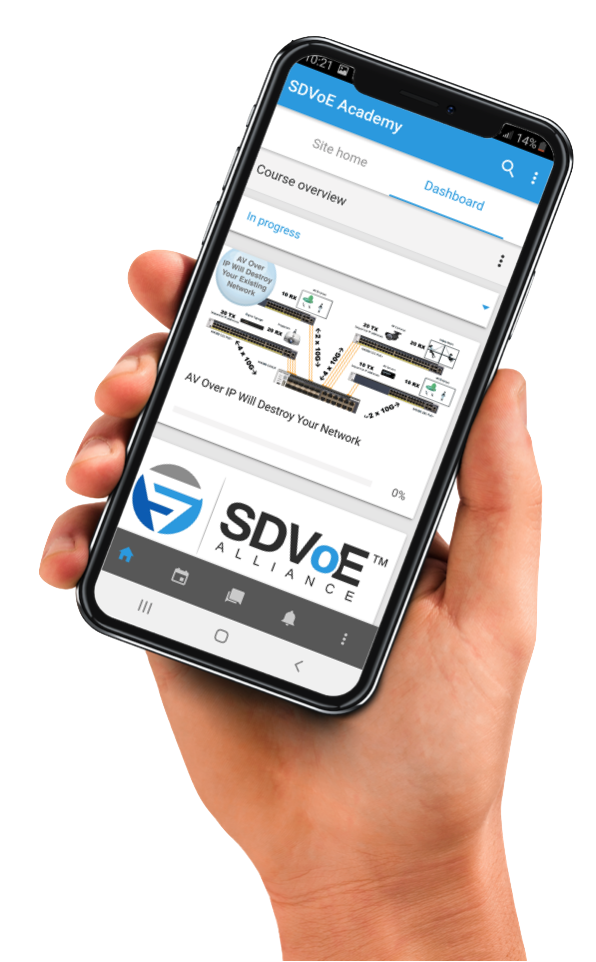 Individuals serving on the SDVoE Alliance board of directors for 2021 include the following industry leaders:
Ryohei Iwasaki, IDK Corporation
Keith Kennedy, Grandbeing
Laurent Masia, NETGEAR
Jonathan McCune, Black Box
Bob Michaels, ZeeVee
Don Shaver, Semtech
Clark Williams, Christie
Editor's note: AV News to Know will return Friday, Jan. 8. Enjoy the 2020 holiday season safely with your friends and family members—but not too many of them.