Former AVIXA Exec Jason McGraw to Head CEDIA Expo, Kitchen and Bath Industry Show
Jason McGraw, who led InfoComm shows for almost 30 years, and Amy Hornby to oversee CEDIA and Kitchen and Bath Industry Show for Emerald.
Leave a Comment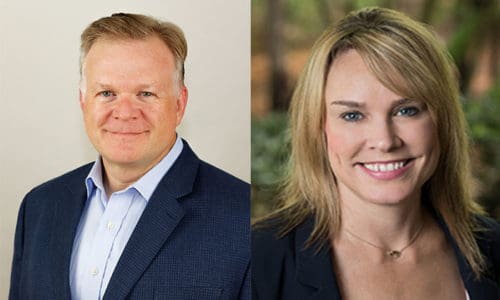 Emerald today announced the appointment of Jason C. McGraw as VP responsible for the oversight of the CEDIA Expo and Kitchen and Bath Industry Show (owned by the National Kitchen and Bath Association).
Emerald also announced Amy Hornby will step in to the newly created position of director for key accounts of KBIS and CEDIA Expo.
These additions allow KBIS and CEDIA Expo to "put in place a strong cohesive cross-marketing strategy that will strengthen the convergence of the design/build markets and custom electronics to facilitate opportunities to integrate programs and platforms for exhibitors and attendees," according to the Emerald announcement.
Related: IMCCA Honors Snorre Kjesbu and Jason McGraw for Lifetime Achievements
McGraw will also be responsible for working with association partners at NKBA, NAHB and CEDIA, as well as to identify and nurture new cooperative opportunities in existing, new and adjacent markets.
Hornby will have responsibility for more than 25 key accounts who currently participate (or may have an interest in participating) at CEDIA Expo and KBIS.
She will work closely with these accounts to assist with the development of new "go-to-market strategy" opportunities, leveraging KBIS and CEDIA Expo platforms to build custom solutions for maximum results.
"KBIS and CEDIA Expo are uniquely positioned to leverage its position in the design/build and custom electronics spaces to bring collaborative programming and experiences to exhibitors and attendees," said Brian Pagel, executive VP of construction, medical and military at Emerald, in the company announcement.
"As the residential design and construction market continues to embrace integrated whole technology, we can make the connections between brands, integrators, design and construction professionals unlike any others," he said.
"We are blessed that both Amy and Jason share deep knowledge of and strong relationships with each of these sectors. Most importantly, this is a win for the industry," said Pagel in the Emerald announcement.
What Jason McGraw Brings to CEDIA, KBIS
With more than 33 years of experience in both for-profit and not-for-profit conference and exposition management, McGraw most recently served as senior VP of expositions and event Services for AVIXA, leading InfoComm shows for 25 years until he left in 2018.
In addition to his many years leading the InfoComm show, McGraw worked on other industry events, including his time as VP of expositions for the Association of Equipment Manufacturers (AEM), leading the CONEXPO-CON/AGG '99 show, and as senior group director with the National Association of Home Builders (NAHB) in 2000, supporting The International Builders' Show.
He also launched and managed international shows held in China, Europe, Japan, Mexico and Singapore, including the Integrated Systems Europe, InfoComm Asia and InfoComm China exhibitions.
"The convergence of technologies and design within the home and resimercial markets creates exciting possibilities for enhanced living, work from home, entertainment, comfort and wellness," said McGraw in the Emerald announcement.
"I'm delighted to support the CEDIA Expo and KBIS teams that provide the ultimate event opportunities to serve professionals and the business channel in these dynamic marketplaces," he said.
"The future is bright for the industry and while events may be virtual at the moment due to the pandemic, the value for exhibitors, attendees and stakeholders to meet, learn and conduct business is essential," said McGraw.