SAVI Presents Vision for Commercial AV Installs; Unveils SAVI 3, its new AV control system at SAVI.Connect
Get a preview of SAVI 3 on August 26th
Content from our Sponsor
Leave a Comment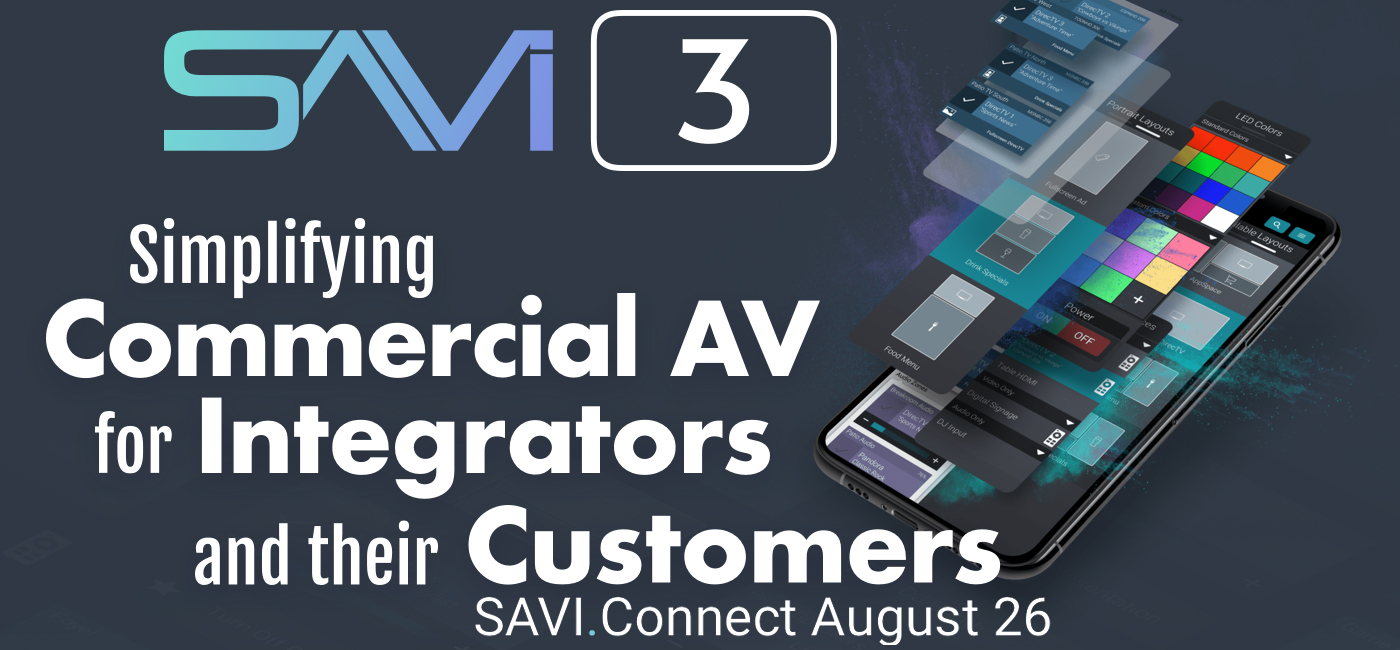 Today more than ever, businesses depend on reliable and high-performance audio/video experiences to communicate, sell, market, entertain, educate, train, and support their customers and differentiate their businesses. SAVI is disrupting the traditional commercial AV control market by creating a system that eliminates the complexity and costs of delivering engaging, new, and unique AV experiences to commercial customers.
For too long, the industry has been shackled to outdated technology that ignores the end-user experience. Traditional commercial AV control systems are highly complex, costly, and take weeks or months to program and set up. Now, the commercial AV industry is in a unique position to help businesses and organizations rebuild and refocus, post-pandemic. As more retail, restaurant, and entertainment venues begin to reopen and look to an uncertain future ahead, they will rely heavily on integrators who can provide innovative, user-friendly, and scalable experiences.
SAVI has a vision for the way control systems should be done — to make design, installation, and control as simple as possible for commercial dealers and their customers. SAVI aims to radically improve the install and control experience for commercial dealers and their customers with a highly reliable, full-scale AV control and automation solution that is designed to support end-users and bring freedom, flexibility, fun and ease back to the pros designing and installing these systems. SAVI is debuting this next-generation system, SAVI 3, on August 26, 2020, at SAVI.Connect.
SAVI.Connect is a one-day virtual event hosted by SAVI, which will forever change the face of the commercial AV industry. SAVI's team of AV techies will present hands-on, in-depth technology demos in a virtual live setting. Demos will take place inside the company's entire InfoComm 2020 tradeshow booth located in a SAVI warehouse, to showcase sleek hardware and radically simplified programming software, as well as SAVI's intuitive end-user interface that can be used on any modern device and browser. Additionally, hear directly from customers, partners, and dealers, for their firsthand experience of leveraging SAVI in their projects.
Dealers, partners, organizations, and users are invited to register to learn more about how SAVI 3 eliminates failure points with a reliable, robust solution that can support commercial projects of any size.
Attendees can join us for:
Live product demos – See live demos of SAVI 3 the way you would in-person at InfoComm– in a real booth setting that we developed in our warehouse to more accurately replicate the "you had to be there" experience of a product demo on the tradeshow floor.
Q&A with Craig Rathbun, LG, and Scott Shultz, Topgolf, hosted by Tim Albright of AVNation to discuss the Topgolf partnership in-depth.
Project discussion one-on-one with SAVI dealer, Embed Digital, on how they leveraged SAVI for ten Pizza Hut locations.
Live Q&A with product teams – To conclude the event, the brightest minds behind SAVI 3 will host a live Q&A session at 5pm CDT. Submit your questions throughout the day!
Sign up for SAVI.Connect today at https://www.savicontrols.com/connect-ci/ and follow SAVI on social for updates via Twitter, Facebook, and LinkedIn.