Why AV Integrators Travel to ISE Every Year
We asked a handful of North American integrators planning to travel overseas to Integrated Systems Europe 2020 why it's important to make the trip to ISE.
Leave a Comment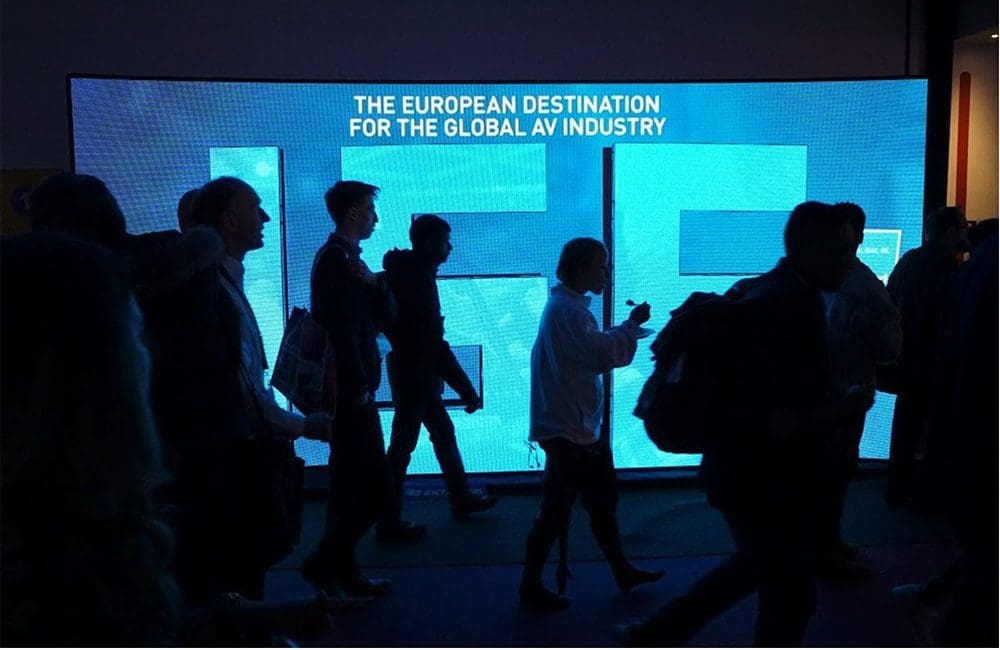 Integrated Systems Europe (ISE) is a combined residential and commercial technology showcase that brings together representatives in the AV industry from around the world—and it's become the largest AV show in the world with more than 80,000 attendees in 2019.
Commercial integrators will feel a keen sense of familiarity at the show if they've attended InfoComm in the states. In fact, ISE is co-owned by AVIXA (the organization that puts on InfoComm) and CEDIA. As a result, ISE is a combination of many elements from each of those shows.
Attendees at ISE can meet with over 1,300 vendors, manufacturers, and solutions providers, attend conferences, keynote speeches, and networking receptions, and receive education and training similar to that they'd find at InfoComm.
Everything you need to know about Integrated Systems Europe
Traditionally held in at the RAI in Amsterdam, the show will head to Barcelona next year, a testament to the show's growth year to year.
If you've never been to the show, it's a massive affair. Still, you might be wondering why it's worthwhile to head overseas in order to attend. We asked a handful of integrators that plan to make the trip to attend the show why they believe it's necessary.
Why go to ISE?
Drew Novelli, purchasing supervisor, Verrex:
"ISE is an opportunity for me to meet and connect with our overseas partners and vendors all in one place. Additionally, it is great a way to see the latest technology from many of our manufacturers."
Paul Cullum, Asia pacific director, Verrex:
"Our Asia-based clients attend this show rather than any North American conferences, so it's a good opportunity to be seen by them , outside of the normal Asia environment."
Theresa Hahn, VP marketing & business development, Verrex:
"As a global integrator, ISE has become increasingly more relevant. We are better able to source potential partners and technology solutions aligned with our own global capabilities due to the breadth of ISE exhibitors and attendees. From a purely calendar standpoint, ISE is where we look for debuts – we've seen a lot of firsts come out of the (multiple) show floor."
Michelle Loret, client advocate, consultant, special projects coordinator, AV-JV, Userful, AVcoIP:
"I am attending ISE to be present when the manufacturers announce their latest advances and product releases (some that may not be shipping until InfoComm), network with global AV associates I've become friends with over the past three years of attending, perform interviews for the MostlyAV podcast and report back to my friends in the States about what is on the horizon for us in pro AV. The cost difference is negligible and to be given a world view, especially when you live in a global U.S. city like Houston, New York, LA, Chicago or Miami really resonates and makes for a more meaningful sense of purpose."
John Cathey, senior account manager, Diversified:
"In addition to getting the best perspective of the industry business trends and seeing the latest technologies, I'm coordinating face-to-face meetings with my EMEA colleagues and my international clients. ISE 2020 is the perfect opportunity for all that!"
Daryl Clarke, SVP EMEA, Diversified:
"I attend because it's a great show with lots of interesting products and many networking opportunities."
Patrick Whipkey, director of USAV, PSA Network – USAV:
"I attend to meet international Integrators and form new relationships, and to build out our international network."
Learn more about the show here.