The Women of AV Coalesce Around International Women's Day
Women in the professional audiovisual industry continuing to push for equality use the momentum of International Women's Day to make a difference.
Leave a Comment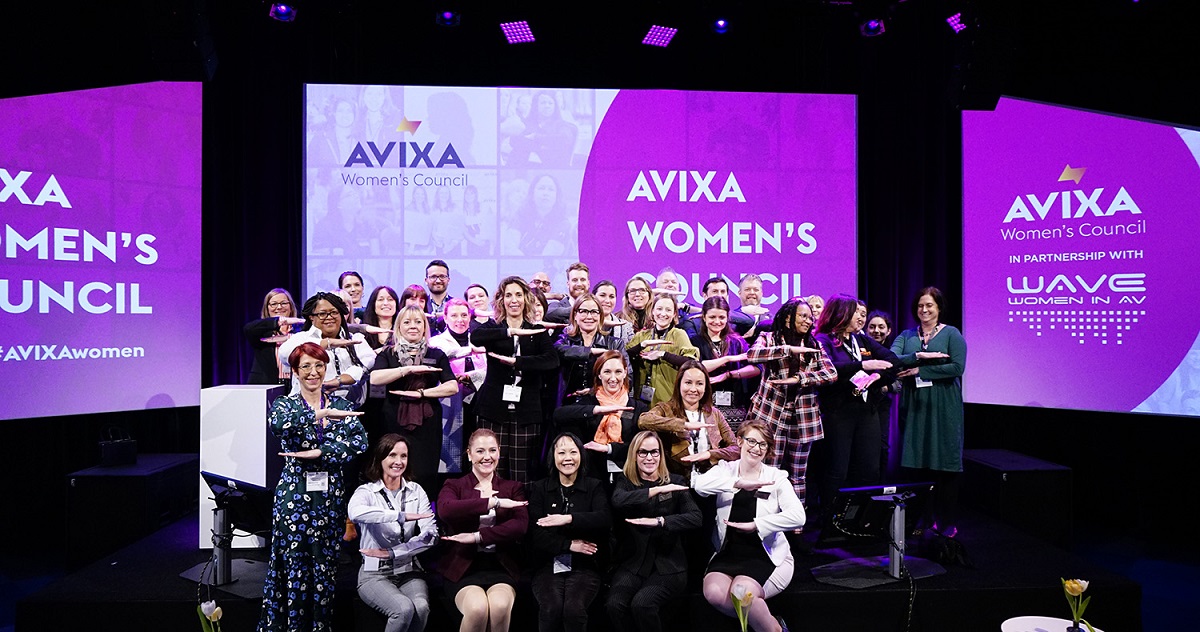 If you're like us and follow the many active #avtweeps on Twitter and other social media platforms, you've seen hundreds of audiovisual professionals striking a peculiar pose leading up to International Women's Day (IWD).
Accompanying those images and poses forming an equal sign are a series of hashtags being pushed by the AVIXA Women's Council in conjunction with the March 8 celebration, most notably among them is #EachForEqual to help promote gender equality in the industry.
Piggybacking on the success of IWD, the council — led by Chairwoman Brandy Alvarado, business development manager at California-based integrator Mad Systems —is hoping to continue to raise awareness of and force gender equality in the pro AV industry.
We stand with the members of the AVIXA Women's Council and women around the world to celebrate International Women's Day on March 8. #EachforEqual #IWD2020 @womensday @AVIXAWomen pic.twitter.com/JMc9aDnh1u

— AVIXA (@AVIXA) February 7, 2020
It's an old story, but a familiar one: the pro AV industry is overwhelmingly male.
According to a 2019 CI survey of 465 AV industry professionals, just 9.9% said they were women, and about 90% said they were white or Caucasian.
Although that sample size is dwarfed by the true number of AV professionals in the workforce, it isn't far off from other estimates or even other CI studies, like the 2019 State of the Industry done in conjunction with NSCA that surveyed 137 integrators and consultants that put women at 14% of the pro AV workforce.
Diversity efforts — including in gender — have been picking up steam in recent years, especially with the public support of AVIXA CEO David Labuskes and other industry leaders.
I stand with @AVIXAWomen #EachForEqual @AVIXA pic.twitter.com/TkEBhPpwBY

— David Labuskes (@DavidLabuskes) February 7, 2020
Every year, the IWD chooses a theme. This year, it's #EachForEqual, which comes with a unmistakable pose signifying that women deserve an equal seat at the table.
With Women's Council members spread across the globe and IWD falling on a Sunday this year, the council invited its local and regional groups to hold their own events to celebrate IWD and the rising role of women in pro AV.
"It's taken off really well," Alvarado says.
The council in November began asking local groups during their quarterly meetings to start planning events centered around IWD. Events were either held – or are scheduled this week — all over the U.S., including in California, Philadelphia, Miami, Indiana, Denver, Tamp Bay and even as far as India. The council also held events at this year's ISE in Amsterdam in conjunction with Women in AV.
The participants in the AVIXA Women's Council Forum at #ISE2020, held in partnership with Women in AV (WAVE), show their support for #IWD2020 and #EachforEqual. @ISE_Show @WomeninAV @womensday pic.twitter.com/7xR8ZBqi4T

— AVIXA Women's Council (@AVIXAWomen) February 13, 2020
"At least 50% of the future will be women. So let's go for it." Powerful words from keynote Hon. Àngels Chacón at the AVIXA Women's Council Forum. ✊ @AVIXAWomen @womensday @ISE_Show #AVIXAWomen #EachforEqual #IWD2020 #ISE2020 pic.twitter.com/OYZhzDcVA7

— AVIXA (@AVIXA) February 12, 2020
According to Brittany DiCesare, AVIXA's manager of professional society member programs and a member of the council, the council has added 661 members since it was founded just five years ago.
"This council focuses on empowering women in the AV and technology industries by providing networking opportunities, professional development, and building a community of other women and supporters of women in the industry," she said in an email.
There are 41 local groups around the world that meet each quarter to build a community of women in the industry regardless of geographic location.
Alvarado said the council's efforts have helped many women shoot for a promotion or become a thought leader in the industry. She recalled one woman who recently told her story at a February meeting of how she became the first woman manager at her company after being inspired at a recent Council event.
"that's why we do it," Alvarado says. "That's why we really do it."
If you enjoyed this article and want to receive more valuable industry content like this, click here to sign up for our digital newsletters!