Diversity Efforts in AV Picking Up Steam
Diversity is becoming an important topic as the Pro AV industry looks to navigate changing workforce and industry trends.
Leave a Comment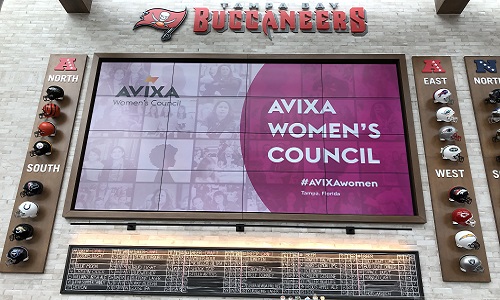 As the modern workplace evolves and a new crop of younger, more diverse generations enter the workforce, it is incumbent upon businesses and decision-makers to embrace diversity and a wide range of backgrounds.
It only makes sense to make sure your company reflects the communities and populations you're serving, said Mark Levy, the former head of employee experience at Airbnb.
Levy's remarks came at AVIXA's AV Executive Conference in New Orleans last week and underscores a growing trend and important component of not just the audiovisual world, but the modern workplace.
The pro AV industry and trade groups have been public about the need to adapt, yet the industry is still dominated by older men, and most of them are white.
According to a 2019 CI survey of 465 AV industry professionals, just 9.9% said they were women, and about 90% said they were white or Caucasian.
Although that sample size is dwarfed by the true number of AV professionals in the workforce, it isn't far off from other estimates or even other CI studies, like the 2019 State of the Industry done in conjunction with NSCA that surveyed 137 integrators and consultants that put women at 14% of the pro AV workforce.
Pro AV Industry Takes Note
The AV industry has taken notice, evidenced by the AVIXA Women's Council and Diversity Council, with the former being the largest council within AVIXA's network.
"In our mind, that's just a pitiful number," says Brandy Alvarado, chairwoman of the Women's Council.
The council's efforts to empower women in the workforce to seek out higher positions in the field aren't for naught, Alvarado said.
Major industry players like Diversified and AVI-SPL have reached out to the council to help them find more women for leadership roles.
There is work being done on the grassroots level to encourage women to join not only AV, but the technology industry as a whole.
Nonprofit organization Girls who Code provides free programs for school-aged girls to learn computer science and dozens of organizations encourage girls to enter STEM careers at an early age.
The work of AVIXA's Diversity Council is equally as impressive, as it began in June 2018 and is already up to about 160 members, says chairwoman Charmaine Torruella, an account manager with Verrex.
It is now incumbent upon the AV industry to think from an IT perspective as technologies like the cloud and 5G are sure to bring new opportunities and complexities to the field.
However, research shows that some of the largest and most successful tech companies are more diverse than the AV industry, according to publicly available data and studies.
Diversity Can Help AV Workforce Issue
"The AV world is now stuck in a place it's been for many years," Torruella says. "To unstick themselves, they have to look outside."
AVIXA predicts huge growth for the Pro AV industry over the next few years, expecting pro-AV to hit $325 billion in 2024, up from $247 billion in 2019.
That presents a huge opportunity for women and minorities to join a growing industry, Torruella says.
AVEC attendees heard a lot about how an organization's culture affects acquiring new, young talent.
With a lack of AV-focused education, the industry is forced to look at people with backgrounds in other fields, like IT, engineering or electrical work.
According to the NSCA, its members have an average of seven job openings, but the organization's average member company has 40 employees. The industry's workforce is aging, according to our survey, that found 57% of the workforce surveyed was between the ages of 45 and 64.
That presents an interesting dynamic when considering the modern job-seeker values diversity when evaluating companies and job offers, according to Glassdoor.
Millennials are becoming the largest generation in the workforce and are beginning to come of age and take leadership roles. They're also an extremely diverse generation, as just 55.8% of millennials are white, according to the Brookings Institution.
Diversity: Good for the Bottom Line
There's a litany of solid research that suggests diversity and valuing the opinions, knowledge and expertise of people from different backgrounds can bring new business opportunities and drive revenues.
As the world itself becomes more diverse, this can help organizations stay nimble and navigate changes in the marketplace.
According to Boston Consulting Group, a survey of more than 1,700 global companies found that organizations with above-average diversity on their management team reported innovation revenue that was 19 points higher than that of companies with below-average leadership diversity.
A McKinsey & Co. study of 366 public companies across a range of industries found that:
Companies in the top quartile for racial and ethnic diversity are 35 percent more likely to have financial returns above their respective national industry medians.
Companies in the top quartile for gender diversity are 15 percent more likely to have financial returns above their respective national industry medians.
Companies in the bottom quartile both for gender and for ethnicity and race are statistically less likely to achieve above-average financial returns than the average companies in the data set.
Diversity initiatives in the AV industry shouldn't be treated as a hot-button issue, says AVIXA CEO David Labuskes.
"I think it's an existential issue," he says.
The Pro AV industry is changing rapidly, and that's requiring a high level of creativity and innovation, says Labuskes. To address that, companies should consider not just diversity of gender or race, but diversity of thought. By extension, that comes from people of different backgrounds and experiences, he says.
"You do have to recognize that oftentimes, a person that is going to bring the newest and most innovative thought is the person least like me," says Labuskes. "We need to bring them into the room."