XTEN-AV On Product Launch, Innovation Plans at InfoComm '23
CI chats with XTEN-AV about the company's new product launch, emerging AI and VR trends, and interactive experiences at InfoComm '23.
Sponsored Content
Leave a Comment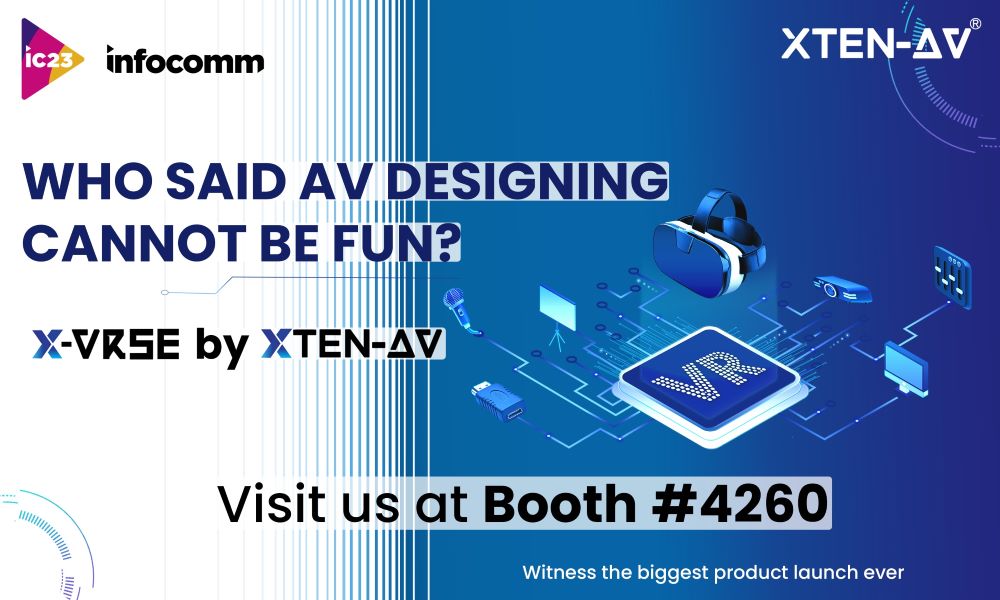 XTEN-AV aims to transform the professional AV experience by implementing the latest software technologies, such as cloud computing, artificial intelligence and machine learning. In this exclusive Q&A, XTEN-AV expands on its upcoming new product launch, AI and VR trends, as well as interactive experiences at InfoComm 2023.
Commercial Integrator: Explain the value to XTEN-AV of connecting face-to-face with the AV industry community at InfoComm '23.
XTEN-AV: XTEN-AV being a hub of innovation always brings something new and exciting to Infocomm, and this year the game is next level.
Product Launch: Visitors would see the launch of a brand new product XTEN-AV is bringing to the market.
Interactive Experience: Visiting our booth will let you experience our product firsthand through a live demo. This interactive experience would provide a deeper understanding of the product features, functionality and value, enabling you to make a more informed decision.
Real-Time Problem Solving: We will show you how our software can solve your problems and challenges you face while doing your designs and documentation.
Exclusive Discounts: By visiting our booth at infocomm, you will have access to exclusive discounts on our subscriptions. This limited-time offer provides significant cost savings and incentives for making a commitment during the event, ensuring you get the best value for your investment.
Networking and Collaboration: Meet the founders of XTEN-AV, ask us questions about our software and what's on our roadmap.
CI: What are the biggest, most impactful trends that XTEN-AV has its eye on and that you expect will shape InfoComm '23?
XTEN-AV: As all industries are advancing towards automation using AI, ML and cloud, the AV industry is no exception. AI is poised to have a significant impact on our industry and it would be exciting to see the applications of AI in our industry.
VR is definitely the hottest thing right now which has direct application in the AV industry with room designing, selling and much more. This could elevate how things are currently done to the next level.
These technologies are definitely going to shape not just Infocomm '23 but the future of the AV industry. 
CI: How is XTEN-AV leaning into those trends with its products and solutions? What can InfoComm attendees expect to see from you?
XTEN-AV: XTEN-AV has always been big on AI and cloud computing which makes it the only platform to generate automated line schematics and other design documents using AI, and all of this being on a single platform over the cloud that could be accessed anytime and anywhere from any device.
Being coined as a market disruptor, bringing automation and AI on the table since day 1. Being the only AV design software to ever receive a utility patent in USPTO, we can proudly say that we build what others can't.
And that's why XTEN-AV is bringing a ground breaking VR product to the industry which is going to change the way AV is done! Imagine just putting together your BOM and entering that room in Virtual Reality with just a click of a button. Walk around and view your products in 3D models, check the coverage and make any changes while exploring the room and also get all the design documents without breaking your back.
Infocomm attendees will get to experience the launch of our VR technology product firsthanded with a live demo along with all the other parts and features of XTEN-AV from the founders.
If you enjoyed this article and want to receive more valuable industry content like this, click here to sign up for our digital newsletters!