Aurora's IPBaseT Delivers 4K2K Uncompressed Video, Control over IP
According to Aurora, IPBaseT is the first platform to deliver 4k2k video with zero compression and zero latency over IP, alongside audio, control signals and video wall processing.
Photos & Slideshow
---
These days we have plenty of long-distance A/V technologies to choose from: HDBaseT, AVB (Audio Video Bridging, the next-generation of Ethernet), and plain ol' unadulterated IP.
Now there's a new one from Aurora Multimedia called IBPaseT, introduced at ISE 2015 in Amsterdam. According to Aurora, IPBaseT is the first platform to deliver 4k2k video with "zero" compression and "zero" latency over IP, alongside audio, control signals and video wall processing.
Zero? That's what Aurora says.
The platform supports MPEG2, H.264, H.265, JPEG2000, IP USB, HTTP, Dante, and other standard A/V protocols.
The first product in the IPBaseT portfolio is the IPX-TC1 ($1,200), which can be user-assigned as either a transmitter or receiver, simplifying the overall system design, ordering and deployment. There is a wall-plate input unit as well, the IPX-TXW3 ($1,330), with HDMI, DisplayPort and VGA inputs, along with built-in source switching.
The transceivers feature two HDMI inputs and a single HDMI output. An RJ-45 1G Ethernet port allows connectivity of other LAN based devices. An expansion option allows digital audio de-embedding of any source to be sent independently to any Dante-enabled device for the "ultimate in digital audio-breakaway flexibility," according to Aurora.
Or the port can be used to connect USB devices, such as a KVM. Both products serve up an OSD menu and Web-server control.
The Big Downside
Unfortunately, the system requires fiber optic cabling if you want the zero-compression/zero-latency deal.
10G fiber switches aren't cheap, and most integrators dread fiber terminations—even Derek, who just installed a big fiber backbone for an AVB job using Extreme Networks switches.
"It took us forever to get all of the fiber terminations completed and tested (my ol' eyes needed a lighted magnifying glass to do it!)," he says. "Most integrators either do not have the expertise to get the terminations right or they do not budget enough in their proposals to spend the time to put a 10 Gb infrastructure into place properly."
Although Planet Waves (Cleerline) has made fiber termination much easier than in the past, it is still an alien thought to a large percentage of integrators.
SLIDESHOW: View IPBaseT Schematics
Aurora does promise a copper version of the transceivers (not the wallplates because of the heat generated by 10G), hopefully for Infocomm. But, as Harris reminds us, most 10G switches are fiber.
Aurora itself will be offering 8-, 12-, and 24-port fiber switches that are preconfigured to work out of the box, according to Harris, who recommends Cisco or Extreme Networks for larger jobs. Yes this is a little on the pricey side for video distribution but considering this is fiber distribution it is a steal considering the alternatives.
Take Our Latest Quiz
Recommended For You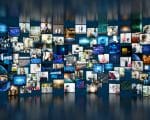 Organizations are seeing a boon when implementing AV over IP technology, and integrators are finding happy customers when installing AV over IP. In this webinar, you'll learn exactly why you need AV over IP.
After attending this free webinar from Commercial Integrator and TechDecisions you'll understand what you need – and everything you can do – to ensure you get the best UC services for your organization working together.