Crestron Confirms Attendance at InfoComm 2021
Crestron will be attending the 2021 Infocomm show in Orlando, FL albeit in a scaled-down capacity with plans to launch a cross country road trip later this year.
Leave a Comment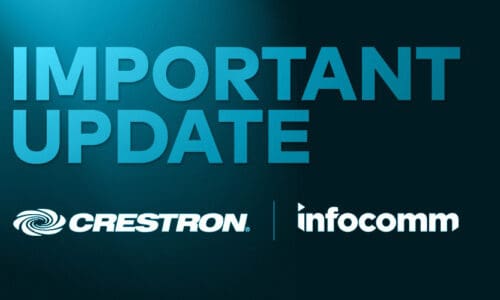 Crestron has confirmed its attendance at this year's InfoComm 2021 show is Orlando, FL October 23-29, 2021, albeit in a scaled-down capacity.
Crestron will be sending a small, experienced team to meet with partners and industry peers attending the Infocomm show.
They also announced they would be cancelling demonstrations, trainings, and panels at their booth.
See related: AV Pros are 'All In' For InfoComm 2021
"The timing for a full-scale Crestron tradeshow presence – with our marquee booth, industry-leading training, and legendary party – is not yet right," said Brad Hintze, Crestron's EVP of global marketing in a statement.
Instead, the company will be launching a cross country road trip called Crestron Next. Each regional Crestron Next Road Trip will be in a closely monitored environment where a small group of guests will be able to interact with Crestron products and train with local Crestron representations.
The road trip will kick off this November with stops in four cities: Boston, Nashville, Chicago, and Anaheim. Location details and dates will be provided shortly. Pre-registration will be required.
"We fully support AVIXA and everything they've done to manage a show under these extraordinary circumstances," said Hintze in a statement.
"Industry professionals are experts in bringing people together to move organizations and industries forward. We are committed to finding ways to connect during this challenging period, and we remain optimistic about the resiliency of our industry and the eventual return of large-scale events. Until then, we will see you on the road," said Hintze in a statement.