Diversified Named 2016 Integrator of the Year
A series of acquisitions and a leadership change helped turn Diversified, an already-powerful industry leader, into our 2016 Integrator of the Year.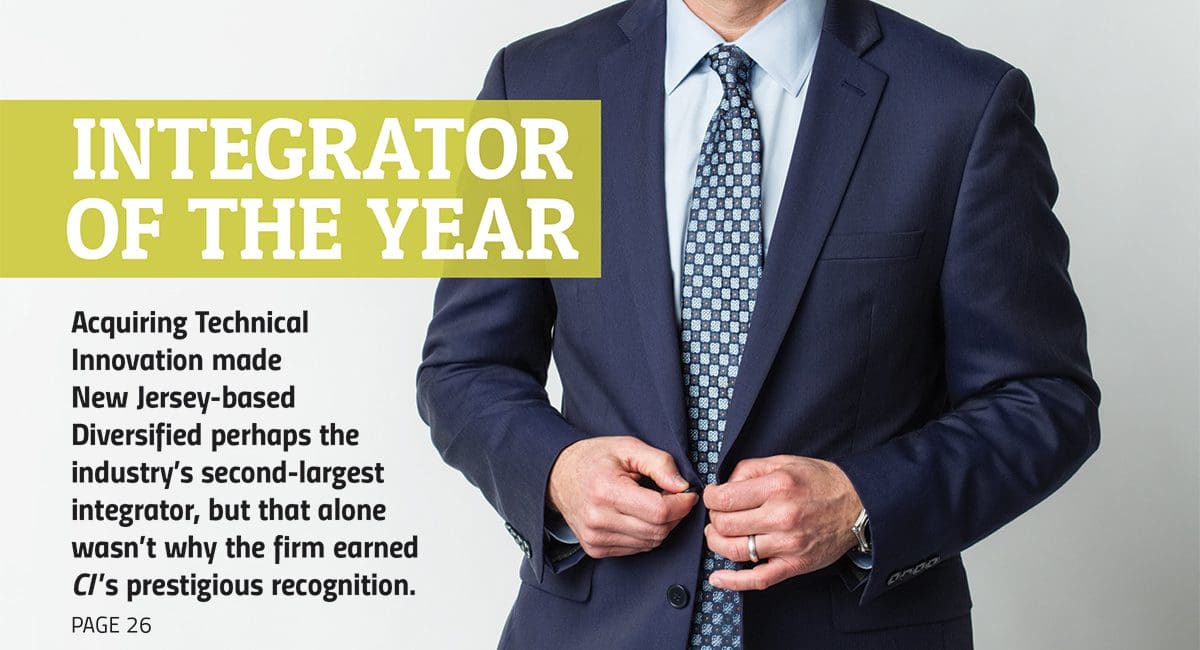 Photos & Slideshow
---
Landrum notes Diversified may be the largest integrator in some of the verticals on which it's heavily focused, like entertainment and sports arenas, but its ranking has never been what Diversified made most important.
"We strive to be the best across the full spectrum of solutions," adds D'Alessandro.
"I would say our knowledge and capability in live production, news and broadcast facilities design and commissioning with our AV, large-venue sound, mission-critical and managed services is unparalleled."
Diversified recently opened an office in Korea to help it serve increasing demand from customers in the Asia Pacific region.
That global approach has modified the workflow across the company, says Collins, with the transition from individual offices working on a project to staff across the entire company being called in to assist as needed, allowing subject experts in multiple offices to be more active participants in a wider variety of projects.
Also See: The Commercial Integrator's Dilemma: Do I Sell or Do I Grow?

"That allows us to have quicker responses to our customers' needs," he says. It also keeps employees' utilization rates "really high," says Collins.
"We're fairly transparent of what our expectations are and we're setting up a business process that meets those expectations. We've gone about very methodically creating a workforce where our staff has a diversity of skill sets. We want customers to have one hand to shake, not one throat to choke," he says.
There's an interesting paradox going on at Diversified as the company gets bigger and it becomes even better equipped to handle the needs of its largest clients and the industry's biggest projects.
The company is also continuing to focus on the small projects and even the small customers when appropriate.
The company is building a new customer technical assistance center in Technical Innovation's Atlanta area focused on AV/ IT managed services. Diversified's network operations center in New Jersey focuses on digital signage content, delivery and monitoring more than 100,000 end points.
"Projects are certainly getting larger and our redundancy allows us to serve those big projects better than anyone," says Landrum.
"But our intent is to serve the small projects as well as we do the big ones. Sometimes our biggest clients have small projects, so we don't want to become known as a company that can't handle those too."
Video Expertise Creates Opportunity
One of the major pieces of Diversified's interest in acquiring Technical Innovation was its proficiency in creating recurring revenue opportunities for the company, says D'Alessandro.
Today, the company is building a new Customer Technical Assistance Center in the Atlanta area that will focus on AV and IT managed services.
Diversified's network operations center in New Jersey will remain focused on digital signage content, delivery and monitoring more than 100,000 end points, from the Marriott Marquis in New York City to small bank branches.
Diversified typically generates about 15 to 20 percent of its revenue from recurring opportunities, but D'Alessandro sees potential for that to grow significantly going forward.
Although the so-called Great Recession is heading deeper into everyone's rearview mirror, there are still lessons that can be gleaned from it. Diversified "weathered the recession well," says D'Alessandro, although the company saw a drop in revenue for the first time in the company's history; but it stayed profitable and didn't require layoffs.
"Our growth from that point forward has been exponential," he says. "Our business philosophy was validated during this period. The controls we have on our overhead allowed us to stay profitable."
Focused on Keeping Talent
Among the biggest priorities of synthesizing several companies into the Diversified family is crafting a universal approach to training and industry certifi cations, says D'Alessandro.
He promises "a new level of spending" — seven figures worth — in annual outlay for staffers who are looking to add new skills or renew certifications.
That approach "will help us retain the best people," says D'Alessandro.
Collins points to a "paradigm shift" within the industry, saying it's more important than ever not only to hire "the best and the brightest" but also to make sure they stick around once they're hired.
"People are getting excited about the opportunities they'll have here to grow their skill sets," says Collins.
Read Next: Why AV Needs to Be Part of the Construction Plan
D'Alessando sees Diversified embracing the moment, to "pivot the skill sets of our team to stay relevant to the pace of technology and the IT revolution, while also providing solutions that bridge the gap from today's technology into the future."
Meanwhile, "We need to keep legacy systems working with new technical solutions," D'Alessando adds. So it's about embracing future moments, too.
If you enjoyed this article and want to receive more valuable industry content like this, click here to sign up for our digital newsletters!