Homeless to Herman: Danny Sparks' Uplifting Story
Before joining Herman Integration Services last year, this aspiring musician was on the street. His guitar and love of AV helped him turn his life around.
Some installers grouse about parts of their jobs or lament the challenges of finishing their piece of the work more quickly than originally expected. Danny Sparks, lead technician at Herman Integration Services, goes about his workday with a sense of peace, knowing he's been through much worse than whatever happens on the jobsite.
Sparks, who joined Herman-IS in December, says he spent time living on the street about three years ago after a divorce left him on his own and often questioning what would come next.
He relied heavily on his faith when he became homeless in 2013. And, though Sparks never thought about making a career out of music, he turned his misfortune into an opportunity, turning the backpack and guitar he carried with him everywhere into a self-produced album after a visit with his daughter in New Jersey led him to an open mic night.
A friend donated a minivan to Sparks and the vehicle doubled as his home as he worked in car sales for a while before finishing his CD in October 2014.
Gift of Music Keeps Giving
Sparks was born in North Carolina and was introduced to music at an early age. He got his first guitar as a Christmas gift when he was a boy, he says, but didn't pursue a career in music or even consider it a possibility.
Even with the success of his first album, Is This Real, he remains modest about his chances of becoming a music sensation. Instead, he's thinking about where he was a few years ago and has donated a portion of the proceeds from the album — available on Amazon, iTunes and Spotify — to Hope Haven Inc. in Charlotte, which provides life skills for homeless, chemically dependent adults and families.
Sparks' music comes in various styles, with "Changing Times" his first country single and "Words" his first offering on Christian radio.
"When I heard Danny had written and produced his own album, I was impressed," says Herman-IS president Chris Bianchet. "But when I heard he was donating the proceeds to the homeless, I was proud to know that one of our own was giving back to the community in such an inspiring way. His story is amazing, and we want to support him in his efforts."
Latest in Twisting, Turning Path
In December, Sparks rejoined the AV industry and became a part of the Herman-IS team. Things have been looking up ever since. In February, Sparks was invited to try out for The Voice and in the process of moving to Florida from Charlotte, N.C., he got a call looking to promote his music on the radio.
Sparks' career path has taken many turns since starting as a painter in the family business coming out of high school. He also served as a bouncer as his father's night club, Max's Place in Greensboro, N.C., which led him to a love of technology although "I had no idea what I was doing" when he moved into the telecom industry in the mid-1980s.
Sparks has also worked in security, using his kung fu training to parlay work on tours for such 1980s icons as Prince and Van Halen. But he keeps coming back to AV.
"I love to learn the technology," he says. "I'm not done. I'm just starting to live."
Take Our Latest Quiz
Recommended For You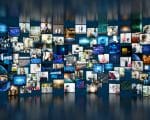 Organizations are seeing a boon when implementing AV over IP technology, and integrators are finding happy customers when installing AV over IP. In this webinar, you'll learn exactly why you need AV over IP.
After attending this free webinar from Commercial Integrator and TechDecisions you'll understand what you need – and everything you can do – to ensure you get the best UC services for your organization working together.