Johnson Controls OpenBlue is One Entire Suite of COVID-19 Solutions
Johnson Controls OpenBlue brings together traditional operational technology, existing IT systems, and cloud apps infused with AI.
Leave a Comment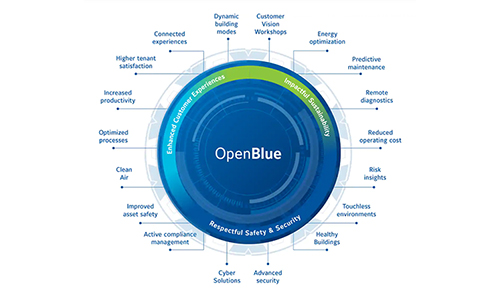 Johnson Controls launches OpenBlue, a new digital platform that powers a suite of solutions with more than 20 tailored services across HVAC, fire protection, and security.
The platform infuses the OpenBlue suite of solutions and services with award-winning AI-powered service solutions, combining data from both inside and outside of buildings, says the company.
"The launch of OpenBlue is a radical approach to dynamic spaces," said Phil Clement, vice president and chief marketing officer, Johnson Controls.
Related: How Company Leaders Can Support a Healthy Work Environment During and After COVID-19

"The brand identity was created with a number of factors in mind: Open refers to an optimistic future and the platform's open architecture to enable products to work with various solutions. The color blue is core to Johnson Controls branding for the past 135 years and gives a nod to our strong heritage in the buildings space."
More on what customers can do with the solution from Johnson Controls:
Respond with dynamic flexibility. OpenBlue enables buildings to switch into different modes, including management of building access, airflow, elevator movement, door locks, lighting, and open collaboration.
Deploy COVID-19 solutions. To help customers get back to work as safely and efficiently as possible, new solutions include contact tracing, social distance monitoring, thermal cameras, clean air, touchless environments, compliance and reporting management, energy optimization, advanced safety monitoring and more.
Select from tiered services for their needs. OpenBlue contains a suite of tiered, AI-infused service solutions such as remote diagnostics, predictive maintenance, advanced risk assessments, compliance monitoring and more.
Security at the center of the solutions. Each of OpenBlue's offerings are developed with robust design protocols for security and privacy process.
Increase energy savings and improve indoor air quality (IAQ). By connecting HVAC equipment with new data and AI, platform users can expect 20-60% cost savings by optimizing the performance of the full HVAC system across energy costs and IAQ parameters.
To learn more about OpenBlue, visit JohnsonControls.com/OpenBlue.
This story premiered on our sister site, Campus Safety.