Red Thread: Furniture Company or Change Agent?
Born out of an office furniture manufacturer, Red Thread is having different audio-video conversations than any other integrator — and clients like what it's saying.
Photos & Slideshow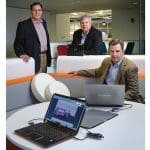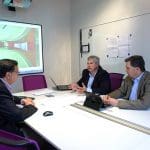 ---
The thing that competing integration firms often criticize about Red Thread is the same thing that gives the Boston-based integrator several competitive advantages: that it is owned by and born out of Steelcase, a $3 billion office environments and furniture manufacturer.
"I hear it all the time," says VP of audio-visual group John Mitton about Red Thread being dismissed by competitors as "a furniture company."
Red Thread is a Steelcase office environments dealer that happens to be owned by the Grand Rapids, Mich.-based publicly traded company. To say it's just a furniture company, though, is pretty far from truth.
Related: Red Thread Makes a Case for Showrooms
Recognizing that audio and video integration plays an invaluable role in its clients' office environment solutions, Red Thread COO Orlando Corsi executed acquisitions of New England integration firms in 2004 and 2005, essentially providing Mitton with the framework of an integration division that he would reorganize and build up organically.
In 2013, Red Thread did $33 million in audio-video integration revenues. Success hasn't chased away the naysayers who still paint the firm as a furniture company, Mitton says. "But we're the real deal."
Road to Competitive Advantages
There are two really obvious benefits for an integration firm owned by a multi-billion-dollar office furniture manufacturer. One is financial stability. "I'm the only integrator that's not on the phone every week with his bank," Mitton jokes. Another is the foot-in-the-door advantage Red Thread enjoys with corporate clients via its office furniture sales.
CI Snapshot: Red Thread
www.red-thread.com
Primary Location: Boston
Additional Locations: 10 New England
showrooms and sales offices, plus 4 warehouses
Principals: Orlando Corsi, COO;
Don Marshall, Sr. VP of Integrated Sales;
John Mitton, VP of Audio Visual Group
Total Revenues (2013): $250,000,000
Commercial Revenues (2013): $33,000,000
Years in Business: 30 (AV division: 10)
Employees: 500
2013 Commercial Installs: 300
Top 3 Vertical Markets: Corporate, Higher Education, Health Care
Top 4 Brands: Steelcase, Crestron, Cisco, Polycom
What really matters, however, says Don Marshall, senior VP of integrated sales, are the benefits that Red Thread's unique integration approach offers to those customers.
Prior to when the Red Thread audio-visual division was launched a decade ago there was a pretty standard and embedded approach to how offices were designed and how technology was implemented. It went in three steps: 1) build out; 2) furniture; 3) technology, Mitton recalls, "so AV integrators went in standing on tables, always the last in."
At that time Steelcase, which invests heavily in workplace research to fuel product development, was working on a concept it called AFT (architecture, furniture and technology) recognizing the three essential elements of designing a productive office space. Putting technology on the same level as architecture and furniture highlighted that it shouldn't be thrown in at the end, Marshall says, so the vision became "that it should all seamlessly integrate together."
Related: Red Thread, a 2014 Industry Leader
With AFT at the core of Steelcase's philosophy it set out to create a portfolio of products to support it. The focus was on movable wall products, modular wiring and cabling solutions, raised access floors and sound masking. Then Steelcase introduced some technology products of its own, and that's when everything changed, Marshall recalls.
"The problem was, when you brought [a tech product] to the market, how would it integrate with the rest of the technology that had to work within the space, the conference room [etc.]? You couldn't be just a player on a piece of that technology. You had to look at an entire portfolio of technology that was going into that space."
That revelation led to Corsi's and Mitton's development of Red Thread's AV group. "John and Orlando were visionary in looking at that and then putting together the whole AV side," Marshall says. "We had already started to build the architectural product side, so we kind of seamlessly put all these things together."
If you enjoyed this article and want to receive more valuable industry content like this, click here to sign up for our digital newsletters!