Vaddio Snags CI BEST Award for HuddleSHOT All-in-One Conferencing Camera. Here's Why.
Vaddio HuddleSHOT earns honors as the best videoconferencing/telepresence solution thanks to 125-degree horizontal field of view–and much more.
Leave a Comment

Videoconferencing has become an important way for people to communicate, whether that's in a corporate boardroom, a high school classroom, a medical office or myriad other settings. It's nice to know Vaddio has figured out a way to get everyone in the frame at once so no one feels left out.
The Vaddio HuddleSHOT all-in-one conferencing camera with integrated audio is designed especially for huddle spaces. Its 125-degree horizontal field of view "gets everyone in the picture, even in the smallest areas," according to the company press release.
That's just one of the reasons the HuddleSHOT earned 2019 CI Best Electronics Systems Technologies honors in the videoconferencing/telepresence solutions category.
HuddleSHOT "heightens the videoconferencing experience" with 1080p/60 resolution, according to Vaddio officials. Its audio quality "enhances collaboration on both ends of the call," according to the product announcement.
Two integrated speakers with wide dynamic range "give conference room participants robust stereo sound," according to the Vaddio product announcement.
Two built-in microphones with echo cancellation pick up participants' voices from up to 12 feet (4 m) away. A red blinking LED indicator tells participants when the mics are muted.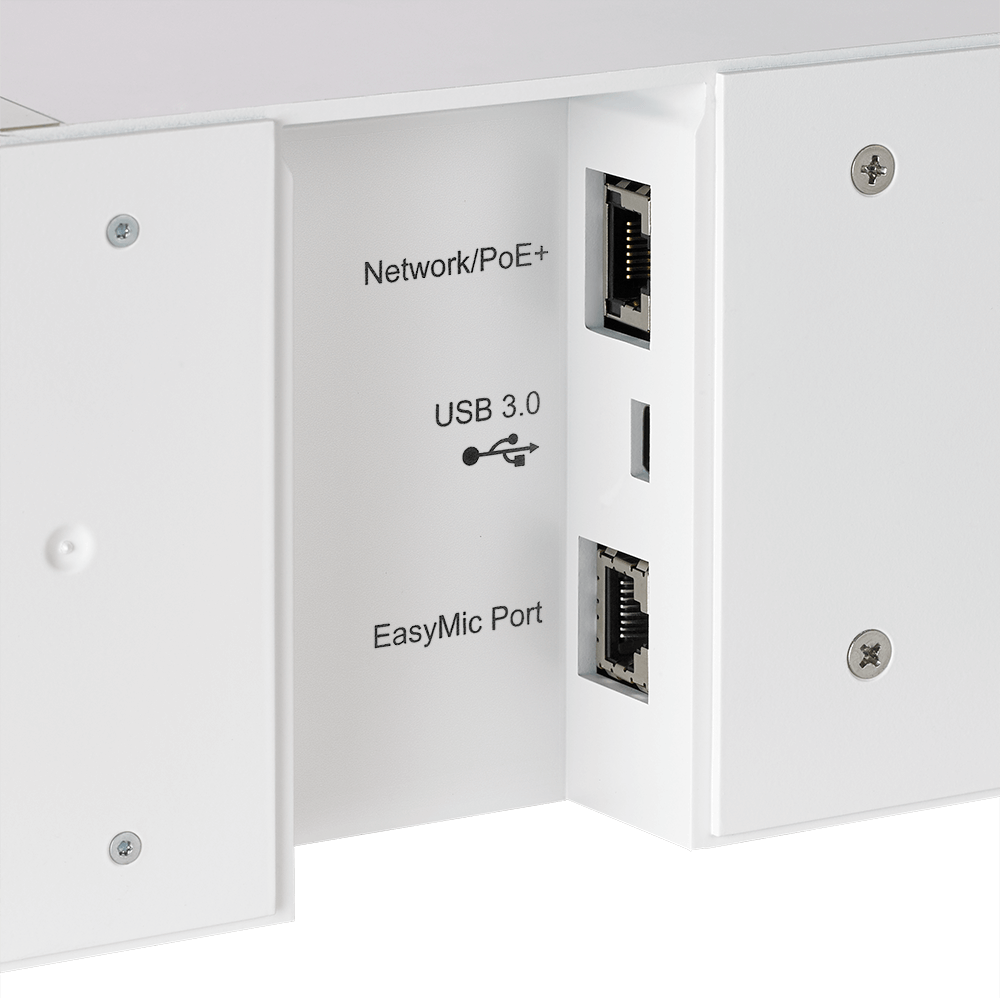 Options for Vaddio HuddleSHOT
For larger huddle spaces, HuddleSHOT can be paired with an optional TableMIC or CeilingMIC microphone to extend the pickup range.
"For huddle room users who need meetings to consistently start on time without any hiccups, the HuddleSHOT's plug-and-play simplicity makes it extremely easy to use," according to the Vaddio announcement.
For AV and IT managers, Vaddio's browser-based user interface "makes it simple to manage multiple HuddleSHOT cameras across multiple sites for easy enterprise deployments."
The HuddleSHOT all-in-one conference camera works with all major cloud-based conferencing applications including Zoom, Microsoft Teams, Skype for Business, Cisco WebEx, GoToMeeting and others.
HuddleSHOT can be placed on a table or mounted on a wall (wall-mount kit is included). Legrand | AV offers other options for mounting HuddleSHOT to AV carts for a portable solution.
Each Vaddio HuddleSHOT package includes:
HuddleSHOT camera (black or gray)
Thin-profile wall mount (black or white) with mounting hardware
HuddleSHOT remote control
PoE+ midspan power injector with AC cord set(s)
10 feet (3m) cat-5 cable (black or white)
6 feet (1.8m) USB 3.0 cable, type A to C
2 rubber feet for bottom of HuddleSHOTunit if not wall-mounted
Quick-start guide