ADECIA: Quality Collaboration Audio Designed for Integrators
The new ADECIA solution from Yamaha UC was created so that integrators could have quicker, easier, quality audio setups in a wide variety of meeting spaces.
Sponsored Content
Leave a Comment
Typically integrating audio components and setting up a meeting space with new equipment is a time-consuming process. Integrators are responsible to choose from a wide variety of products often from different manufacturers to design the solution, just to find hurdles and problems making them work together.
And once the installation of the equipment is finished, there is the need for an audio engineer to enter the space and fine tune the audio to the specific environment. As all integrators know, ensuring quality audio demands painstaking attention to multiple factors and variables. All of this takes time of highly qualified people. This process can also become the bottleneck in delivering solutions. And time is quite literally money when it comes to integration when the resources aren't available to finish the job.
Yamaha UC seeks to solve these problems, cut down on installation time, deliver high-quality audio with its ADECIA solution – ceiling microphone, network switch, signal processor, and line array speakers – and tune the solution to the specific environment in which it is being installed, automatically.
Keeping the Integrator in Mind
What separates ADECIA products from the competition is that this solution was designed to aide integrators every step of the way.
"ADECIA is not an individual component or product," says Michael Fitch, vice president of sales and marketing at Yamaha UC. "This is a family of products that all integrate and work seamlessly together. They can also work independently depending on the environment that the integrator is looking to setup in. But ultimately ADECIA works together to make everybody's life a lot easier. A seamless integration, install, and user experience."
When it comes to ADECIA, integrators should think automatic. ADECIA auto-detects installed components, auto-configures devices, and auto-optimizes audio performance based on the environment, taking into account reverberation, echo behavior, speaker position, and more.
Related: The Prevalence of Zip Ties in Audiovisual Installations is Getting Out of Hand!
"Once you have the components, there's one web user interface which has an automatic setup procedure," says Holger Stoltze, senior director of technical sales and marketing at Yamaha UC. "It starts an automatic audio configuration process at that point, where we are acoustically measuring the room. That really is just button presses from the installer."
However, Yamaha UC understands that audio attunement is as much art as science. They've made it simple for audio engineers to get into the system and fine tune, adding the human touch that customers value from your firm.
All of this leads to faster installations, the ability to get more done in less time, and more revenue as a result.
"If you have one room the installer goes in and does the installation. That might take a day and he's done," says Stoltze. "When customers need ten, fifty, or a hundred rooms to be filled out, that becomes a bottleneck. In that case, the automatic process significantly reduces the time required to install and configure a system."
Automation like this is atypical in audio installations. What is also atypical is allowing third party products to be easily configured into the same system. That's precisely what ADECIA allows for.
Specifically Designed for Collaboration
The components within ADECIA were specifically design for communication applications and fit a variety of meeting spaces – whether it be a boardroom, classroom or multipurpose room.
The ADECIA ceiling microphone features narrow, multi-beam tracking technology which dynamically follows people speaking throughout the room rather than covering the entire room with fixed lobes.
This ensures a clearer signal for the far end and less ambient noise that wider, fixed beams can pick up. These active beams key in on and track human speech in the room, meaning that there is no recalculation and no drop in audio during discussions.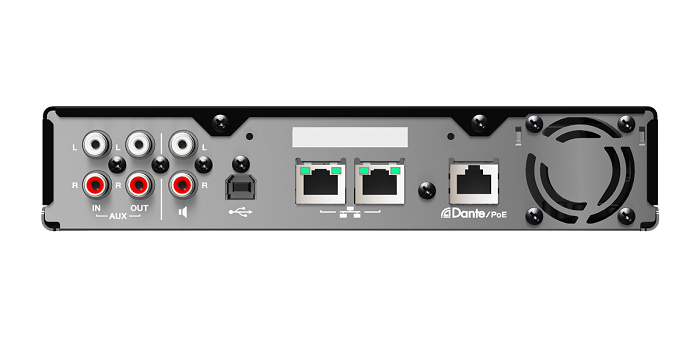 The ADECIA line array speakers have been specifically designed for the audio needs of collaboration spaces.
They specifically support the frequencies used by human voice when it comes to playback.
The line arrays create the directionality of the audio. Typically, when you double the distance you lose half of your volume.
With directional speakers, that loss of audio over distance is significantly reduced and the experience is more consistent throughout the room.
"Having these line array speakers creates a volume level in the room which has minimal drop off over distance," says Stoltze. "This allows you to have the line arrays at the front of the room and still fill a boardroom with an audio level as good at the front of the room as the back of the room."
The ADECIA system is Dante network-based for simple connection, and the open API allows for integration with Yamaha UC or third-party components.
"For some manufacturers, if you buy their ceiling microphone it only works with their DSP. We're not going down that path," says Fitch. "We understand that certain integrators or their
customers already have a DSP of choice or existing components in their space and may only be looking to replace their microphone. We get that and we want to be flexible."
Meeting Today's Challenges
It's no secret that COVID-19 has changed the way people work and integrators install. Touchless environments are becoming more commonplace to avoid the spread of disease. A premium has been placed on collaboration as more employees get used to conferencing and UCC software.
"People are getting unhappy with being at home and not having contact with coworkers – they long to go back to the office. But there will be a different work environment once COVID-19 is done. Social distancing will stay with us in one way or another," says Stoltze.
"We are already seeing that organizations are moving to larger meeting spaces again. With increasing the room size, you create new acoustic challenges."
Employees have also grown used to the audio quality that comes with dedicated audio equipment used at home, like a speakerphone or headset. They'll expect the same in the return to the office.
With ADECIA, this high quality audio can be both captured and distributed in larger spaces while still adhering to the new requirements.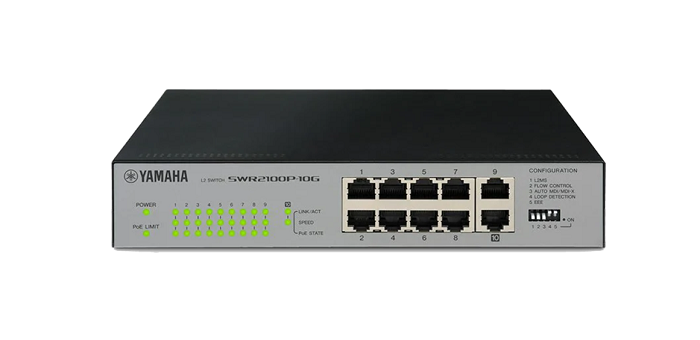 Not to mention how quickly these spaces will need to be outfitted or reconfigured.
With the flexibility in solution or component integration and the installation time, ADECIA will allow integrators to increase the amount of opportunities, as well as the number of rooms they can outfit in a single day exponentially.
More projects mean more revenue, and more revenue means continued growth in these uncertain times.
Once installed, the ADECIA system doesn't need to be touched to be reconfigured. Integrators can simply tweak and update through the web interface. That means not only is the installation faster at the onset, but maintenance is faster as well.
"This is a true Yamaha product. That means a lot," says Fitch. "This is engineered, developed, and manufactured from the team at our Japanese headquarters in Hamamatsu. For anyone that knows Yamaha, they understand the quality. They know what they're getting. This product is no different."
Yamaha UC has always been dedicated to the integration channel. With the addition of ADECIA, the company hopes integrators will understand that dedication seeps all the way down to the product development level. When installing ADECIA products, integrators will see for themselves how easy this new line really is.
To learn more about ADECIA, visit the Yamaha UC website.