Shure Launches Stem Ecosystem Globally
The Stem Ecosystem includes a portfolio of microphones, loudspeakers, control interfaces and hubs designed for range of UCC use cases.
Leave a Comment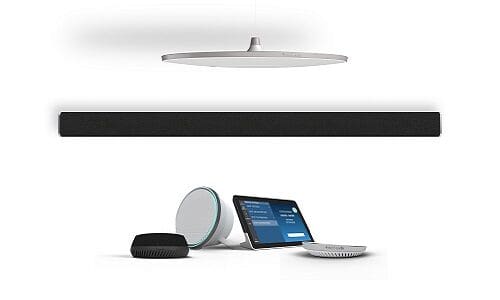 Shure has announced the global availability of its Stem Ecosystem, a family of products designed for collaboration spaces of all sizes.
The announcement comes after Shure acquired Stem Audio last November in a move to expand the company's portfolio of unified communications and collaboration audio solutions, including microphones, loudspeakers, control interfaces and hubs.
According to Shure, the Stem Ecosystem allows end users, IT and AV integrators to mix and match devices for any meeting room or collaboration space. The devices are also backed by a "robust platform" of tools designed to make the adoption process effortless.
The Stem Ecosystem includes wall and table speakerphones, ceiling microphones, networked loudspeakers and dedicated control systems.
Per Shure's press release, the lineup includes:
Stem Wall: Equipped with 15 microphones that perform beamforming, plus full-range speakers and subwoofers, Stem Wall product ensures everybody has a voice.
Stem Table: Optimized for tabletops and flat surfaces, the Stem Table product is equipped with nine microphones that perform beamforming and a downward-facing speaker for superior performance.
Stem Ceiling: A 100 microphone ceiling array comes with two mounting options (low profile or chandelier mode) and three-beam options for exceptional coverage.
Stem Speaker: Built to give users the freedom to expand sound to anywhere in the room, the Stem Speaker product is an external speaker with three mounting options and a powerful driver for exceptional sound in any meeting space.
Stem Hub: When more than one Stem Ecosystem device is used in a room, the Stem Hub product enables multiple units to communicate with each other in the room and function more effectively as a solution. With USB Type B, Ethernet, Dante®, VoIP connectivity, and pluggable terminal blocks for external speakers, the Stem Hub product has all bases covered.
Stem Control: A dedicated touch controller that connects to the network with a single Ethernet connection. The Stem Control product allows access to the Stem Ecosystem platform and remote management of an organization. Alternatively, it can be used as an in-meeting controller with video conferencing platforms.
All devices are networked PoE+ powered products, making them easy to install for both IT and integrators across a variety of use cases, including meeting rooms or educational spaces.
Rob Smith, senior director of system sales at Shure, called the Stem Ecosystem a "powerful solution" for any organization seeking a straightforward, customizable and budget-friendly experience.
"Now, Shure can offer a more diverse array of solutions for a wider variety of customers," Smith said in a statement.