AVI-SPL Highlights Symphony Adapter Marketplace At ISE 2020
The Symphony Adapter Marketplace enables the proactive monitoring of additional audiovisual and unified communications devices.
Leave a Comment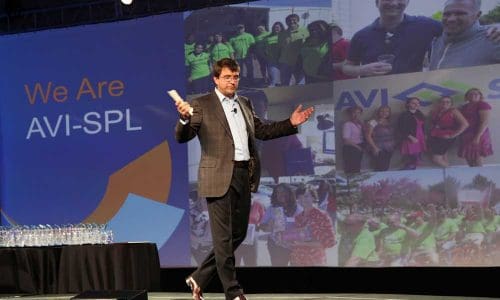 AVI-SPL at ISE 2020 (stand 11-C155) is showcasing its new Symphony Adapter Marketplace that the integration firm hopes will enable additional audiovisual and unified communications devices deployed within an organization to be proactively monitored and controlled.
According to the company's press release, the Symphony Adapter Marketplace will expand access to the catalog of Symphony-certified devices. Native integrations built by AVI-SPL can be combined with third-party developers. It provides integrations with devices, ticketing systems, scheduling systems and cloud service applications, and it also includes a developer forum to promote idea exchanges and  a "Hello Room" simulation tool.
Current manufacturers already integrating products with Symphony include Shure, Crestron, Netgear, Samsung, LG, SurgeX, NEC, Middle Atlantic, Poly, Cisco, Lenovo, Logitech and others.
"We are excited to see so many of our partners investing in Symphony, with the ultimate goal of providing end users the best collaboration experience available," said Frank Mehr, senior vice president of technology enabled services at AVI-SPL, in a press release. "Symphony provides a way to keep the technology healthy and use technical resources more efficiently, thus increasing end user adoption of these technologies."
Representatives of audio systems manufacturer Shure and pro AV equipment maker Crestron both commented on the new API architecture.
"AVI-SPL has been a strategic research and development partner of ours since we started to create our SystemOn APIs," said Kevin Smith, director of sales – integrated systems at Shure. "The AVI-SPL Symphony API architecture has created a quick and easy way to bring monitoring and control to our networked System products."
Brian Donlan, a technology manager in product management cloud solutions at Crestron, said users can utilize the company's XiO Cloud application and the connection to Crestron hardware to seamlessly view all of their devices from the Symphony portal.
"We are happy to work with AVI-SPL to expand their Symphony application to allow customers to monitor and control more technology solutions than ever before," he said.