AVI-SPL Introduces Workflow Automation Features in Symphony
AVI-SPL has added new features to its user experience management platform Symphony, including scheduled and self-healing workflow automation.
Leave a Comment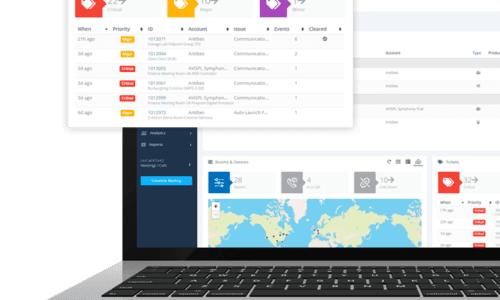 Integration giant AVI-SPL has added new features to its user experience management platform Symphony that include scheduled and self-healing workflow automation across AV, UC and collaboration solutions being used for hybrid work and learning.
According to the Tampa, Fla.-based company, the new workflows are activated through rule-based triggers and processes targeting specific end users, device types and rooms.
AVI-SPL Symphony allows IT to proactively fix technology performance issues and maximize the availability of meeting and learning solutions, remotely and intelligently, the company said in a press release.
IT admins will be able to set performance and configuration alarms with assigned priority levels for US technologies and spaces. When an alarm is triggered, Symphony can be configured to launch automated workflows to resolve an issue.
Related: AVI-SPL Expands into Mexico
If a meeting room is not set to the preferred configuration for a scheduled video call, Symphony's automated workflows can remotely update the room's device settings to ensure a successful meeting, the press release said.
Another new AVI-SPL Symphony feature allows IT teams to customize service ticket issue types, sources and issue resolution fields to use terminology relevant to the support team.
Organizations can add the resolution codes used across their organization to Symphony, and those codes are then shown on Symphony tickets and represented in Symphony analytics and reports, according to AVI-SPL.
Here's more from the press release itself:
With these new triggers, automations, and customizable business rules, Symphony enables IT teams to schedule and automate routine technology management tasks.  For example, IT staff can standardize their "room readiness" or "power down" workflows to take place at a specific time each workday.  They can create a workflow to turn on a display, set volume to the desired level, set shades to fully open, and automatically launch that workflow at 8 a.m., Monday through Friday.  Likewise, IT can configure an end-of-day workflow that powers down devices.  For end users, the benefit is a consistent experience where the room and technology are ready to use when expected.  For IT, the benefit is tremendous new efficiency, powerful data analytics, and peace of mind.
Frank Mehr, senior vice president of research and development at AVI-SPL, said the new features give IT teams power to manage their "rapidly growing" AV, UC and collaboration technologies.
"Without it, these same teams would be spending unnecessary hours on routine checks and reactive fixes," Mehr said in a statement.
Because IT teams can customize service tickets, employees across the organization can instantly recognize the issue and understand what it means, Laurie Berg, director of Symphony's market development, said in a statement.
"It also means IT leaders have more meaningful analytics and reporting to help make decisions about their technology environments," Berg said.