Barco ClickShare and Biamp Devio: The Perfect Conference Room Combo
We all have our favorite combos: summer nights and outdoor concerts, hotdogs and baseball, bourbon and bacon…
Content from our Sponsor
Leave a Comment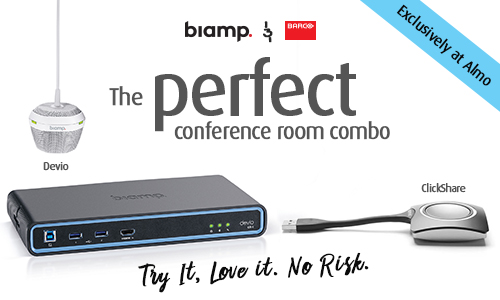 Introducing the perfect combination for integrators working on a conference room or huddle space project: Barco ClickShare and Biamp Devio™ exclusively at ALMO!
With this powerful duo, integrators can offer one-touch connectivity in unified communications environments. Almo Professional A/V is offering a BONUS on the combined purchase of ClickShare and Devio — If you're not satisfied, return within 30 days with no questions, no risk, AND no restocking fees!
It's a simple way to connect. It allows participants to share what's on their laptop or mobile device to the presentation screen without the need for cables, set-up or the wait to join in a meeting. Simply plug a USB-powered device — the ClickShare Button — into a PC or Mac and click on it to get the content from a laptop onto the large meeting room screen. With the ClickShare App, participants can also share content from mobile phones or tablets. Both devices are easy to use, enhance collaboration, and most importantly keep meetings and conference calls much more productive for clients.
Exclusively available through Almo in the U.S. and Latin America, Biamp's Devio line is an all-in-one collaboration tool for the modern workplace and a natural extension of how people work every day. With a single USB connection, Devio connects a laptop to a conference or huddle room's displays, speakers, microphone and web camera, allowing meetings to quickly get up and running. The Devio beamtracking microphone intelligently mixes conversations, allowing far-end conference participants to experience the conversation while providing a real-time collaborative experience.
Plus, Almo partners automatically have access to Almo's Business Development Manager (BDM) experts who offer years of experience in audio technology and AV integration. Almo BDMs work directly with Barco and Biamp to ensure partners are able to smoothly incorporate these products into their existing and forthcoming projects.
Take advantage of the Almo Barco ClickShare and Biamp Devio summer combo today!
Offer valid July 1, 2018 – September 30, 2018.
*Some restrictions apply.