Crestron Unveils AirMedia Connect Adaptor with One-Touch Wireless Collaboration for Microsoft Teams
Crestron's AirMedia Connect Adaptor allows users to wirelessly present on any connected display with Microsoft Teams bundles.
Leave a Comment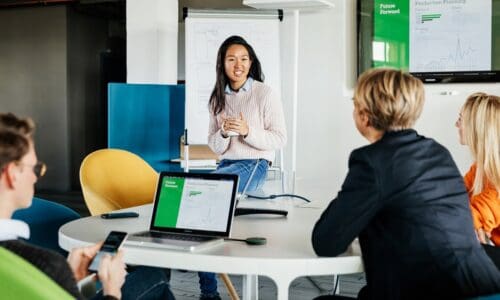 Rockleigh, N.J.-based Crestron Electronics, prominent provider of workplace collaboration technology, announced the new AirMedia Connect Adaptor, a one-touch, plug-and-play wireless presentation solution for wireless conferencing.
On the heels of Microsoft's keynote at Enterprise Connect 2023, Crestron and Microsoft will launch an AirMedia collaboration bundle for Microsoft Teams software. The companies thus aim to bring BYOD and Microsoft Teams meetings to more spaces.
Per Crestron, the AirMedia Connect Adaptor is the only dongle optimized by Microsoft for wireless collaboration. Thus, it helps eliminate the need for an application to present and conference.
"Whether you're in a huddle room, lounge or mixed-use room, effective hybrid work requires the ability to easily present and conference without jumping through hoops," says Lauren Simmen, director of commercial product marketing for Crestron. "The plug-and-play AirMedia Connect Adaptor allows users to collaborate more freely using their personal devices and any outfitted display to riff on an impromptu brainstorm or deliver a formal business presentation."
Enabling BYOD Collaboration
Crestron adds that the AirMedia Connect Adaptor works with various platforms for added flexibility. However, the Microsoft Teams software variation adds even more convenience for organizations that have a standard meeting platform.
With the press of a button, users can instantly join virtual meeting participants using their device of choice. Here, they can also take advantage of the high-quality audio and video in-room peripherals.
When used for wireless presentation, the AirMedia Connect Adaptor allows for content transmission in up to 4K/30p. As a result, users never have to worry about their image or video quality. Additionally, all content transmitted utilizes encryption. With this, guests don't have to worry about using new networks. Additionally, hosts won't have to worry about unwanted intrusions.
With its wireless presentation capability and upcoming wireless conferencing functionality, the AirMedia Connect Adaptor increases meeting efficiency and productivity. It also allows for greater choice in device type, meeting format and location. According to Crestron, each is an increasingly relevant factor as enterprises navigate returns to the office. Users can also plug the AirMedia Connect Adaptor into the local device's USB-C connector. They can then use the quick-touch buttons to present without installing additional software or adjusting user access.
Streamlining the BYOD Workplace
For Microsoft Teams users constantly moving to and from their office, the AirMedia Connect Adaptor will streamline their BYOD workplace experience. Where Crestron essential room technologies are in place, AirMedia collaboration technology integrates natively to create a robust, intelligent experience. Here, occupancy sensors wake the room up, touchscreens manage schedules and controls, and the Crestron DigitalMedia platform enables wired presentation and content distribution. What's more, it achieves this without the hassle of extensive programming in each room.
As with all Crestron devices, provisioning and managing AirMedia devices can be done remotely with zero-touch provisioning through the Crestron XiO Cloud Management System, which can also be used to deploy firmware updates, keeping the system updated without needing new installations or hardware replacements.
Availability
The AirMedia Connect Adaptor with wireless presentation will begin shipping in April, says Crestron. Additionally, an upcoming firmware update in Q2 2023 will enable full wireless conferencing capabilities. The BYOD Crestron AirMedia and Microsoft Teams bundle will ship in Q4 2023.
Check out Crestron's complete line of end-to-end workplace solutions on our sister-site AV-iQ.
If you enjoyed this article and want to receive more valuable industry content like this, click here to sign up for our digital newsletters!