Dialpad Launches Dialpad Meetings with Poly to Enhance Hybrid Workforce Experience
Dialpad Inc. launched Dialpad Meetings, a new service made with technology partner Poly to enhance the hybrid workforce experience.
Leave a Comment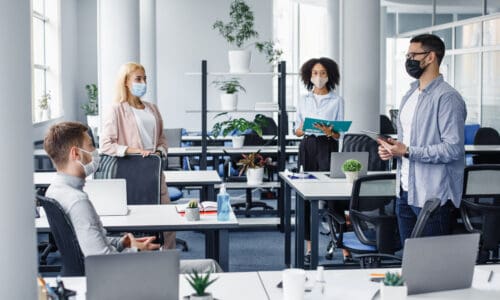 Dialpad Inc., a Calif.-based  AI-powered communication and collaboration provider, announced the launch of Dialpad Meetings. Poly, the Calif.-based provider of audio video solutions, served as the technology partner for the new service.
Through this partnership, Dialpad Meetings provide an all-in-one video conferencing solution for meeting rooms of all sizes.
Per a Frost & Sullivan global survey, 86% of organizations reported more than 25% of employees are now working remotely. This is a considerable increase compared to the pre-pandemic years. Citing this data, Dialpad added that Meetings will offer a True Unified Communications as a Service (TrueCaaS) experience.
Unified Communications, Seamless User Experience
As a service, it aims to bring its suite of unified communications and collaboration products closer together on one cohesive platform with AI at its core. Dialpad also expands the capabilities like boosting security, increasing hybrid work compatibility and improving the user experience.
The Dialpad Meetings enhancements include:
Virtual backgrounds to eliminate distractions, personalize video environments, and preserve privacy and security
Improved screen sharing capabilities with direct audio integration during video playback
Unique meeting links to enhance security by preventing early or unwanted attendee access
Mobile browser compatibility and simple "click-to-join" meeting access to upgrade the user experience and eliminating unnecessary app downloads
"Dialpad Meetings represents "the new next" in modern video conferencing and meeting room experiences," says Craig Walker, CEO, Dialpad. "The future of work is not restrained by employee or customer location, it's borderless. The Dialpad cloud platform, along with our new partnership with Poly, [helps people] work smarter together from anywhere on any device they choose, and adapt to how they like to work."
Launch of the Dialpad Meetings for Rooms
Dialpad and Poly also launched Dialpad Meetings for Rooms to support flexible and hybrid work with a dynamic experience for in-office and remote participants. Customers can deploy, start and join meetings using an intuitive video conferencing solution through a plug-and-play interface.
The Meetings for Rooms enables the following:
Connect distributed and hybrid teams with dynamic audio and video from Poly Studio X series devices. This will drive collaboration equity and participant engagement.
Equip meeting rooms with affordable, flexible and scalable hardware to easily customize collaboration spaces.
Start and join meetings with ease by eliminating software downloads.
Offer a consistent experience across the organization and eliminate IT support tickets with central room administration.
Increase meeting productivity with Dialpad Voice Intelligence (Vi), a built-in AI engine offering real-time meeting transcriptions for all participants. Vi combines Dialpad's automated speech recognition and natural language processing capabilities. In doing so, it provides real-time transcription, call coaching, talking points and call analytics for better business conversations.
Aim of the Solutions
Elka Popova, VP and senior fellow, information and communications technologies at Frost & Sullivan, expands on the importance of Dialpad Meetings.
According to Popova, the enterprise communications market was traditionally focused on the "carpeted office and knowledge worker segments." This led to workers within the same organization frequently operating in silos. Popova acknowledges how the pandemic changed this perspective and showed that effective communication is crucial across all work groups.
"A highly collaborative workplace environment enables organizations to optimize business processes. [One can also better] leverage diverse worker skill sets and expertise to increase overall quality, improve safety, enhance customer service, and boost competitive power," says Popova.
She continues, "Dialpad understands this. [With] the advancement of its TrueCaaS platform, [it] combines unified communications and collaboration with omnichannel contact center solutions all in a single app. With new advancements in Dialpad Meetings and its Poly partnership, Dialpad is addressing the complex needs of a highly diverse hybrid workforce and positioning themselves to be a major player upmarket."