Kramer, Sony Partner On Integrated AR Teaching Solution For Virtual, Hybrid Learning
The solution combines Kramer's control solutions and AV management products with Sony's Edge presentation, visualization and analytics suite.
Leave a Comment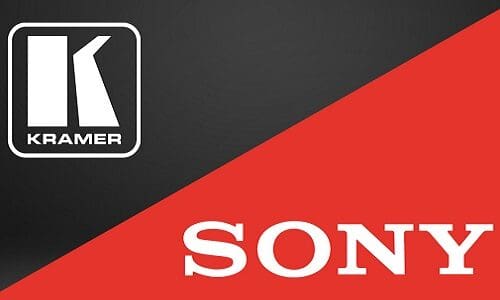 Kramer Electronics (InfoComm booth #3101) has announced a partnership with Sony to integrate an augmented reality teaching studio solution designed for virtual of hybrid learning experiences that leverages artificial intelligence technologies.
According to Kramer, the agnostic solution – designed for education or corporate institutions – combines Kramer's control solutions and other AV and management products with Sony's Edge presentation, visualization and analytics suite.
The combination of Sony's Edge with Kramer Control Solutions is designed to improve the quality of presentations and communication by incorporating augmented reality software and artificial intelligence to enhance the presentation experience and improve the visual and audio quality for all conference participants, regardless of location.
According to Kramer, the Control platform is embedded on a specially designed tablet that allows presenters to move around the room freely and operate the equipment in the room via a single user interface.
The result is a cost-effective and professional quality presentation suite for teachers, lecturers and presenters. They can also add optional licenses to incorporate other features, including handwriting extractions across multiple displays, PTZ auto-tracking, close-up by gesture features, Chromakey-less CG Overlay and real-tie cropping – all through a single device, according to Kramer.
Using AR, the handwriting extraction feature ensures that words and diagrams written on a whiteboard or blackboard remain in full view to the audience regardless of where the speaker is standing, according to Kramer.
The Chromakey-less CG Overlay extracts the presenter's image and overlays it onto any background image, animation or video in real time, without the need for dedicated studio equipment or a specialist graphics operator, Kramer said.
A focus area cropping feature also allows one camera to simultaneously show two different output mages, and they can be set to be shown as either a static or dynamic picture, the company said.
PTZ auto-tracking cameras can follow the speaker's movement throughout the presentation and ensure they stay in focus and within frame, and for those in room, the close-up by gesture technology can detect and react to the gestures of the audience, according to Kramer.
"Our continued partnership with Sony has enabled us to strengthen the education vertical offering with a single solution which will enhance presentation technology systems and increase learning effectiveness and experience in classrooms and lecture halls," said Aviv Ron, Kramer's vice president of corporate development and strategy, in a statement. "The Sony-Kramer Solution is a progressive education-based offering that empowers faculty and professional staff to deliver impactful, cinematic presentations and lesson content in real-time."
The Sony-Kramer Auditorium Solution can be integrated with existing devices or as anew installation, and it can be configured with audio devices, cameras, video bars, webcams and recording devices, according to Kramer.