McCann Systems Turns Warehouse into Proscenium Collaborative Studio
Venerable integrator faces down the pandemic by investing in its team, its space and a next-level collaboration environment.
Leave a Comment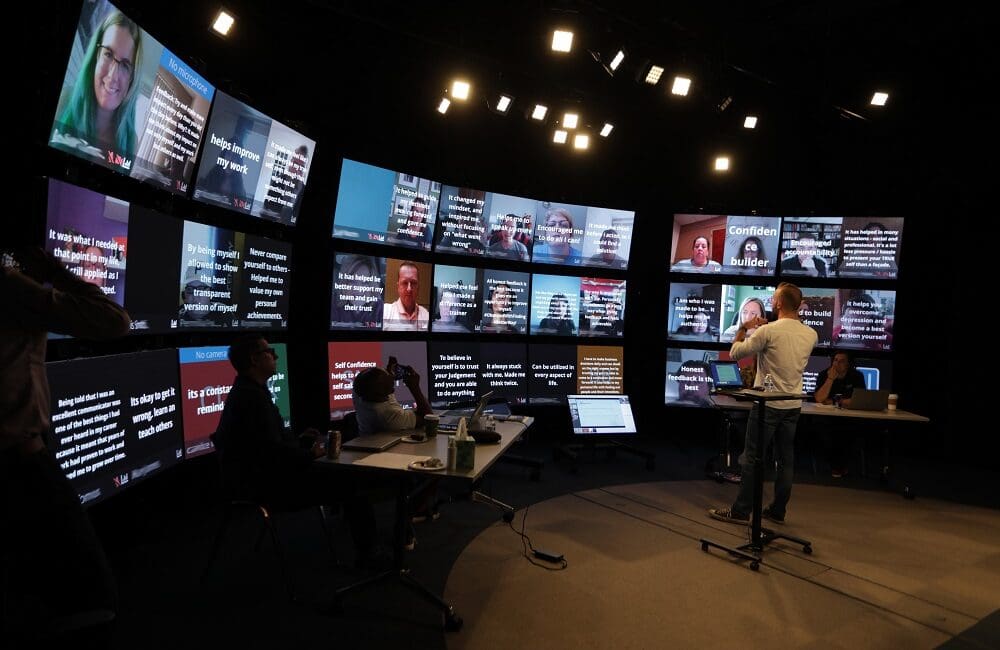 Photos & Slideshow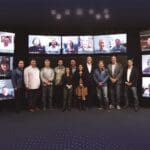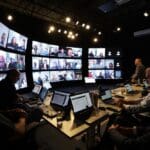 ---
McCann Systems, a prominent integrator based in Wallingford, Conn. and with offices across the country, developed the Proscenium connected studio environment over the last eight years. Over the last 24 months, it has deployed its solution, offering it to higher-education and corporate clients.
In mid-2021, the integrator wrapped up a build in its own small office, commandeering precious warehouse space to build and kit out a Proscenium demo studio for McCann's use, for clients' use and to show prospective clients the future of collaboration.
In just 750 square feet in its Edison, N.J. building, McCann built a studio environment that can host up to 12 people in the room, with two instructors, as well as another 42 on the fine-pitch LED walls, faceted to give everyone proper perspective. This engages the entire team, regardless of where team members are in the world. 
From Warehouse to Collaboration Space
When the COVID-19 pandemic descended in 2020, McCann made a unilateral decision not to cut people, pay, hours or benefits. The integrator also had some inventory, with equipment shipping channels tightening. In a creative move, McCann hired themselves to create what it intended to be the best studio collab space in the northeast.
Leveraging what it had on hand and what trusted vendors could provide, McCann designed and built this space in its New Jersey office. Formerly, the space had been used for warehousing.
Related: Digital Signage and Videowalls: Trends and Market Developments
New rooms were framed for both the studio and the supporting rack room. In both cases, the rooms had to be outfitted with new electric, while also having HVAC needs tended to. Ultimately, McCann had to design this connected studio environment for a small office — its own — that was already full.
Thus, in McCann's words, "We stole a piece of the warehouse!" But those who enter the space would never believe it, as it's now fully decked out for collaboration. 
Bringing the Space to Life
The installation took place over about eight months, right at the peak of COVID-19-related problems with supply lines. McCann Systems worked with the small amount of stock it had in the small space that it thought could be made available. From there, McCann did what it does best — namely, it ideated and got creative. 
The resulting installation involves 21 individual LED screens, which have a 1.2mm pixel pitch for super tight and close-up viewing. McCann leveraged the intuitive Barco weConnect platform and participant perspective cameras are mounted in a way that gives each remote participant a view of the instructor from where they are in the room.
This is essential to letting people interact with each other as if they were in the same room. Full-duplex directional audio from that same perspective, using mics and speakers, completes the system. 
The connected studio is fully up and running, and it's open to the public. Contact McCann to check it out in-person. 
Customer Reaction
Although McCann Systems integrated the studio environment at its own New Jersey facility, the integrator's certainly not the only one to be using it. It has invited several universities, corporations and assorted teams to use the room, and all have given glowing reviews.
Notably, for some McCann team members, the integrator's leadership conference was their first opportunity to experience Proscenium as an in-room participant or instructor.
The consensus all around was "mind-blowing." 
Equipment List
Barco weConnect
Unilumin 1.2mm LED
NovaStar LED controller
Crestron control processor
tvONE videowall processor
Biamp audio processor
Cisco switches
Vaddio cameras
Avocor touchscreen
QSC speakers and subs
Stewart and Ashly amplifiers
Shure microphones
Brightline lighting
Surge-X PDUs
Chief mounts
To view additional photos of McCann Systems' installation, click "View Slideshow" in the upper right hand corner.
If you enjoyed this article and want to receive more valuable industry content like this, click here to sign up for our digital newsletters!