Digital Signage and Videowalls: Trends and Market Developments
As the COVID-19 pandemic wanes, Commercial Integrator reassesses what's driving the growth of digital signs and large-format displays, as well as where new opportunities lie.
Leave a Comment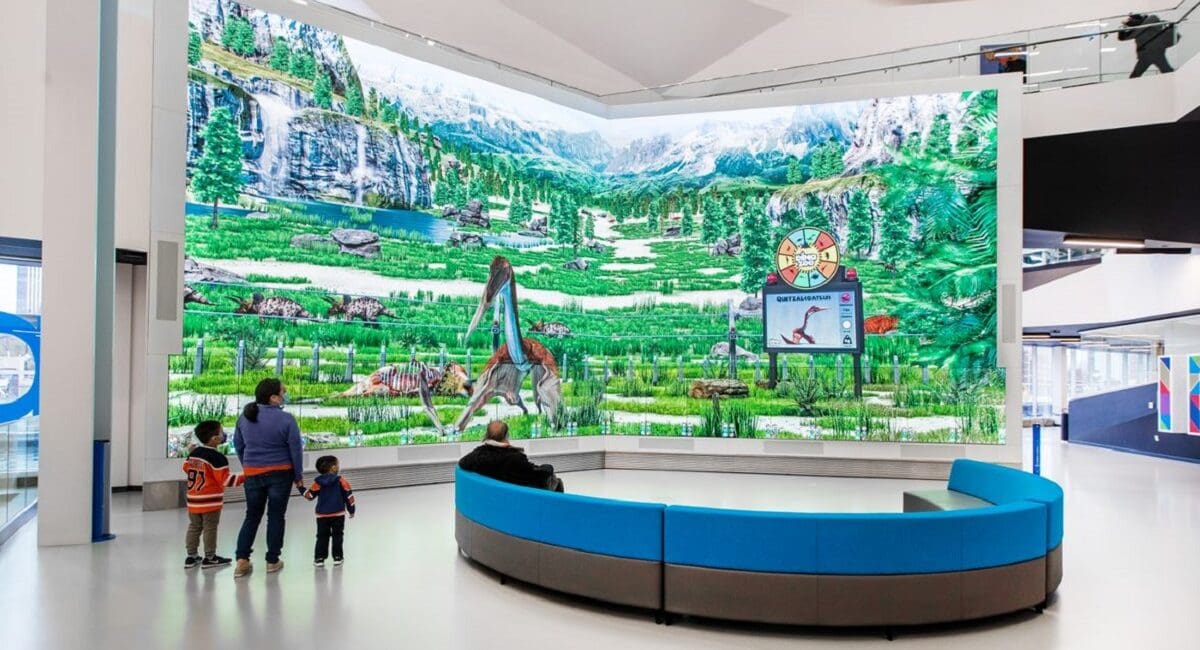 Few things are more captivating than sharp, colorful video displays. Whether it's a direct-view-LED (dvLED) videowall in a corporate lobby, a super-bright 8K projector on the InfoComm show floor or a digital signage network in a retail environment, these technologies produce dazzling images that you simply cannot pull your eyes from. But digital signage and videowalls are about more than just wow! factor; much more importantly, they're about measurable ROI and concrete results.
When corporations invest in dvLED displays for their lobbies, they're banking on building their brand equity and impressing future business partners. When potential partners walk in the door and immediately see an ultra-sharp videowall glowing with engaging content, they'll think to themselves, "Now this is the kind of company I want to associate with!" The value proposition in retail spaces is similar: Digital signs and entrancing images act as a siren song of sorts, drawing customers into the store and, if the deployment proves successful, ultimately generating sales. 
In this month's Digital Signage Deep Dive, we'll explore not only the world of digital signs but also the videowall space. In doing so, we'll examine which vertical markets are showing strength and which ones have been slower to recover from COVID-19. More broadly, we'll report on whether digital signage and videowalls represent growing categories within commercial AV. We'll also consider trends with respect to preferred display technologies (e.g., LED, LCD), while also examining specifications like pixel pitch and resolution. Moreover, we'll consider content creation and whether integrators are fully embracing the opportunity to sell content-related services.
Finally, on that same topic, we will inquire as to whether there's very much ultra-HD content out "in the wild," or whether the content we see in our day-to-day lives remains more in the full-HD realm. 
Factors Powering Digital Signage
One factor that really powered digital signage in 2020 and 2021 was the need to prompt people to abide by COVID-19-related health-and-safety guidelines. According to Sean Wargo, senior director of market intelligence, AVIXA, the demand spike manifested itself in transportation hubs (e.g., airports and train stations), hospitality venues and even corporate facilities, many of which were struggling to reopen safely and without the risk of being perceived as a "super spreader." However, more than two years into the pandemic, health and safety have ceased to be driving forces for the digital signage market. Rich Daugherty, digital media solutions engineer, AVI-SPL, believes that our society has become oversaturated with messages of that sort. He explains, "Viewers have had enough time to process this information and apply it daily. With that, we saw interest [in those applications] drop off halfway through 2021." 
Related: Pandemic Considerations for Digital Signage at Airports and Travel Hubs
CI also sought out Mark Coxon, CTS-D, CTS-I — at the time, the western regional sales director of HD Distributing. (While this article was in production, he announced that he has joined XTG, the Experience Technology Group at AVI-SPL.) Coxon agrees with his fellow interviewees, saying most people are simply tiring of the constant state of hyperawareness. He continues, "I think those messages aren't as well received [anymore]. Public spaces will still benefit from some messaging, but I believe that content with a lighter and less authoritative tone will dominate going forward." Wargo amplifies that point, saying, as in-person activity ramps back up, we're returning more to "the previous state of digital signage." He adds, "It's supportive of branding and engagement and experiential-types of things. And that brings us back to core markets." Buttressing the point, Wargo says that, according to AVIXA's Market Opportunity Analysis Reports (MOAR), digital signage is on the rise in shared spaces like lobbies, dining areas, quick-service restaurants and retail environments. 
Digital Signage Growth Opportunity
With digital signage undergoing a shift back to its core markets, it's worth considering whether the category represents a particularly attractive growth opportunity as compared to other technology areas. According to AVIXA's research, Wargo says, conferencing and collaboration represent the largest solution area in commercial AV; however, digital signage comes in second. AVIXA forecasts digital signage to produce $35 billion in global revenue this year and achieve a 7% compound annual growth rate (CAGR) from 2021 to 2026. Mitchell Mittler, vice president, design and technology, digital media, Diversified, agrees that the signage category is "very robust." He explains, "Consumers are returning to brick-and-mortar retail, dining and entertainment venues, [and] they're hungry for experiences. Digital signage is a cost-effective mechanism for brands to deliver their messages." That should equate to steady growth in the years ahead. 
According to Coxon, the behemoth of the past couple of years — namely, UC&C — might be due for a bit of contraction, making signage an even more attractive category to play in. He explains, "Digital wayfinding, advertising and large-format displays are still in high demand. Videoconferencing and control will likely have a dip, based on many studies I've seen, as the major implementations seen in 2020 and 2021 to fill the gaps in companies' remote capabilities have now all mostly been filled." Similarly, although Wargo doesn't make any specific predictions, he hypothesizes that, one day, digital signage could indeed become commercial AV's largest solution area. 
Bryan Meszaros, CEO and founder, OpenEye Global, is also bullish about digital signage, although he thinks it's worthwhile to break the category out into distinct profit areas: hardware, content development and associated services. According to Meszaros, if an integrator is focused on hardware sales, that firm might be approaching things suboptimally. He says, "Margins continue to be thin, and, with the rising costs of equipment, it becomes increasingly challenging to maintain a consistent profit in reselling." As an alternative, Meszaros recommends focusing on content, which he describes as "the main source of revenue associated with digital signage." He says, "There are different ways to approach it, such as content-as-a-service, where you are working with your clients consistently to [generate] great recurring revenue." 
The Content Question
For years, Commercial Integrator has written about — and tried to argue on behalf of — integrators shifting their businesses to embrace a services-centered profit model. Is digital signage the solution area where integrators can put the theoretical into practice? For AVI-SPL's Daugherty, it might well be, especially given that content is essential to a digital signage deployment's success. He explains, "Viewers who walk by the same displays with the same content over long periods of time will find themselves not paying attention to that display. It'll eventually become a blind spot." That's why, when AVI-SPL is deploying digital signage, its team asks clients if they have anyone dedicated to producing content, as well as the planned frequency of content updates. "If there is a need for content design and management," Daugherty explains, "we are here to help our clients with custom content or ideas for subscriptions like Screenfeed or Seenspire."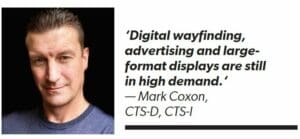 Diversified's Mittler describes content creation as being at the core of the company's digital media practice. "When we established [that practice] in 2000, we identified that it was imperative to define creative strategy and governance at the beginning of an engagement," he explains. "Our team of content producers and artists are engaged by our account executives from all verticals to ensure the technical solution has the visuals to provide maximum impact to the end consumers." 
According to Wargo, the importance of that visual impact cannot be overstated. In fact, he recalls a conversation at InfoComm 2019 with a lead designer of a major hotel chain. During that conversation, the designer told him, "One reason we don't have more signage or display installations in our lobby is we just can't keep the content fresh." Thus, one could reasonably conclude that a lack of content-creation services is in fact inhibiting design/install opportunities. Conversely, by leading with content-creation expertise, integrators could unlock heretofore unavailable design/install work. "There's clearly something here," Wargo declares, "even if we don't yet have a lot of robust data to show that it's presenting itself or being harnessed by the AV provider community." 
However, it is not as simple as flipping a switch and becoming a content-creation expert instantly. OpenEye Global's Meszaros says that he's seen many integrators struggle as they try to pivot toward services like content curation. He explains, "A big part of the challenge is that it requires a 'culture change' that many are not open to accepting. It's not as easy as saying, 'We can do content,' or hiring a designer. The company has to be positioned in a way that makes sense to bring the service to market or, at least, [have] an understanding on how align it with the expectations of their clients." If content is presented as a mere "add-on service," it can appear as if it's an afterthought, rather than a business service that's core to your company's value proposition. 
Digital Signage's Continuing Evolution
Speaking about digital signage's continuing evolution, Daugherty says, "We have seen massive changes in the last few years, from making on-prem the most-used choice for digital signage deployments to embracing cloud to simplify management while retaining high levels of security." Mittler amplifies the point, stating that there's no longer any limitation to where digital media can be delivered. "We are no longer limited by size or scale," he explains. "Expansion of broadband connectivity allows us to place digital media anywhere there is a power source — from the grocery endcap, [to the] top of a taxi, to your mobile phone." Daugherty adds that, as some employees return to physical workspaces, AVI-SPL has also seen an increase digital signage as a space-management tool, as well as for wayfinding. 
For Coxon, another notable trend is the continued proliferation of digital-signage-specific displays. "Today," he begins, "we see things like LG OLED wallpaper displays, two-sided displays, and displays like WiCanvas that are hung with a hook just like a picture, under an inch deep and have no inputs at all." And they have exciting capabilities, Coxon continues, such as displaying content over Wi-Fi, with everything programmed through an app. Meanwhile, furthering our discussion of technology and network advancements, AVIXA's Wargo points to two-way interactivity, whereby the endpoint display serves a data-capture function. Retailers, for example, can benefit from knowing who is standing in front of which digital signs, as well as what they're using interactive displays to search for. 
From Meszaros' perspective, one of the most noteworthy trends is a deemphasis on large-scale deployments and a preference for large-display integration. "It seems the focus is less on quantity and more on the quality of the engagement," he opines. On the topic of quality, Wargo points to resolution as another key metric.
He explains, "In higher-end installations — certain venues and corporate events — you're seeing displays capable of greater resolutions." Although such displays can dazzle and captivate, they also have infrastructure and network implications. Wargo continues, "[With] higher-end displays showing up that are capable of higher resolutions — they have finer pixel pitch and all those kinds of things — you would expect more demand on networks." Thus, the data systems that underpin digital signage applications are having to be fortified. 
Turning to Videowalls
I tend to mentally separate digital signage from videowalls because, to my mind, a campus digital signage network that shares news and announcements seems qualitatively different from a 50-foot by 28-foot videowall in a stadium. So, let's momentarily step away from more traditional digital signage deployments and, instead, consider integrators' involvement with videowalls and the technology trends we can discern. 
Virtually all interviewees agree that dvLED is coming on strong when it comes to large-format displays like videowalls. Coxon explains, "Direct-view LED continues to build steam as price per pixel decreases and as more integrators become familiar with the nuances of how to configure and install these systems." He adds that 1.5mm dvLED is now affordable and has become popular in applications that need higher pixel density and that are viewed at about 11 to 18 feet.
Diversified's Mittler concurs, saying that, in the past, designers would default to an ultra-narrow bezel videowall to create the largest canvas possible. "But the creative team has always had an issue with bezel lines," he notes, "regardless of how much they have been minimized." According to Mittler, dvLED technology has come down in price and installation complexity to the point that the technology can satisfy creative and design visions equally. "Technicians are now trained and have the expertise to install an LED wall as efficiently as they do an LCD wall," he adds. 
AVI-SPL's Daugherty says that, for display deployments of 100 inches or larger, things will continue to drift toward dvLED, arguing that flatpanels' use for videowalls will center on a limited subset of applications: those with high resolution and short viewing distances. "Pound for pound, dvLED is the better option," he opines, citing, "a much longer lifespan and a much better TCO than LCD." Moreover, Daugherty adds, the price difference continues to improve every quarter, thus driving demand. 
On the topic of demand, however, supply and production snarls might be constraining what otherwise would be runaway growth for dvLED technology. OpenEye Global's Meszaros explains, "Recently, production demands have been challenging in [deploying] our videowall solution. LED has a long turnaround time." So, his company has been investigating the suitability and availability of seamless LCD and OLED panels. Nevertheless, Meszaros underscores, setting aside those logistical issues, OpenEye Global usually pitches dvLED for large-format displays due to the technology's lack of bezels, high contrast and versatility across environments. 
Videowall Vertical Markets
Turning to vertical markets ripe for videowall applications, our interviewees view the sky as the limit. Wargo, for example, points to retail environments, corporate lobbies and hospitality venues as great homes for large-format videowalls. "You would expect, especially given the continued challenge for brick-and-mortar retail to differentiate itself from online retail, [that] there would be more and more need for a wow! factor — an experiential kind of installation that keeps people coming to the store," he expresses.
With respect to larger venues, such as stadiums and performing-arts centers, Wargo senses some lingering hesitancy to make large-scale investments given the continuing COVID-19 pandemic; that is throttling videowall deployments in those environments somewhat. "But," he declares, "I think, clearly, as we go through '22, that should open up in a more meaningful way to where videowalls and other big-format solutions become compelling again." 
Daugherty points to the corporate opportunity as being particularly appealing. "Videowalls can provide storytelling on a large scale, impactful branding and memorable user experiences," he elaborates. "When employees and guests enter the space, they're immediately greeted with this experience. It [makes a big impression on] guests and gives employees a huge sense of pride and belonging."
Meszaros agrees, saying that lobby environments have been especially exciting to watch, particularly as they begin to incorporate dvLED. "The endless creative opportunities that exist have helped transform this otherwise stale environment into a creative space that helps define the tone/attitude of the building," he expresses. 
What about Pixel Pitch?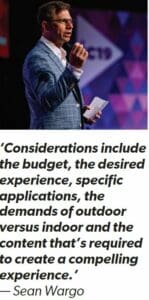 The commercial AV industry is one in which "specsmanship" has been a real thing for a very long time. Whether it's amplifier power ratings or projector lumen counts, we all occasionally fall prey to oohing and aahing about a particular spec or feature. When it comes to dvLED, the spec du jour is pixel pitch. So, CI engaged our interviewees on whether things are moving to ultra-tight pixel pitches. 
Wargo describes the commercial AV channel as quite pragmatic. Indeed, he mentions all the factors that integrators must consider when approaching a videowall deployment, listing, "The budget, the experience that's desired, specific applications, the demands of outdoor versus indoor, the content that's required to create a compelling experience, [etc.]" All those factors, he says, tend to mitigate unrestrained spec-chasing. However, Wargo acknowledges, the video component of an integrated system does tend to grab the most attention; as such, there is always the temptation to overinvest in, or overemphasize, it. But that's not to say that some applications don't cry out for the visual magic that narrow pixel pitches can deliver, especially as prices continue to decrease. "If it's feasible to use [narrow pixel pitch] in a certain application, and if it gives them a slightly richer experience, then it kind of makes sense to see what can be sourced," Wargo adds. 
Daugherty advocates a client-needs-focused, consultative approach for integration firms like his own, AVI-SPL. He opines, "From an advisory perspective, recommending pixel pitch can be a little tricky. Ideally, we would want the lowest pixel pitch for every opportunity, but there are a few things to consider." He says that, obviously, it can get very expensive to have an incredibly tight pixel pitch. "So," he adds, "understanding when it's really necessary is important."
Consultation of that sort is particularly critical because, as Coxon observes, it's easy to become blinded by a blizzard of specs. "There still isn't a lot of understanding by the end user — and sometimes even [on the] integrator side — of the difference between the resolution of a display and the pixel pitch," he says. Coxon adds that, from his vantage point, everyone initially wants microLED specifications at 0.7mm or 0.9mm…until they see the price. He continues, "So, 1.2mm is more palatable, but 1.5mm really seems to be what most compromise to [select]." 
If you ask Meszaros, our collective focus on pixel pitch might be somewhat misplaced. He says that, instead, the crux of dvLED's value proposition is its versatility. "If anything," he begins, "LED is becoming increasingly popular, in part, because of the creative flexibility." He notes that the display technology can be carefully layered into the design of an environment because of its flexible design attributes with respect to size and shape. "I would say the topline trend is having more flexibility to design with LED," Meszaros adds. This attribute makes the technology especially appealing for creative designers, as well. As Mittler observes, "Designers have a much better understanding of how to design content for LED displays." 
Is Now the Time for Ultra-HD Content?
We've already touched on content creation as it relates to digital signage networks, but let's broach another content-related question: Are we seeing 4K — or even 8K — videowall content out "in the wild," or does practicality continue to reign and push venues toward full-HD content? 
If you ask AVIXA's Wargo, now might still be a time for conservatism, as commercial AV verticals await a more meaningful return of crowds, as well as a more sustaining recovery in revenue. Once those things happen, he says, we can expect more decision-makers to consider native 4K, or even 8K, applications. For now, though, Wargo explains, "Somewhere around 10% to 20% of the installation opportunities are looking at or considering installing 4K for their need." The sweet spot, he declares, is still 1080p, a technology he describes as suiting most venues, opportunities and budgets. 
AVI-SPL's Daugherty largely agrees, saying that the resolution question tends to be determined by the system's technical capabilities and the aptitude of the content creator/designer. "Does the system [even] support content that is 4K or 8K?" he asks rhetorically. Daugherty adds that, from his perspective, the large percentage of the users still developing content at 1080p are doing so because it's easier to produce. "If content is being developed by an experienced designer or agency," he continues, "it will be produced to the correct 4K or higher resolution." 
Setting aside content designers and agencies' capacity to produce ultra-HD content, another key consideration is whether a venue's core infrastructure can handle the loads that 4K, and especially 8K, entails. Coxon says, "I'm a fan of uncompressed video, [but that] means the content wouldn't be able to go through Wi-Fi, 1G or even 10G networks at full resolution, 10-bit depth and full sub-sampling." In some instances, however, he says, there are localized, dedicated players or machines feeding the screens or the digital canvas, or there's sufficient budget for high-end video processors. If that's the case, Coxon explains, "8K and above is achievable and looks beautiful." 
For Meszaros, the practical cap continues to be 4K. "Anything beyond that doesn't make sense," he opines. "Most clients either don't have the assets to support higher resolutions or [don't have] the display in a place that allows for that level of quality." 
He argues that, as display technology continues to advance rapidly, content will always be "playing catch up" with the displays themselves. Meszaros does point to certain types of high-profile venues (i.e., flagship retail, stadiums and other high-visibility public spaces) as being viable homes for displays showing native ultra-HD content; however, he adds, "Those installs are still few and far between." 
Mittler likewise points to retail as a leading candidate for ultra-HD content deployments, although perhaps not necessarily for large-format videowalls. He explains, "We're seeing brands distributing 4K content to their traditional flatpanels. [That] content is being captured in 4K and higher formats." From Mittler's perspective, marketing teams want to leverage high-resolution creative content to facilitate having the highest quality visuals they can. He says it's all about "enticing consumers to [engage with] their brands." 
The Bottom Line
So, what's the bottom line here? When it comes to digital signage networks and large-format videowalls, there's simply no doubt that dvLED is on the rise, even as flatpanel LCDs continue to boast attractive price points and have wide availability. As Wargo remarks, "We noted that LED came in strong in digital signage, in particular. We ramped from about 27% of digital signage revenues being LED-based in 2017. That's up to about 45% in 2022."
With price becoming less of a barrier for dvLED, it seems all but certain that its market share will further increase over the next five years. During that time, we'll also likely see continued movement toward ultra-tight pixel pitches, as well as the core network and systems infrastructure to enable a greater proliferation of 4K and 8K content.
Meanwhile, whatever display technology and whatever resolution they settle on, vertical markets throughout commercial AV will continue to use digital signage and large-format videowalls to bolster organizations' brand reputation and public prestige, as well as entice people to leave their homes and enter communal spaces. 
If you enjoyed this article and want to receive more valuable industry content like this, click here to sign up for our digital newsletters!