Pandemic Considerations for Digital Signage at Airports and Travel Hubs
Integrators and operators of digital signage networks must think differently about how signage is used as travelers navigate the COVID-19 pandemic.
Leave a Comment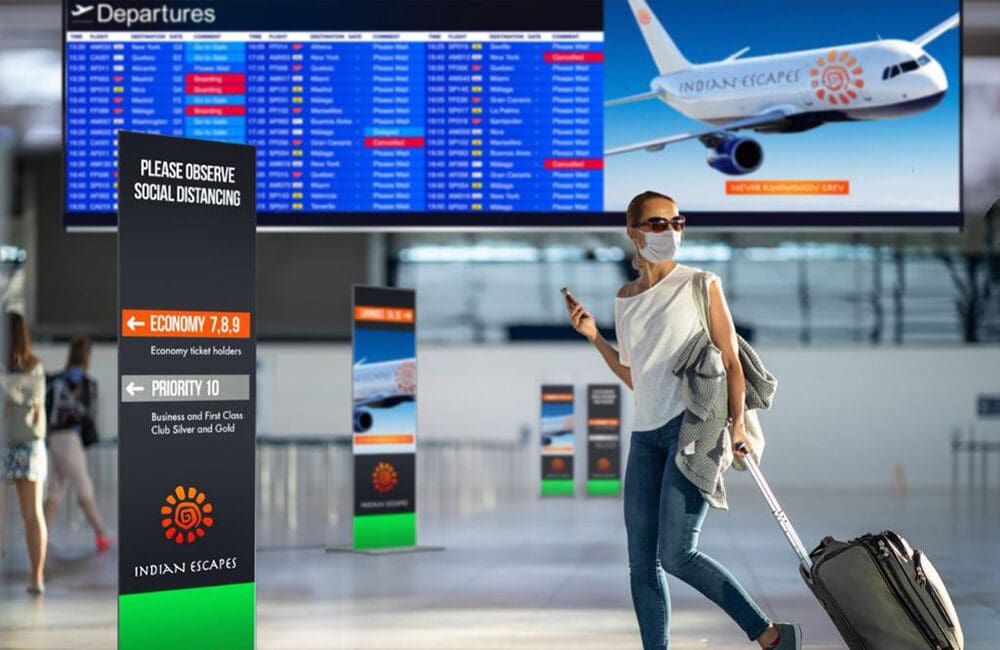 If you've traveled lately, then you know that things are much different from how they were before 2020, all thanks to the COVID-19 pandemic. Travelers must constantly be reminded to wear masks and practice social distancing; moreover, travelers need up-to-date information about flight statuses in an era in which flight cancellations and delays due to the pandemic have become routine. 
Most airports and other travel hubs already have installed digital signage networks that are quite elaborate. However, integrators and network operators alike must think differently about how to tailor those technologies for the COVID-19 era. 
Information of Every Sort

 
Pandemic aside, travelers in an airport need access to information at nearly every turn—information about the location of gates, flight statuses, security procedures and more. All of it is critical data that airports must display. Now, when you throw a deadly pandemic into the mix, travelers require even more information about how to navigate the airport. In the COVID-19 era, necessary information includes mask requirements and social-distancing guidelines. 
"Instead of just showing flight-information displays or baggage-information displays, airports need to also make sure that content is supplemented with reminders about distancing and things like that," Ben Hardy, senior product manager at Sharp NEC Display Solutions, explains. "That comes down to content management and how easy it is to either change content or make sure that you have backup content in mind so you don't have any down screens when a source goes down." 
Related: Google's Chrome OS Flex Can Be Used For Digital Signage, Kiosks
Essentially, it comes down to using integrated displays to make sure that travelers are well informed at all times, according to Hardy. If the digital signage strategy is executed successfully, it can help ensure safe, smooth travel. "The only way to do that is to make sure that people are following the rules," the digital signage expert says. 
Yuki Yu, vice president of sales and marketing at display manufacturer Absen, says that airport signage must meet both practical and commercial functions. In that way, displays will not only provide information about flight schedules but also showcase advertisements. 
"And nowadays, end customers' demand for the creative products increases the need to maximize a landmark or brand's attraction," Yu says. "With a creative display shape, content will help to better demonstrate the landmark or brand and create more commercial revenue." 
Having Failover Source

s

in Place
Another key trend emerging in the use of digital signage in airports is having a failover source in place in case the main source goes down. According to Hardy, this is often overlooked when a digital signage network is in the design phase. 
Think, for example, about a flight-information display. There is a main source of such information, with data that is constantly changing from the front end. If that source goes down for whatever reason, airports must have a failover source that either provides similar information gleaned from elsewhere or delivers other valuable content (e.g., COVID-19 safety guidelines or airline branding). To be specific, if the HDMI 1 source goes down, the display could automatically switch to DisplayPort 1. Then, if the main source comes back online, the display could switch back to the HDMI 1 source. 
Related: HYPERVSN Announces SmartV Solutions for Digital Signage Market
"That's been very helpful because it's a lot more automated," Hardy says. Automatic failover not only helps keep displays online and operational but also helps to eliminate the need to send technicians out to fix displays manually. But he emphasizes that the display can't switch over to just anything. "Displays need to automatically sync to something that is equally as important," Hardy emphasizes. 
Functionality of that sort has traditionally been reserved only for higher-end displays, but it's now becoming more necessary for airports and travel hubs—in fact, for virtually any use case. "It allows airports to at least know their screens are up, even though the source goes down temporarily," Hardy explains. 

Remote Monitoring and Management
As the world has adopted more remote technologies, a new requirement has arisen: the ability to control and monitor the entire digital signage network from a remote location—including outside of the network, if necessary. 
"It's about having some type of consistent heartbeat or control perspective to your display itself, so you know that your display is up and running," Hardy says. When this capability is in place, it allows an IT manager to be pinged if certain screens or devices are having issues. 
That capability for remote monitoring and control brings with it a certain element of security risk, however. There have always been tamper-proofing features on physical displays, Hardy acknowledges, but, these days, greater concerns center on the security of the signage network itself. 
For a mission-critical industry like transportation, any network must be maximally secure. That is especially true, Yu says, when a digital signage installation can reach many people in a short amount of time. That is certainly the case in a busy airport environment. "Unauthorized content and any misinformation can cause very bad experiences and a catastrophe for travel, airport administration, advertisers and store owners," Yu says. 
Security is a Top Priority
"We're seeing a larger need for security," Hardy agrees, emphasizing that these systems are "not a closed loop anymore." Referencing the story of a high school student who hacked into his school's IPTV network as part of a senior prank, he says that security is now a top priority for any airport installation. 
"It's more important now than ever," Hardy says, stressing that the people who are supposed to have control of the screens always must. "It's important to make sure information is out there and that people are understanding what rules are in place," he concludes.