NEC InfinityBoard Lets Users Collaborate Across Screens and Across the World
Flexible meeting room solution called InfinityBoard from NEC enables customers to create, collaborate, and communicate across multiple screens.
Leave a Comment
The NEC InfinityBoard, a product the display and projector company says breaks barriers in making collaboration technology easier to implement and use, now allows multiple users/displays to collaborate from anywhere in the world.
According to product manager Chris Feldman, the product is designed to be an agnostic, high-end video collaboration tool for corporate and higher education environments.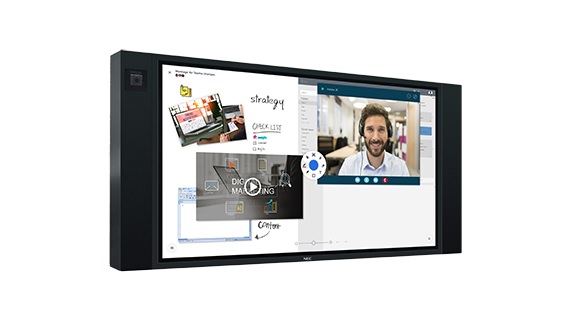 NEC InfinityBoard at-a-glance:
includes an NEC Display UHD display with in-glass touch
screen sizes ranging from 55″ to 86″
Huddly camera with 120-degree viewing angle
40-watt conference speakers
passive pen for a natural writing experience
OPS slot-in PC
Mosaic suite of collaboration software that includes video conferencing, messaging, whiteboarding, and wireless sharing
55-, 75-, & 85-inch models now available, with 65-inch model available in early 2019
Ideal Markets for the InfinityBoard
While the product is generally aimed at the large corporate end user, there are some applications for general office collaboration. Large universities could use the product to keep staff teams in touch across campuses.
Ease of Installation
"It's an entire collaboration solution in one box," says Feldman. "From an integration standpoint, this will save you a ton of effort on the engineering side."
All models feature Microsoft Windows 10 Professional OS pre-installed. Customers are also able to use their preferred business communication software without being locked-in to proprietary applications.
More on the InfinityBoard from NEC:
"For customers who need a best-in-class collaboration solution for the modern meeting room, InfinityBoard has everything built-in," said Chris Feldman, product manager, NEC Display.

"Out of the box, the product includes an integrated in-glass UHD touch display, preloaded collaboration software, custom speakers with a built-in camera, and a powerful Intel i7 OPS slot-in PC. This makes the InfinityBoard one of the most robust, flexible, and versatile collaboration products in the market."
NEC says further updates will increase capabilities with integrated native support for popular business tools.