Office Spaces: The Next Generation
Thought leaders from Crestron, Q-SYS, Cisco Systems and other leading vendors opine on the changing face of in-office collaboration environments and high-impact spaces.
Leave a Comment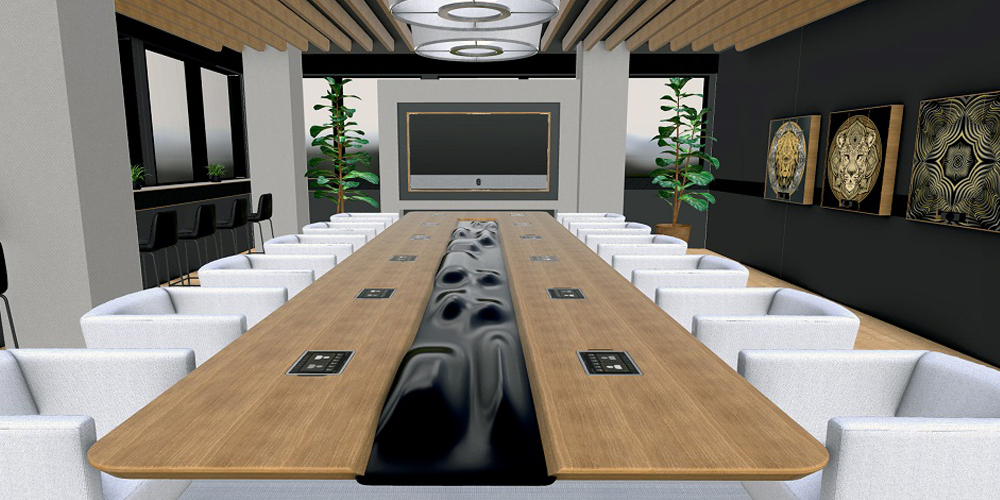 Editor's note: Commercial Integrator has teamed up with the Interactive Multimedia & Collaborative Communications Alliance (IMCCA), the New York-based non-profit industry association for unified communication and workplace collaboration, to produce a quarterly supplement, titled Collaboration Today and Tomorrow, that focuses on all things collaboration from multiple perspectives.
---
The year is 1990. You walk into a prestigious corporate headquarters and head through the floors of identical desks and offices — some private with doors; some cubicles — until you get to the executive conference room in which your meeting is being held. Inside that room, you see a long, rectangular, teak-wood table with 30 chairs around it, a touchpanel control device on the top, a rear-projection screen at one end with a camera above it, and speakers lined up along the ceiling. You use the touchpanel to close the window drapes and set appropriate lighting for your meeting. 
You are in a typical executive conference room of the era, but, again, that era is 1990! As you read these words now, that is some 33 years ago. Is this still the room that you're designing and installing for your clients today? 
When we look back at the insanity of the last three years and discuss return-to-office arguments, do we think that is the kind of office that knowledge workers will return to? Do they intend to flock back to 33-year-old designs with some technology updates? 
People who survived the pandemic and learned to be more productive working remotely than they ever were in that office are largely resisting strict RTO efforts with every bone in their body. There are many reasons for this, but the tired, dated design of such spaces is clearly one of them. 
How We Got Here
In the years just before the pandemic, our industry was focused on the "huddle room." We had discovered that densified offices had too many large, complicated, integrated rooms; thus, we focused on smaller, less-expensive, less-complicated spaces instead. This was important because we had so many open-plan offices that workers urgently needed areas where private conversations could take place. 
The pandemic dropped a metaphorical bomb on the open-plan office. People can debate this fact from multiple perspectives, but there isn't any productive work that can be done from a desk there that can't be done from a home office. The entire western workforce spent about three years viscerally learning that in a way that no argument for returning to a cube farm will ever change. 
So, once we accept that reality, we need to look at how to take the new requirement of "the office as a hub for human collaboration" and employ designs that are not 30-plus years old. We must also avoid hyper-focusing on huddle rooms for open-plan offices that are no longer in vogue. 
Magnet, Not Mandate
As many have pointed out, the future of work is most assuredly a hybrid one. People will do individual work from home where possible, and, in so doing, we will save a long list of things, including time, money and the planet. However, we will also work from an office when doing collaborative work. In order for people to want to come to that office, however, the space must be designed for today's needs. The days of four white walls, cubicle farms and 1990s boardrooms are clearly over. 
What we are seeing is an emerging trend: beautiful offices that exhibit features and facilities that no one could possibly experience from a home office. These spaces are often divided into "neighborhoods" with intrinsic features (e.g., gardenscapes, coffee bars), and they have embedded technology everywhere. Thus, nothing feels "slapped in." The meeting areas are both plentiful and beautiful. The integrated technologies go far beyond those that the boardrooms of the 1990s featured. 
I recently spoke with a number of professionals who work in various sectors of collaboration-room design, and I asked them what they make of this trend. I also asked what they're focusing on to meet these emerging needs. What follows is a sampling of what they said. 
According to a survey conducted this year by the International Facility Management Association (IFMA), 59% of respondents reported a reduction in space rents, and 80% indicated a significant increase in co-working locations. These factors suggest a growing trend that is redefining how offices are designed and used. This trend emphasizes spaces that exude luxury, hospitality and a high-end residential feel, departing from traditional cubicles and isolated offices. In professional circles, this is called the "resimercial" movement. Meanwhile, in the design community, "luxury hospitality" is a better descriptive term for space treatment and strategy. In both cases, it's far less stogy, boring corporate and far more vibe and inspiration. 
Others in the industry and I describe and see current offices as "collaboration centers," instead of using the old terminology. We recognize the statistic that 98% of all meetings will include at least one remote participant, and we know spaces must seek to provide equity and inclusion for all participants. Of course, tech and aesthetics are critical to this formula. As many have said, "The office needs to earn the commute." That calls for a mature blend of not only technology components but also high-quality physical built environments. This raises many questions, including these: How do we think through health and wellness? How do we think about natural light? How do we think about combining all these pieces that enable us to perform the best way we can as human beings? Being different requires thinking different.
Achieving the best of both worlds for IT and facilities teams begins with core alignment principles. Historically, technology experts have played a crucial role in translating use cases into capabilities; meanwhile, design teams have focused on leveraging physical layout, structure and materials. But what if these roles were traded? What if technology companies and systems integrators considered places and spaces, rather than just products? And what if design teams sought products that optimized more approachable spaces? Today, it's imperative to get these dynamics right.
Teams benefit greatly from leading with design. This approach encompasses both structure and intention. The movement toward making spaces less "corporate" draws from warm and approachable sensibilities found in personal spaces or frequented venues, such as hotels, pubs, office condos and co-working spaces. Wet bars are replacing ping-pong tables, while collaboration suites are supplanting dull conference rooms. Although not every use case can be addressed with a single solution, a design-centric philosophy yields an atmosphere that fosters increased creativity and confidence. People perform better when they feel better, and spaces that evoke emotion and deviate from a hospital-room aesthetic positively impact knowledge workers. Even hospital rooms themselves are evolving! 
To initiate the journey toward a design aesthetic, teams should consider the harmony that can be achieved by combining the beauty of colors, materials and shapes with technology. A century ago, products were designed to last for more than 100 years. Enhancing a room's look and feel can be accomplished through well-placed Persian rugs, a mixture of plants and other biophilic treatments, or utilizing semi-open offices. Instead of emphasizing technology as the focal point, integrate it seamlessly into the physical space. The essence of a great physical-space aesthetic stems from a skillful blend of physical and digital elements, creating a "phygital" experience that sets the standard for inspiring spaces. 
In many cases, the future of work involves blending both technology and experience to achieve the desired goals. 
In larger rooms, the biggest problem that we're trying to solve is meeting equity. Achieving the goal of meeting equity helps everyone stay engaged during collaborative sessions. The technologies that have been the most impactful in larger spaces — the ones that truly deliver on meeting equity — are those associated with automated speaker-tracking solutions. A camera and software combination that has the ability to pinpoint the collaborator who is talking at any given moment is incredibly powerful. It provides remote attendees with a view of the speaker, framed in the same way as their virtual colleagues. Therefore, it offers the viewer all the nonverbal cues that might otherwise not be visible. 
We've also learned that the right room layout can be just as important as the technology. This is especially true for in-person attendees. We've begun to help our clients and dealers understand that simple adjustments can enhance both the technology and the collaborative experience. These solutions can be as simple as placing cameras and display devices along the longer wall of a room, or even putting monitors on multiple walls. By enabling multiple cameras and monitors around the room, we can deliver the best experience. We can help attendees maintain eye contact, which keeps everyone engaged. 
Furthermore, we're learning that adaptability and flexibility are the keys to providing solutions for the hybrid workplace. If a large room is part of a new build or total retrofit — great. We already have solutions that can be permanently installed: everything from cameras, to speakers, to microphones. But if a room must be converted into a hybrid-ready space quickly and with minimal change to the room's existing infrastructure, that requires different sets of solutions. In that use case, the key is flexible and easy-to-deploy solutions that can effectively serve rooms whose seating layouts regularly change. 
A best-case scenario, however, would include an automated ecosystem that ensures that the entire room functions holistically for the best possible experience. That could mean creating an entire space that responds to a single touch to adapt to whatever presentation or meeting is about to occur — adjusting shading and lighting (and even climate), recognizing BYOD deployments without having to download any extra apps or software, and having management systems in place to help IT departments handle any issues proactively, instead of reactively. That's the kind of experience we should all be committed to providing for our customers. 
With the shift in work from old-style offices to a more hybrid culture, it is clear that organizations now need to deliver what we're calling "high-impact spaces" to entice employees back into the office and improve both company culture and employee connection. 
Every organization has unique business needs that define what the term "high-impact spaces" means to them. At a top level, high-impact spaces are rich in capability and serve unique purposes in a wide variety of spaces, ranging from small to very large in size. Examples of high-impact spaces that we've worked with include the following: 
financial institutions that needed the flexibility to not only display real-time financial information and market data on multiple screens but also connect with remote teams

 

media companies that needed to have high-end AV solutions to share and review content in collaborative, in-person settings, while also having the ability to bring in remote participants

 
The common denominator centers on high-quality experiences for employees, flexibility to perform multiple tasks and seamless switching between those modalities to meet these unique business needs. These experiences and capabilities are challenging to duplicate at home, and they give purpose to employees returning to the office when these types of engagements are required to support business needs. 
According to recent research from analyst firm Frost & Sullivan, approximately two-thirds of organizations not only plan to modify their use of office space to accommodate hybrid work but also will look to deploy high-impact spaces. Translating this into the opportunity size, Frost & Sullivan estimates that there were 4.7 million high-impact spaces in 2021, but the analyst firm predicts that this will more than double to 11.4 million high-impact spaces worldwide by 2025! The need for employers to attract employees with modern technology that is easy to use and that removes any friction, is driving this growth, as is the imperative to give employees a space where everyone can participate, giving new views and opinions a chance to be heard. 
As the workplace continues to evolve, technology for high-impact meeting spaces ensures companies can bridge the gaps between their employees, improve engagement and pave the way for truly transformational meetings. 
In any organization, individuals' creativity and contributions are vital. The goal is to empower participants to behave naturally and ensure an inclusive experience for remote attendees. Rather than being the central focus, technology becomes the enabler of a fluid, natural and productive meeting experience. 
The essence lies in creating an environment in which participants, regardless of their location, can fully engage, collaborate and contribute. This calls for solutions that bridge the gap between remote and in-person collaborators, providing equal opportunities for involvement and meaningful interaction. 
By prioritizing the human aspect of collaboration, the focus is on developing tools and technologies that seamlessly integrate into the meeting environment. The aim is to eliminate the friction that one-size-fits-all, remote-centric tools cause and, instead, to enable an intuitive and productive collaboration experience for all. 
In this vision, technology acts as a facilitator rather than as the centerpiece. It seamlessly supports the flow of conversation, content sharing and idea generation, allowing participants to connect and collaborate effortlessly. The approach ensures that remote participants have an equal presence and can actively contribute, fostering a sense of belonging and engagement. Rather than relying solely on technology-driven solutions, the shift to a more fluid way of collaborating allows for productive meetings through more pleasing aesthetics and — above all else — a more human connection. 
We believe that remote meeting participants should have access to a fully configurable interface that grants them the ability to see multiple aspects of the room and change where to focus their eyes from one moment to the next, just as they would if they were physically present. Visual aids, such as the whiteboard filled with diagrams, charts and sticky notes, as well as the physical prototypes being shared, would come to life on their screen, allowing them to immerse themselves fully in the meeting. With this transformative capability, remote participants could actively engage, contribute insights and collaborate effectively, thereby realizing the vision for seamless hybrid collaboration while addressing the pain points of remote work. In addition, the people in the room would manage sharing information not with balky remote controls but, rather, with intuitive hand gestures. 
By empowering team members with solutions such as these, we unlock the full potential of their contributions, fostering innovation, efficiency and collective success in the new era of hybrid work. 
Our perspective in this space comes from 25 years of being a hyper-focused specialist in high-impact spaces like boardrooms, innovation and experience centers, large divisible training rooms, and operations centers. Enterprise users absolutely want group collaboration spaces to natively support the online meeting platforms that they have been on constantly for the past three years — Microsoft Teams, Cisco Webex and Zoom. We've seen a titanic shift in our enterprise customer base toward integrated product suites that make CIOs happy and bundled license economics that keep CFOs happy. Accordingly, there is a drive to work with meeting platforms to create integrated solutions that combine advanced configurable AV room control with 100% natively certified collaboration systems — the best of both worlds, brought together in "one pane of glass" for the user. 
For one example, Microsoft has deployed this solution in its most high-value spaces globally: Microsoft Technology Center "Envisioning Theaters." In these next-level collaboration spaces, the company utilizes enhanced user journeys to visually show how its new technology enables rapid digital transformation and productivity
enhancements. We're in agreement with both the platforms and the users that the experience must be inclusive, easy, flexible and secure. From an end-user perspective, you need to make sure the experience is good for both in-person participants and remote participants. Can everyone see the content clearly? Can everyone hear and be heard? Is it easy to identify who is talking and what their name is? Technologies are now available to enable that elevated experience. Think about active speaker tracking, new videoconferencing layouts, and display technologies like seamless LED that provide a big and clear enough videowall surface for everyone to see the content, people and full meeting context (e.g., chat, raised hands). And with new AI technology, the experience is becoming even more seamless and flexible. 
There are other examples of technologies improving hybrid experiences. A client's boardroom was upgraded to a high-impact space by replacing the legacy codec with a modern unit natively compatible with the client's chosen collaboration platform; replacing the old PTZ camera with an intelligent active speaker-tracking system; replacing the scattered audio pickup and propagation system with one that supported spatial audio; and replacing the multi-bezel LCD videowall with a beautiful, seamless, much brighter LED videowall. All this was done to provide an enhanced and elevated experience for the executive end users, and to provide the "magnet" effect for higher in-person attendance. 
Feedback from C-suite participants has been tremendous. The following are a few of the comments: 
"Feels more natural."

 

"Now, I can clearly see and hear everyone."

 

"I feel like I'm right there in Atlanta while in Alaska."

 
After decades in this space, our firm has never been more excited about what's possible with new control, visual, audio and collaboration technologies. And with only a fraction of meeting rooms currently video enabled (according to industry analysts), we're going to bear witness to tremendous innovation and growth in this category for many years to come. 
As people continue to embrace hybrid work, expectations for flexible and seamless collaboration have evolved. In today's era of hybrid work, the role of the office is no longer to serve as a place to work. Instead, the office is the place to meet and collaborate, while the home is now a fundamental part of the working environment. In addition, digital collaboration is a requirement. Companies of all sizes and in all industries understand that their hybrid-work investments are essential to building company culture and enhancing productivity, and that they can be a crucial tool in the war for the best talent. 
At the same time, organizations are balancing the need to reduce surplus real estate and to ensure remaining facilities are compelling places to come together. The coordination of IT, HR and facilities is essential; each of these groups must be part of the strategy, planning, implementation and ongoing review of workspaces. 
We see with our customers, and we experience in our own environment, that the technology is ready to deliver on hybrid-work objectives. Our approach is focused on the following key principles: 
Flipping from a "me" to a "we" mindset:

Moving from a 70:30 split to a 30:70 split between individual and collaborative workspaces.

 

Spaces that are 100% unassigned:

Touch-downs and shared spaces are the standard, which means we are supporting roughly 20% more users with 50% less real estate.

 

AI-powered, open video enablement

: Approximately 90% of our spaces are video enabled, so users can always collaborate with in-person and/or remote stakeholders.

 

Harnessing real-time data from our devices:

This provides a real-time view for well-being, hot-desking and wayfinding.

 
These needs are addressable with a full portfolio of simple-to-use, high-quality and reliable collaboration devices and tools — and those are available — but it's also about more than just tools. 
What we must do is ask organizations to consider what the office is truly for. Do they really need that meeting room to be booked on a recurring basis when it often goes unused if the meeting is cancelled? If one is only occasionally in the office, is a dedicated desk needed? We believe that, unless a specific function requires fixed seating with high occupancy rates, it's better to move to 100% unallocated workspaces. We, of course, provide the technology and the tools to support this today. 
We also must address experience equity for remote and in-office participants. This requires providing the latest, AI-powered innovations for inclusive, productive and stress-free meetings. This means camera and layout technology that presents everyone as equitably as possible, regardless of where they join from. And it means audio solutions that deal with everything from coffeemakers to barking dogs without requiring users to jump on mute buttons. No more table-rustling sounds for far-end participants when the snacks arrive in the room. 
We must also make the environment, and our solutions, open and interoperable. An independent survey of customers across industries and across the globe showed that 85% of respondents find themselves using at least two meeting platforms from different vendors. More than 55% use at least three meeting platforms. People must be able to join meetings simply, as well as share their work easily, using the wired or wireless sharing method they prefer. If the office environment is not set up to support this, the users will not return. Additionally, digitization means that the office environment must support a multitude of different applications integrated into meetings. The office must enable users to connect their digital content into whatever meetings they are joining, from whatever room they happen to occupy. 
And, of course, all this must be secure, manageable at scale and done with sustainability in mind. Whether you're making investments in technology for a retrofit of existing spaces or for a new build project, you must know that the technology you're deploying is designed for both immediate needs and evolving hybrid-work environments. 
---
For more Collaboration Today and Tomorrow content, check out our website archives.
If you enjoyed this article and want to receive more valuable industry content like this, click here to sign up for our digital newsletters!