PPDS Debuts Philips E-Line Solution for Hybrid Education at ISE 2022
PPDS will enhance remote and hybrid learning capabilities with its new eco-friendly Philips E-Line 4K interactive display range.
Leave a Comment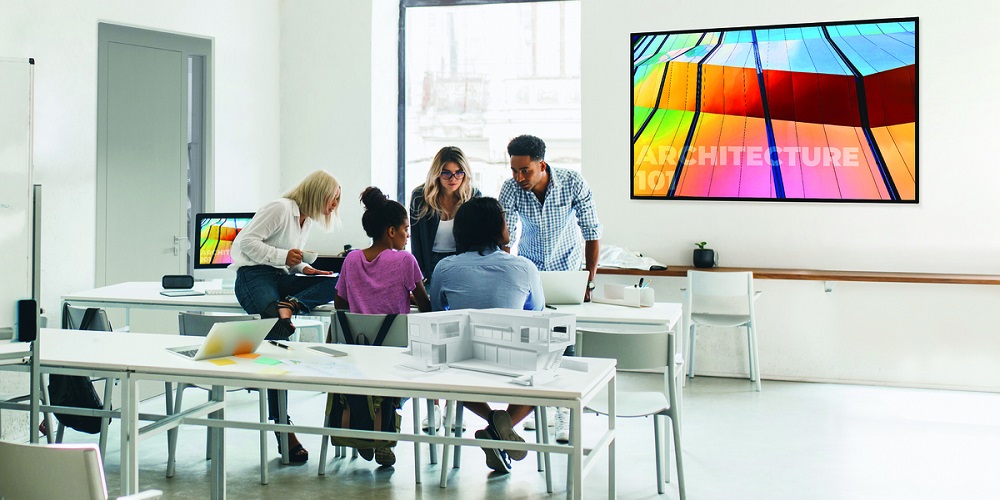 PPDS launched its brand-new Android SoC Philips E-Line series at ISE 2022 at booth 3Q600. Per a statement, the Phillips E-Line is PPDS' most advanced and complete SoC education display range to date. It combines the power of a PC with hardware and touch technology, and dedicated whiteboard. It also has extensive preinstalled and cloud-based educational software and features for all levels of education.
Philips E-Line answers the current challenges faced in education to provide an out-of-the-box solution, says the company. It thus transforms any space into a highly collaborative teaching and learning environment. PPDS adds that it supports and benefits students in a classroom, a lecture theatre, studying remotely or isolating at home.
Features
The model is wall mountable and available in 65-, 75- and 86-inch size variants across two model categories to suit a variety of budgets and needs including the entry level BDL3052E and mainstream BDL4052E. PPDS remarks that it carefully curated the Philips E-Line using the latest market feedback. This involved working closely with tutors, students and AV/IT managers and research. Moreover, it addressed all aspects of design, functionality, usability and compatibility to the smallest detail.
Martijn van der Woude, head of global business development and marketing at PPDS, says, "At PPDS we are committed to supporting education, and feel duty bound to drive positive changes to the market using dedicated and innovative technologies. Philips E-Line isn't simply another display on our conveyor belt. It is the culmination of extensive and tireless market feedback and innovation from our teams to create a solution that makes a real difference to the way teaching and learning is achieved so that challenges, both of the past, present and future are overcome. Education is much a part of our roadmap for sustainability and supporting our communities as it is of our product and market strategies."
Perfect Touch
The Philips E-Line range features the latest education software (including Cloud) and hybrid capabilities from PPDS' strategic partner, i3Technologies (i3LEARNHUB). It also features PPDS' most accurate and responsive new generation of zero gap, zero latency touch screen technology.
Included on all six models, the new displays offer precise direct on-screen writing and drawing experiences, comparable to those of traditional pen and paper. Users can achieved this by using hands, or a passive or active pen. Additionally, they can connect a traditional mouse and keyboard to suit their needs. The optimized screen also supports multi-touch interaction which allows multiple users to physically interact with the screen simultaneously without slow down or disruption.
Franck Racapé, head of global commercial at PPDS, remarks, "The experiences of using touch screens can be very mixed. Pressing an icon is one thing but writing or drawing with precision can often be a challenge and the result far removed from the abilities or desires of the user. This is a historical obstacle and one that can bring unnecessary and unwanted limitations to the user experience. The introduction of zero gap touch screens for our education displays ensures those obstacles are now removed, allowing users the freedom to be more creative and truly bring their ideas to life."
A Hybrid Solution
With collaboration and engagement key to any successful teaching and learning environment, up to 64 students can securely connect and access the Philips E-Line at the same time. They can do so from their own seats using their own personal (BYOD) or provided device (running on ChromeOS, macOS, Windows, iOS or Android). Thus, it is ideal for situations requiring social distancing or heightened rules around hygiene.
Also Read: PPDS Expands Global Growth Strategy, Announces New Senior Management Structure
The Philips E-Line also enables screen sharing, says the company. This allows students to interact, share their work and manipulate what's on screen at the same time using the embedded wireless connectivity. Students can also share and record content via email or through the Cloud. This reduces the need for excessive and potentially distracting note taking, allowing students to remain engaged at all times.
According to a statement, students absent from class can login remotely and become actively involved with the help of Philips E-Line. The I3LEARNHUB also helps create and share entire lesson plans among students and other colleagues around the world. Moreover, the i3 platform helps connect the teaching community and share best practices for more engaging teaching.
Lower Energy Costs
The Philips E-Line displays runs on Android (BDL3052E Android 8.0, BDL4052E Android 10). Thus, users can model it meet exact educational requirements, with the ability to add preferred third party apps without restriction. It also has the option for additional solutions thus increasing the use and benefits of the display. For example, mounting of digital cameras such as those from PPDS' strategic partner, Logitech. This then opens up new opportunities for videoconferencing with guests or fellow students. They also have sensors such as the PPDS Air Quality Sensor for safer and cleaner learning environments. According to PPDS, Philips E-Line displays also include scheduling tools, CMS and more.
The Philips E-Line range design also addresses and supports the school's sustainability goals. Here, each display offers the lowest levels of power consumption in the market. This in turn reduces the total cost of ownership, adds PPDS.
The company then highlights its continued commitment to reducing unnecessary waste. With this in mind, Philips E-Line packaging is at an absolute minimum, without risk of damaging the display. All the displays come in brown board boxes, with one color only printing. It also follows this ethos through the packaging of pre-production components, with finished products almost fully made of recyclable materials.
Van der Woude concludes, "With Philips E-Line, we've left no stone unturned in creating what we truly believe to be the most complete dedicated solution for education found anywhere in today's market. The feedback from our partners and their customers — who played a significant role in its development — has been overwhelmingly positive and we look forward to showcasing it for the first time to the thousands of people here at ISE 2022 in Barcelona."
PPDS is of course, the global provider of Philips digital signage, interactive displays, dvLED and professional TV products and solutions.
If you enjoyed this article and want to receive more valuable industry content like this, click here to sign up for our digital newsletters!