Shure on the Stem Ecosystem Conference Room System
Shortfalls in classroom audio can have negative impacts on remote learning — Shure's audio systems for hybrid learning can help.
Sponsored Content
Leave a Comment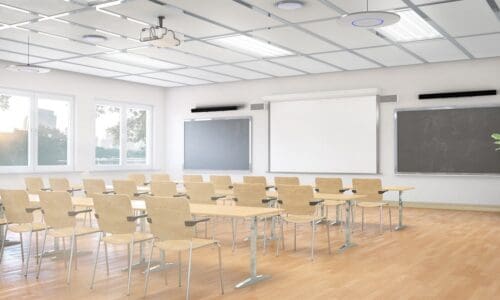 Whether students are in the classroom or connecting remotely, audio components must be able to adapt to the real-world conditions of hybrid learning. Shortfalls in classroom audio can have negative impacts on remote learning and lecture capture — for both students and professors. 
Distance-learning classrooms must remain adaptable. For example, a room might be used for a talk-to-the-screen videoconference one day, a training session with an in-room presenter the next day and a hybrid class with a remote instructor the day after that. Audio/video needs for distance learning present unique sound-reinforcement opportunities, where the addition of remote participants may be introducing passive listeners or discussion leaders. 
Choose microphones and audio DSP that offer a wide array of capabilities to accommodate the expectations and limitations posed by the room. Adapting to these needs might dictate overhead microphones, wireless table microphones, a wall microphone — or a combination. What works in a spacious lecture hall with treated acoustics may not be right for a more intimate classroom with a glass wall. 
The Stem Ecosystem conference room system from Shure is a vital enabler of distance learning. It comprises a modular set of high-quality, mix-and-match audio devices that create integrated solutions for collaborative classrooms of various sizes, configurations and use cases. Stem Ecosystem Platform tools (Stem RoomDesign, RoomAdapt, RoomCheck and Remote Management) assist with installation, calibration and management in support of Stem Speaker, Wall, Table, Ceiling, Hub and Control devices. The portfolio delivers an optimal audio experience for both remote/distance and in-room students, blocking out ambient noise such as street traffic, dogs barking and audio outside the room. 
If you want to learn more about Shure's audio systems for hybrid and distance learning, please visit shure.com/en-US/conferencing-meetings/room-type/education.
If you enjoyed this article and want to receive more valuable industry content like this, click here to sign up for our digital newsletters!