Userful Announces Drag-and-Drop Command and Control Module for Visual Networking Platform
Interactive Userful drag-and-drop command and control module 'provides flexibility to move and resize unlimited display sources in real time.'
Leave a Comment
Userful has prided itself on connecting with any source, anywhere at any time since its release. Now, thanks to the debut of a drag-and-drop command and control module, the visual networking platform can add "in real time" to that description.
Userful Corporation announced today the addition of an interactive drag-and-drop control tool,  allowing users to "move and resize unlimited sources on a video wall or large display directly from a web browser," according to the company press release.
Userful's platform allows for centralized management of displays and the content that's shown on those displays, says VP of marketing Daniel Griffin. The AV-over-IP approach to visual networking is deployed in several vertical markets, including corporate, education, retail and command and control rooms.
"A lot of what we've done has been about ensuring flexibility and scalability," Griffin says in an interview with CI this week. "We're adding 'real time' to that."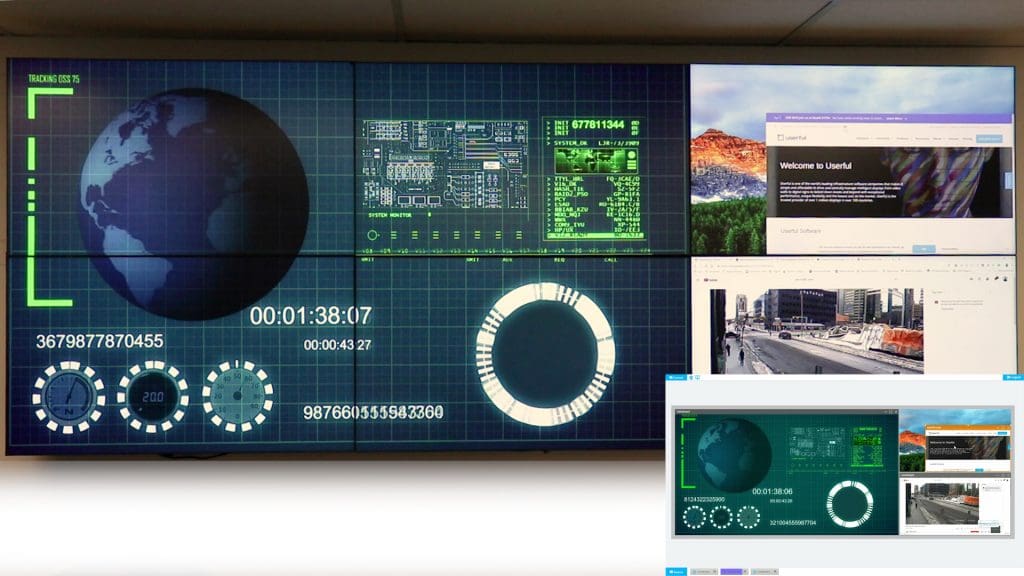 Userful Gives You Command and Control
Command and control and real-time updates will be best suited for networking operations centers, social media centers and security operations centers, says Griffin, but certainly those aren't the only markets looking for dynamic, instant control of their displays and content.
"Many organizations can benefit from a control room, but clearly want more simplicity, flexibility, and cost savings to deploy it," said Userful CEO John Marshall, in the company announcement.
"From control rooms and operation centers to meeting rooms, data visualization and social media monitoring, this new tool gives full power and control to operators to control visual content and significantly improve operations in the organization."
Key features of the command and control module include:
An entirely browser-based tool that runs on any platform; no additional software to install or manage and integrate seamlessly with current client software
Unlimited number of sources and user licenses for increased flexibility
Multiple operators can work simultaneously on the same display
Can work entirely on LAN; no WAN or internet connection required for increased security
Easy and intuitive interface that does not require additional training
"We've had a clamoring of interest to add this extra layer of flexibility," says Griffin. "People have all sorts of information at their fingertips. They need to be able to organize it the right way."
If you enjoyed this article and want to receive more valuable industry content like this, click here to sign up for our digital newsletters!