Welcome to Collaboration Today and Tomorrow
An actionable publication to help you survive and thrive both during and after the changes of the day.
Leave a Comment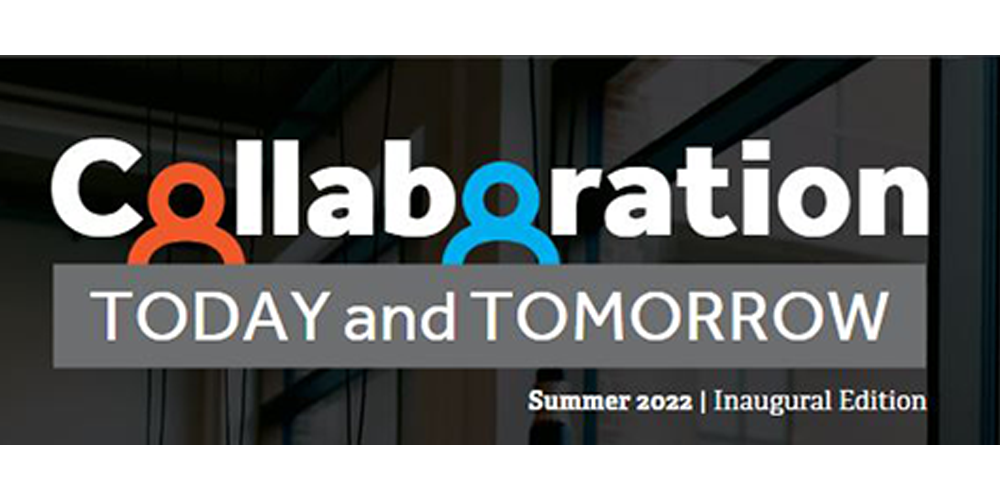 Collaboration. 
It is a word and a concept that has taken on multiple meanings of late. It can represent when two or more people or organizations work together toward a common goal. It can also represent the tools they use to facilitate those efforts. 
Living through the worst pandemic in a century put a tremendous focus on the concept of collaboration. It stressed how people can often work and communicate together even when they are not in the same room. Regrettably, it also highlighted how entire societies can collapse and/or be at each other's throats when individuals refuse to collaborate for the common good. 
Collaboration is no small thing. 
For over 20 years, the IMCCA has been a non-profit organization functioning to foster collaboration on this topic between organizations that are otherwise (and appropriately) fierce competitors. Our members recognize the difference between participants sometimes engaging in healthy competition and when they come together to act for the good of the industry. (Well, at least most of them do. Sometimes they get all huffy about it and leave the group. Sometimes they come back. C'est la vie….) 
Collaboration Today and Tomorrow, a quarterly publication in conjunction with Commercial Integrator will reflect the IMCCA's mission — impartially uplifting the industry and its tangential areas for the good of everyone. As the editor I'll make sure there is a theme that ties each issue together and that contributors and contributions are worthy of taking your time to read. I'll also never prevent the discussion of a point of view I don't agree with (that's that "all voices" thing again.) 
Our inaugural theme for Collaboration Today and Tomorrow is simply collaboration. We've asked several people (who bring divergent perspectives) what collaboration means to them. We think it's vitally important — especially in this time of great transition — to recognize how things like homes, work, education, travel, security and more will face enormous changes. As industry professionals, none of us can afford to miss this next required pivot. It's that whole "evolve or die" situation all over again. The contents of Collaboration Today and Tomorrow will be actionable, and the actions are intended to help you survive and thrive both during and after the changes. 
We're privileged to have a great roster of authors for our first issue. Metrigy's Irwin Lazar covers the future of our lives and Frost & Sullivan's Roopam Jain covers the future of work. Industry icons Marla Suttenberg and Lainie Mataras finally settle the controversy around highlighting people in "some number" under "some number" articles by managing an ongoing industry honor roll with six categories: "Beginners," "Under 30," "30-50," "Over 50," "Legends" and "Diversity Spotlight." Michael Duda manages "The Last Word," for which he assembles comments on the topic from others in our industry. And I share my thoughts on working from home, offering 12 key steps for how to achieve success. (And let's not forget the half-dozen additional articles that will appear in the digital edition, which is accessible at CommercialIntegrator.com!) 
If you'd like to send me your comments on this issue, discuss topics for future issues or reach out to me for any other reason, please feel free. If you Google "David J. Danto" you'll find multiple ways of reaching out to me, at work, personally, via social media channels and more. I'd love to have you in my LinkedIn and Twitter networks. Networking is one of the purest forms of collaboration. 
That's what we want to do here, collaborate with our industry to ensure all boats rise with the tide. If that's what you want as well, then keep reading…. 
If you enjoyed this article and want to receive more valuable industry content like this, click here to sign up for our digital newsletters!