Yamaha Unified Communications' ADECIA System Certified for Microsoft Teams
The company's ADECIA intelligent microphone and line array speaker system is now certified for Microsoft Teams.
Leave a Comment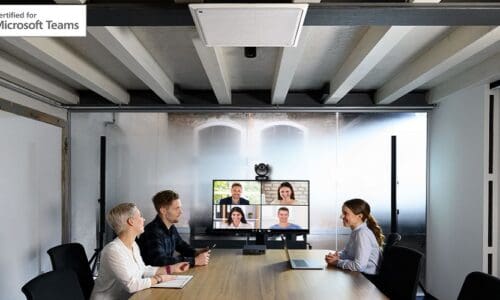 Yamaha Unified Communications has announced its ADECIA intelligent microphone and line array speaker system is now certified for Microsoft Teams.
The system, comprised of both ceiling microphone and line array speakers for medium-sized meeting rooms, is designed to deliver high-quality acoustic technology for both in-person and remote participants. Now, the system is fully optimized for Microsoft Teams Rooms.
"Today's meeting room must be flexible, easy to use, and provide superior audio for both in-person and remote participants," said Tatsuya Umeo, Chief Executive Officer of Yamaha Unified Communications, in a statement. "ADECIA leverages our world-class acoustic technology and extensive experience working with global enterprise customers. Now with full optimization within Teams meetings, our complete and customizable audio solution enables clear and effortless conversation, regardless of location."
Albert Kooiman, Senior Director, Microsoft Teams Devices Partner Engineering and Certification at Microsoft Corp., added, "In a hybrid workplace, it is critical to have the highest quality audio. The ADECIA products bring ceiling microphone & line array speakers to medium-sized meeting room applications for all users — in-person and those joining remotely — at the best quality Teams can offer."
Related: ADECIA: Quality Collaboration Audio Designed for Integrators
Yamaha Unified Communications calls the ADECIA line a family of communications products that work together to provide a complete and customizable audio solution for any meeting or learning space with an easy-install design.
The line includes four products: the RM-CG ceiling array microphone and RM-CR signal processor, as well as Yamaha's long-trusted PoE switches and VXL Series line array speakers.
The company says the products feature beam tracking technology that automatically track voices within the room while eliminating background noise.
When used as a complete solution, it detects all components of the system and configures them to be optimized for the room environment, the company says. The room system can be setup in four steps, and it features USB, Bluetooth, Dante and analog connections.
Yamaha's ADECIA is also currently available as part of a special hybrid room-ready solution from Yamaha, Lenovo, and AVer.
This story originally appeared on Commercial Integrators' sister-site MyTechDecisions.com.