Making Conference Audio Simpler to Install
When it comes to conference audio end users think it's simple, while integrators know it's complex. The right manufacturer partner can help assuage that complexity.
Sponsored Content
Leave a Comment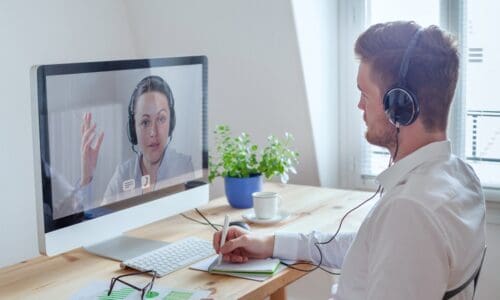 The goals of conference audio are simple – hear the users on the other side of the conversation and allow them to hear you.
"You don't get paid more if the solution is a complicated one," says Steve Johnson, VP of Sales and Marketing, Audix. "What people are looking for is something that solves the challenge. Whether it's solved in a simple fashion or a difficult fashion they're willing to pay the same amount. With that in mind we try to make it as simple as possible for the end user to envision what they want so they can communicate that to the consultant or the integrator."
Many customers imagine that because their goals are so straightforward that the technology and installation of that technology are equally straightforward. Integrators know that's not the case, but it's still up to you as an integrator to ensure that the goals are met to the customer's satisfaction regardless of the difficulties of a given space.
"I'm getting calls very frequently from end users that, now that everybody has been exposed to the soft codec and the Zoom call, they assume that adding that to a larger room would be pretty straightforward. They're looking for the solutions to do that," says Lofty Whitaker, Sr. Inside Sales Representative, Audix.
"I'm dealing with a lot of one-on-one integrator conversations, quotes, and the day in and day out of things," says Steve Young, Director of US Sales, Audix. "I've often thought to myself that what we're doing here is frankly kind of hard. To get something that hopefully sounds as good as we think it does on your end takes a little bit of thought. Our products are very forgiving, but time on a job site is extremely limited."
"One of the things we have to do is evaluate the question and see if they can do that, if the limited DSP that you get with a soft codec will allow them to do that," says Whitaker. "Sometimes we can answer that question positively and sometimes we can't."
That all starts with how the noises bouncing around the room are captured on the microphone. "The quality of that microphone and how that microphone is flexible enough to understand and provide vocal articulation and intelligibility takes a lot of practice," says David Garlett, Key Accounts Manager and Consultant Liaison, Audix. "A lot of our microphones that are purpose-built for conferencing do that very thing."
Architecture and Audio
From the integration side, simplicity in conference audio installations depends on understanding the architecture of the room. Microphones that can integrate in a wide variety of architectural challenges are key in removing many of the potential headaches of conference audio installations. Drop tile ceilings, large open ceilings, hard surfaces – all the unique aspects of different rooms can vastly change how different microphones will function.
Integrators need to communicate with manufacturers to understand the best solution given the space. Integrators should understand the key parts they need to be able to do a design. While there may not be many choices in microphone, for instance, the manufacturer should know about compatibility with DSPs, average installation time, how different microphones react to different environments, and more.
If the manufacturer can't answer that question for you then they may not be the right partner. "They key is that anyone can make something simple and make it complicated, but what's really beautiful is if you can take something complicated and make it simple," says Johnson. "[Audix] founder Fred Bigeh puts a lot of effort into making something such as that when it comes out it works pretty flawlessly. You don't have to do a lot of crazy things to make it work.
"We've been doing this stuff a long time. Being a microphone specialist means that we know a thing or two about a thing or two. We've experienced the joys and the pains that come from trying a lot of different things," he says. "We've evolved our product line to, when we make a conference room microphone, we don't make it so that it's 20 to 20 full fidelity. What good is that? What you're trying to do is capture a voice. You need something that's appropriate for the application. We're very much application specific."
The time that you save through simplifying the installation process can be time better spent by doing the final commissioning to make a room that would normally sound good into a room that sounds spectacular with the same amount of time allocated to it. This is especially true today, where events of the past year have led many companies to adopt new work strategies that promote a larger amount of scaled-down conference spaces over a fewer number of large-scale boardrooms.
"Today, it's generally a single individual, a team lead, or a sales manager running their crew in these conference rooms," says Garlett. "It's pretty hard to justify the same cost basis that went into an executive boardroom."
Audix Demo Room
To further their commitment to helping simplify installations for integration partners, Audix has created a purpose-built room for demonstration of products as well as visualize the setup of conference spaces. The space has been up and running since January 2021, so even long-time customers of Audix would do well to check it out.
There are several microphone models throughout the Audix demo room including ceiling mics, table mics, and more. Through their conferencing setup an integrator can join them as they zoom on different microphones and wirelessly switch different models on or off for the integrator on the other end to hear the difference between each.
"If there's one good thing that COVID brought us it was the right way to show conferencing microphones," says Garlett. "Normally I would show up at your office, lay the microphones on the table, hand you a spec sheet, and talk about how great the microphones sound. Pretty subjective in that context, but here the rubber hits the road."
Audix does no equalization, they leave everything flat for the purpose of transparency and to show how their microphones sound with no manipulation. This method doesn't take too much time away from integrators listening in – a fifteen-minute discussion about the quality of sound can be done in two minutes using the Audix demo room.
Integrators can also invite end user customers to join them and experience the audio for themselves. "The end users that have this experience are usually being advised to our products as a value engineering – in essence they're trying to lower costs," says Garlett. "Naturally they're a little concerned when lowering costs if there are going to be any compromises. We can proof of concept that we can do systems with less complication and not sacrifice the audio at all."
Built onto the demo room is a more in-depth classroom where integrators can get further education on how to best utilize conference microphones. For those interested, Audix can provide education on how to use microphones, where to put them, and the reasons behind these considerations.
The rooms can even be used on-site while integrators are commissioning the project for the Audix team to help out remotely. "In just a few minutes we're able to get someone a few pointers to get the room tuned to the best it can be. It's been really helpful," says Garlett.
"It's complicated made simple right here," says Johnson. "That's been key to everything we're doing. Same thing on the website – we're making it so it's easier for someone to go to the website and see all the microphone choices. Get to the answer fast and deploy it fast because time is money."