Boom Time Beckons For Growing Conferencing Force
There's a new videoconferencing kid on the block — Boom, aiming to shake up the market to become an alternative to traditional rivals.
Leave a Comment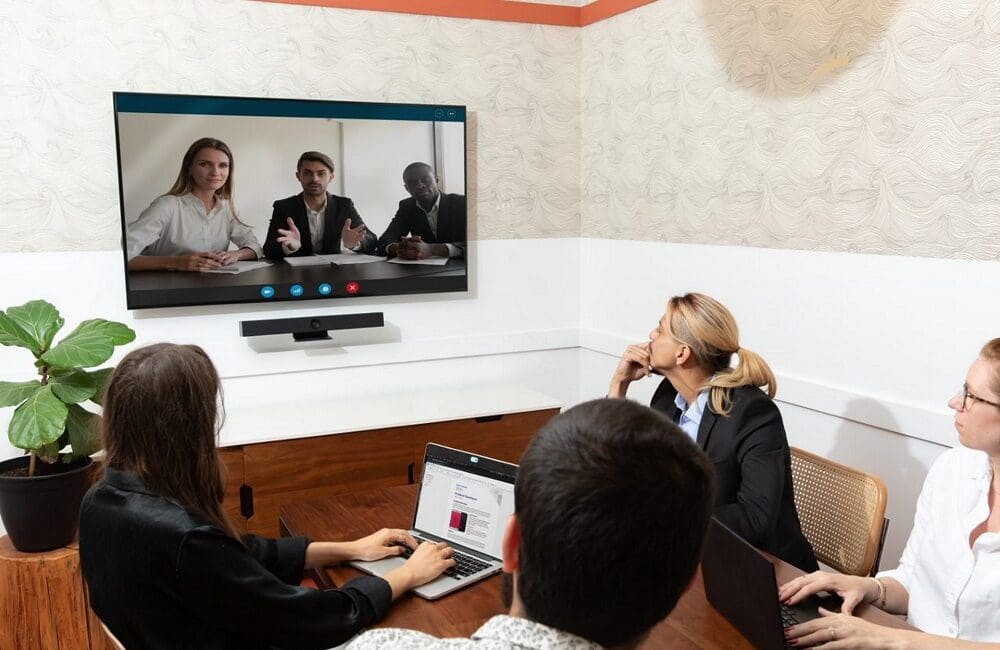 A new name is aiming to shake up the videoconferencing market amid compelling alternatives to traditional rivals.
Boom Collaboration, the Austin, Texas-based conferencing and collaboration hardware solutions provider was born in 2020 by founders Fredrik Hörnkvist and Holli Hulett, in a bid to disrupt the sector and stand out from the crowd.
The Austin-based business has quickly developed an extensive conferencing portfolio and operates in 20 countries, with plans for major expansion to 30 more, according to the company. Many new product innovations are in the pipeline too, along with the development of a Boom training academy.
"Through these interesting, challenging and evolving times, from lockdowns to hybrid working, conferencing has been at the fulcrum of dramatic changes in daily and working life; how people interact and communicate, almost from anywhere," Hörnkvist explains.
"We might still be a relatively new kid on the block but we've already made big strides forward with much more to come. Over the last few years we've been laying strong foundations for sustained growth so that Boom can really start to boom!"
Missing Piece of the Puzzle
Boom Collaboration aims to help plug a knowledge gap in certain areas of the market. This ranges from audio and video technology to meeting etiquette.
"We work across all sectors of the industry from AV integrators to traditional telephony resellers and accredited partners such as Zoom and Barco. We're completely agnostic though and sales continue to rise by around 45% year-on-year," says Hörnkvist.
He continues, "There's definitely a knowledge gap due to the fast transition of people working from home and an explosion in software-based solutions such as Teams and Zoom.  We aim to be the piece that's missing in the sector."
Hörnkvist adds, "Our goal is to emphasize the vital role hardware plays to improve the meeting experience. We are a trusted advisor about the best end points to drive the end user experience. It's about matching the right equipment to the right rooms and helping organizations to transition at whatever stage of the journey they are on."
"Many resellers used to sell traditional telephone systems then IP handsets but now cloud-based full unified comms systems are taking over with video at their heart. So resellers have to adapt to maintain their revenue streams and that's where we come in with our knowledge and expertise.
Boom Academy
"Our forthcoming Boom Academy will teach not just how to connect multiple cameras and different systems but showcase our domain overarching knowledge. It's about giving something back. We recognize some resellers will have to learn quickly or they are out of the game. This is where we can help a lot who have come from the traditional 'voice' space. Live demos, meeting room design overviews and how to embrace the latest trends, for example."
Disruptive Force
Co-founder Hulett agrees with the importance of building long term relationships. "We are young and fresh with new ideas, backed by years of personal experience that already makes us experts in this field. We are not afraid to stand out, be bold, brave and loud and do things a little differently. A disrupter to take on the field."
She continues, "It's about offering the highest levels of support to resellers through the distribution channel and going the extra mile, not a bland 'Me-too' brand. We don't want to just stay in the middle lane."
"We recognize resellers have the relationship with customers. Together we can help them transition to the new world we live in. They can lean on us. We are happy to help," she says.
"Our portfolio is built with tomorrow's meetings in mind. We offer futureproof solutions with solid components and technology to stand the test of time. From all-in-one-solutions to multiple video camera mixing controllers and full room solutions. We cover all bases," says Hulett.
"Our partners and customers are at the center of everything we do. We offer a true partnership through the entire lifecycle."
Boom Quality
The Boom support team offers both pre- and post-sales support, available for the life of a product. All Boom products come with a three-year warranty with an optional five-year Boom care plan.
"We recognize quality makes a huge difference. It really matters. That's why we went straight into 4K picture resolution for example. 4K is the future. It's about continually raising the game and raising the bar," says Hulett. "Equally, we want to show personality, fun and passion. It's not just about making money but helping our customers, building a good organization and enjoying what we do. We are continually learning and evolving."
Hulett continues, "We are young with lots of ambition to grow. We have agility, like to be different and the future is bright. We want to bring in dedicated in-house R&D and product teams and continue to build our distribution network all over the world. I'd say we are at a tipping point to accelerate much further forward. Based on sustained, controlled growth, 2023 will be a big and exciting year for us."
If you enjoyed this article and want to receive more valuable industry content like this, click here to sign up for our digital newsletters!