Breakout Rooms Now Available In Microsoft Teams
Breakout rooms in Microsoft Teams is now generally available, allowing meeting organizers to divide meetings into up to 50 groups.
Leave a Comment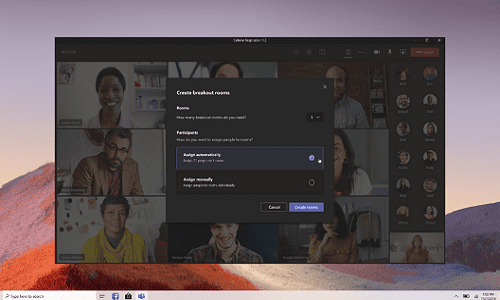 Breakout rooms in Microsoft Teams is now generally available, allowing meeting organizers to divide meetings into sub-groups to facilitate smaller discussions.
According to a Microsoft blog, meeting organizers can create up to 50 breakout rooms and choose to automatically or manually assign participants into rooms.
This new feature gives conference integrators that specialize in Microsoft Teams Rooms solutions new opportunities to market to customers that need breakout rooms, particularly in education as distance learning remains the norm during the COVID-19 pandemic.
Organizers can start breakout rooms in a regular Teams meeting or in a Teams channel meeting.
Since breakout rooms are Teams meetings, all the innovation that makes Teams meetings inclusive, interactive, and intelligent are available within.

Attendees can discuss a topic in their breakout room while in a virtual coffee shop in Together mode. Or students can bring up the Microsoft Whiteboard and draw out their ideas. This is also true of our security features that help make your Teams meetings a safe and secure place to meet.
In breakout room settings, meeting organizers can choose to allow people back into the main meeting and then return to the assigned breakout room.
This allows users to ask clarifying questions of the organizer without disturbing individual breakout room discussions.
Read Next: Crestron, Microsoft Release Teams Room Scheduling Panels
Organizers can also re-create breakout rooms in the same meeting, and participants can be assigned to new rooms.
According to Microsoft, organizers can create, rename and delete rooms as needed. Organizers can join any breakout session and have the ability to switch attendees in between breakout rooms.
Organizers can send announcements to all breakout rooms and can call all participants back to the main meeting at any time.
Also, files shared in the breakout rooms can be shared with the entire meeting once everyone is back together for a larger discussion.
Teams is the latest unified communications and collaboration provider to allow for breakout rooms. Currently, Zoom, Google Meet, GoToMeeting, BlueJeans and other apps provide breakout session capabilities.