Microsoft Expands Teams, HoloLens 2 Integration for Mixed Reality Calls
A new wave of updates allows HoloLens 2 users to use Teams, OneDrive and other Microsoft apps in a mixed reality experience.
Leave a Comment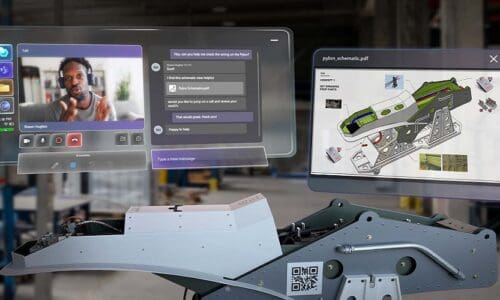 A new wave of updates Microsoft is making to its HoloLens 2 platform is combining its Dynamics 365 Mixed Reality Apps and adding Microsoft Teams and OneDrive to existing integrations with Azure and Power Platform, essentially allowing HoloLens 2 users to use Teams, OneDrive and other Microsoft apps in a mixed reality experience.
The latest update brings together Microsoft's two key Dynamics 365 Mixed Reality apps: Dynamics 365 Guides and Dynamics 365 Remote Assist, which respectively provide users with step-by-step holographic instructions and share real-time views remotely to get help remotely.
According to Microsoft, the new features allow users to–among other use cases–connect with a remote support participant, provide instructions to individuals or groups through scheduled Teams meetings, expedite approval from a remote inspector and collaborate with an expert to discuss creating or updating steps within a guide.
In a Tech Community blog, Microsoft says this allow users to institutively switch between process and collaboration activities or do both simultaneously.
According to Microsoft, the new updates allow HoloLens 2 users to keep up with that people in Teams meetings are seeing with a new live video stream of any shared screen as a hologram in their space. The holographic shared content can be freely moved and sized to meet the demands of spatial workflows, the company says.
Users can also access their Teams calendars and join meetings from HoloLens 2, and there are now real-time indicators for current and upcoming meetings on each agenda line, Microsoft says. Users can also call people directly, browse and add Teams contacts to ongoing calls, or join a scheduled meeting just as they would on any other device. Meetings can be recorded to allow for training or step-by-step procedures and actions to be viewed later.
Microsoft says users collaborating with remote participants in a one-on-one or group Teams call can contribute to the conversation through text chat and access any image or PDF file shared there as holograms which can be opened, closed, resized and repositioned. With the addition on OneDrive file access, users can access information they need without a desk or laptop.
Via a mixed reality toolbar in Teams desktop, remote participants can add 3D markup to the real world, allowing them to draw on the screen with their markups automatically attached to the space in view for the HoloLens 2 user.
Microsoft says these systems will work out of the box, and users only need to sign into Dynamics 365 Guides on HoloLens 2 with their work email address to see familiar views of Teams and OneDrive.
In an article detailing the new updates and showing real-life use cases, Scott Evans, Microsoft's predictand of mix reality, says the new features come after 34 monthly software updates since HoloLens 2 was launched in 2019.
"Heads-up, hands-free technology enables big leaps forward in how people work," Evans said. "But often that means going through a cycle of doing a pilot, measuring and learning, and then scaling up the deployment. We engage customers throughout that journey, and it's a big learning process for us."
This article originally appeared on Commercial Integrator's sister-site MyTechDecisions.com.