Verizon Announces New Hybrid Meeting Features to BlueJeans
Verizon brings new hybrid meeting features to BlueJeans, including the ability to overlay a video feed over shared content.
Leave a Comment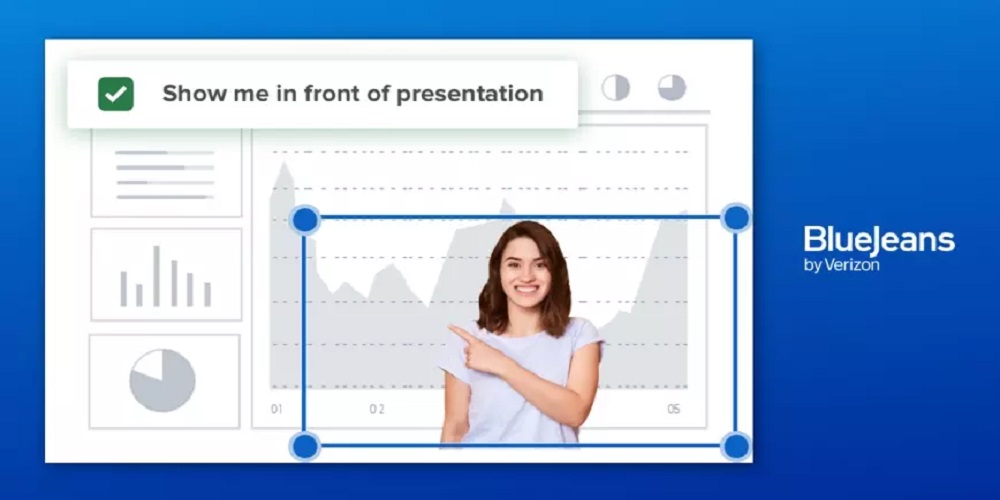 Verizon announced several new updates across the desktop, mobile and Portal application of BlueJeans Meetings designed to help users conduct more inclusive meetings for organizations adopting a remote or hybrid work environment,  including the ability to overlay a participant's video feed over content being shared.
That feature is called Weather Person Mode, and it allows users to overlay the presenter's video feed on top of shared content to facilitate a more inclusive experience that simulates an in-person presentation for virtual and hybrid meetings, the company says in a press release. Video feeds can be placed in front of any type of content or application to create more dynamic and creative meeting experiences.
In another move to help support workers in hybrid meetings, BlueJeans is adding an automatic framing feature that zooms in to focus on the person speaking, eliminating the need to purchase cameras with that functionality built in.
Along with updates to the mobile app for content sharing and active speaker viewing, other new features include multi-language closed captioning and transcripts, the ability to hide one's own video feed, meeting notifications, better support tools for remote worker time management on a mobile device, breakout sessions features, virtual backgrounds on mobile devices and RTMP streaming on a desktop.
Along with the desktop and mobile updates for hybrid meetings, Verizon made updates to the BlueJeans app on the Meta Portal device, including Collab Board support and share screen link for fast screen login access/share.
Chris Lewter, vice president and general manager of BlueJeans by Verizon, said in a statement that people are working in different ways, and each meeting requires different tools.
"Similarly though, we are all striving for engagement, both in our personal and professional lives," Lewter said. "And as organizations continue to place more emphasis on enhancing the employee experience as a way to drive inclusivity and retain and attract top talent, this next phase of remote and hybrid work will be all about providing the right tools to drive flexible work practices that adapt to different work engagement styles and personalities."
This article originally appeared on Commercial Integrator's sister-site MyTechDecisions.com.
If you enjoyed this article and want to receive more valuable industry content like this, click here to sign up for our digital newsletters!