Zoom Introduces New Apps
The videoconferencing provider has added dozens of new apps to help turn their app into a platform.
Leave a Comment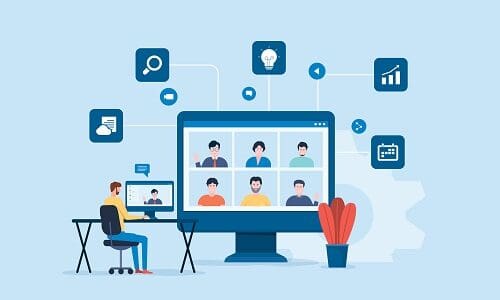 Zoom has announced Zoom Apps, an in-product integration that allows users to bring apps into Zoom Meetings, in hopes to make the meetings more efficient. Zoom detailed in a blog post that the apps will cover many different needs like note-taking, whiteboarding, project management and various others.
"Zoom Apps are a critical component in Zoom's transition from an app to a platform by enabling seamless integration of third-party apps within Zoom," says Zeus Kerravala, Principal Analyst of ZK Research, in the blog post. "Zoom Apps provide users with access to their favorite entertainment, productivity, wellness, and lifestyle apps while maintaining the Zoom meeting experience — empowering them to accomplish more with video communications."
Related: Zoom Announces $100M Zoom Apps Fund
There are over 50 new apps but the ones that have stood out to developers are the following:
Asana
Hosts of meetings can create in-meeting action items and next steps beforehand so that their teams are always moving forward with clarity. The hosts can also assign and edit tasks without leaving the meeting.
Dropbox Spaces
This app will keep everyone on the same page during and after the meeting by allowing them to collaborate in real-time in a single, shared workspace.
Dot Collector
This app allows each participant in the meeting to share their thoughts through real-time feedback and polling. Dots are collected shared and preserved which allows adjustments to be made on the spot or over time.
Funtivity by Hermis
This app provided activities and content for occasions like conference breakouts, cultural events, team building and various others. There are over a dozen different activities and events every week and analytics that can be used to build productive teams.
Heads Up!
Heads Up! is a party game created by Ellen DeGeneres that is great for passing time with colleagues while waiting for meetings to start bonding with colleagues as well.
Kahoot!
Users can host and join interactive presentations and learning games within a Zoom meeting with this app.
Live2Coursera
This app enables Coursera instructors to record, share, and upload their live lectures to Coursera and students can then choose the best download option for their bandwidth.
Pexels
The Pexel app gives users endless photo and video options for their virtual background.
SurveyMonkey Enterprise by Momentive
This app will allow hosts and attendees of meetings to get in-the-moment feedback from surveys and polls available within the Zoom meeting experience. Users can get stakeholder insights from employees, customers, patients, or anyone attending.
Wellness That Works by WW
Wellness that Works by WW is a leader in weight loss and wellness and their app will help users practice healthier habits by sending push notifications to move more, eat better, drink more, and stretch.
Users will be able to find these apps by going to the Zoom App Marketplace.